Goal 10: Reduced Inequalities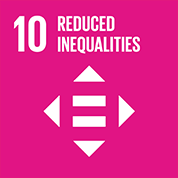 The tenth Sustainable Development Goal is to reduce inequality within and among countries.
Teaching
57 modules have intended learning outcomes directly relating to this goal, and 4,626 students have the opportunity to choose these modules.
Research
226 articles relating to this goal were published in Scopus between 2015 and 2019, and 2,876 articles were 'cited by' in Scopus.
What we're doing (University activity)
Centre for Black and Minority Ethnic Health
The Centre for Black and Minority Ethnic Health
acts as a centralised and coordinated repository of resources to support individuals and organisations undertaking research and healthcare delivery in partnership with black, Asian and ethnic minority (BAME) communities to help reduce health inequalities.
Unit for DICE
The Unit for DICE promotes diversity, inclusion and community engagement within the University of Leicester and on a local and national level.

DICE, in the School of Media, Communication and Sociology, is at the very heart of debates about promoting inclusion and making positive benefits out of diversity.

This prioritises promoting an audible public voice by acting as a hub for intelligent debate, routinely connecting community members, practitioners and policy makers to leading academics on campus and local and national media outlets
Top 100 employer in Stonewall's Workplace Equality Index
We are proud to be recognised as a top 100 employer in Stonewall's Workplace Equality Index, which showcases the most inclusive UK workplaces for lesbian, gay, bi and trans staff.

We have been a Stonewall Diversity Champion since 2013
Courses/modules relating to the goal
Life Sciences
Natural Sciences
Science and Engineering
Computing
Physics and Astronomy
Geography
Social Sciences, Arts and Humanities
Archaeology and Ancient History
Business - Economics
Business - Management
English
History
Film Studies
Media and Communication
Modern Languages
Politics and International Relations
Sociology
Law