Goal 17: Partnerships for the Goals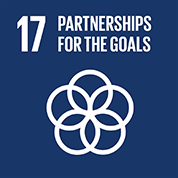 The seventeenth Sustainable Development Goal is to strengthen the means of implementation and revitalize the global partnership for sustainable development.
Teaching
25 modules have intended learning outcomes directly relating to this goal, and 2,564 students have the opportunity to choose these modules.
Research
241 articles relating to this goal were published in Scopus between 2018 and 2022, and 5,439 articles were 'cited by' in Scopus.
What we're doing
Operational
The Civic Agreement is a commitment between De Montfort University, Loughborough University, University of Leicester, and the city and counties of Leicester, Leicestershire and Rutland to work together for the benefit of local people and the prosperity of our places. The five themes of the Universities Partnership cover most of the SDGs:
Arts, heritage and culture
Education
Environmental sustainability
Economy
Health, wellbeing and sport
Research
Recognising the crucial role that collaborations play in tackling the climate and ecological crisis, our academic staff, as well as our students and alumni are involved in many local and national partnerships to share expertise, develop programmes of work, influence policy and pursue solutions-focussed research on local environmental and economic growth.
The University is home to 18 world-changing research centres each contributing to our reputation as a research-intensive institution that delivers both research excellence and impact.
Courses/modules relating to the goal
Science and Engineering
Computing and Mathematical Sciences
Social Sciences, Arts and Humanities
Business - Accounting, Finance and Economics
Business - Management
Criminology
Film Studies
Media and Communication
Modern Languages
Politics and International Relations
Sociology