Goal 17: Partnerships for the Goals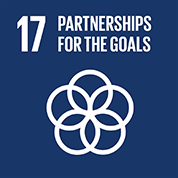 The seventeenth Sustainable Development Goal is to strengthen the means of implementation and revitalize the global partnership for sustainable development.
Teaching
27 modules have intended learning outcomes directly relating to this goal, and 1,779 students have the opportunity to choose these modules.
Research
78 articles relating to this goal were published in Scopus between 2015 and 2019, and 3,304 articles were 'cited by' in Scopus.
What we're doing (University activity)
As one of the first UK institutions to embrace the SDGs strategically and to develop rigorous mapping of our activities, the University has run several webinars and sector workshops to assist other HE institutions in their SDG journeys
SDG Accord
Leicester was one of the first UK HE institutions to sign the SDG Accord, the University and College Sector's Collective Response to the SDGs
Courses/modules relating to the goal
Life Sciences
Healthcare
Science and Engineering
Computing
Mathematical Sciences
Social Sciences, Arts and Humanities
Business - Accounting and Finance
Criminology
Media and Communication