Goal 4: Quality Education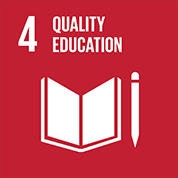 The fourth Sustainable Development Goal is to ensure inclusive and equitable quality education and promote lifelong learning opportunities for all
Teaching
19 modules have intended learning outcomes directly relating to this goal, and 2,012 students have the opportunity to choose these modules.
Research
27 articles relating to this goal were published in Scopus between 2015 and 2019, and 86 articles were 'cited by' in Scopus.
What we're doing (University activity)
Concepts in Sustainable Development Online Course
Over 13,000 people worldwide have enrolled onto for the Concepts in Sustainable Development MOOC (massive open online course), a multi-disciplinary look at sustainable development and touches on topics such as complexity, entropy and inequalities. This 6 week course delivers content through a series of short video lectures, articles and external resources for further learning. The course is open to the general public and is accessed through FutureLearn, which allows for a global audience to enable engaging discussions in the comments section after every step.
University of Sanctuary
In officially becoming a University of Sanctuary in 2018, the University provides opportunities to involve staff and students in supporting asylum seekers and refugees as well as actively involving refugees and asylum seekers in University life. Our Sanctuary Seekers' Unit helps refugees and asylum seekers with language skills and also offers Sanctuary Scholarships.
Courses/modules relating to the goal
Life Sciences
Natural Sciences
Healthcare
Science and Engineering
Computing
Physics and Astronomy
Geography
Social Sciences, Arts and Humanities
Business - Economics
Business - Management
Media & Communication
Politics and International Relations