Goal 4: Quality Education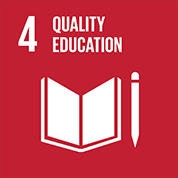 The fourth Sustainable Development Goal is to ensure inclusive and equitable quality education and promote lifelong learning opportunities for all
Teaching
19 modules have intended learning outcomes directly relating to this goal, and 2,074 students have the opportunity to choose these modules.
Research
68 articles relating to this goal were published in Scopus between 2018 and 2022, and 6,479 articles were 'cited by' in Scopus.
What we're doing
Operational
The Sanctuary Seekers Unit has been shortlisted for a PIEoneer award, in the category of Championing Diversity, Equity and Inclusion in recognition of its sector-leading work in widening participation to Higher Education for refugee-background students via English Language pathways.
They also funded and facilitated an award-winning Afghan-led wellbeing project called Bright Path Futures, bringing coaching support to families newly re-settled in the UK. It offers first language cultural integration and wellbeing workshops and information, along with resources in Dari and Pashto for English language and literacy learning.
Teaching/education
The University have developed a short Blackboard training course open for all staff. This training is designed to support colleagues to understand what the University is doing to reduce its negative environmental impact and increase its positive impact, and to help anyone identify the best ways to make a real difference at work.
Research
The Education for Sustainable Development team have taken part in a Collaborative Enhancement Project for the QAA alongside 9 other partner institutions to investigate how Academic Quality can improve Education for Sustainable Development across institutions and in May 2023, they contributed expertise to a sector practice guide based on this research.
Courses/modules relating to the goal
Life Sciences
Biological Sciences
Healthcare
Psychology
Science and Engineering
Chemistry
Physics and Astronomy
Geography and the Environment
Mathematics
Social Sciences, Arts and Humanities
Archaeology and Ancient History
Sociology