Physics with Foundation Year
Physics with Foundation Year
BSc, 4-5 years
This is for you if... you want to study physics, but don't have the traditional entry requirements.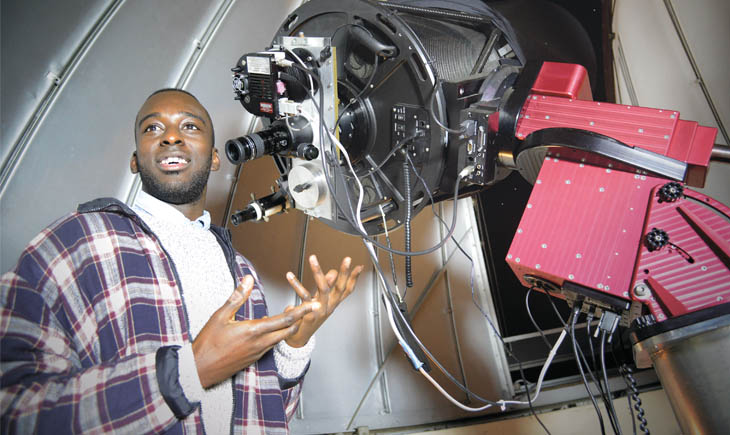 Course Description
As part of the University of Leicester's commitment to being a leading academic institution, we regularly review and update our degrees and modules to ensure that they reflect the most up-to-date research, knowledge, ideas and teaching practices, as well as taking into account student feedback. We also have to take into account the availability of key teaching staff where this will impact on the delivery of the course. As a result, if there are major changes to the course that you have applied for, we will contact you as soon as possible and will ensure that any disruption to your studies is minimised.
Our integrated Science, Technology and Engineering (STEM) Foundation Year degrees are aimed at students who wish to study a STEM subject, such as physics, but don't have the traditional entry requirements.
By completing the STEM Foundation Year you will automatically progress onto the first year of your chosen degree.
You will be taught by our expert academic staff from across a number of departments.
The course does not require a maths test for entry, but it will cover the A-level maths syllabus and understanding of this will be measured before you progress.
The course strongly emphasises the development of essential professional and personal skills, which are necessary throughout your studies and beyond.
During your foundation year you will join our student community and be able to enjoy all aspects of the University of Leicester student experience. You will be able to join the Students' Union, use our academic and leisure facilities, live in our accommodation and access all our support services.
You will have a personal tutor to support you.
Why Leicester?
We are a top 5 Physics department [Source: Guardian league table 2016, 2017] and our degrees are accredited by the UK Institute of Physics (IOP).
We host a 4760 core supercomputer for undergraduate and research use. We also host part of DiRAC, the UK's supercomputing facility for particle physics, astrophysics and cosmology.
We have an excellent staff-student ratio (among the best in the UK) [Source: Guardian league tables 2016, 2017] and we operate an open door policy. This means teaching staff make themselves available throughout the day for you to get the support you need.
In the Physics Challenge module, third year students work in teams to solve problems requiring imagination, estimation or approximation. Like many real-world problems, there are often no right answers but the teams compete to find and present the best answers.
Course Structure
Foundation Year
Foundation Year
Modules
Maths: Core A-level content, with an emphasis on developing your competence and confidence at applying mathematics to problems in the physical sciences.
Science 1: Materials: Phases of matter (solids, liquids and gases), atomic structure and radioactivity, chemical bonds and chemical reactions, properties of solids (engineering materials, elastic properties, strength, toughness, failure and electrical properties).
Science 2: Mechanics: Newton's laws, forces, mass, velocity acceleration, projectiles, momentum, angular momentum, circular motion, simple harmonic motion and resonance.
Science 3: Heat and energy: Temperature, heat, power, ideal gases and kinetic theory.
Science 4: Electricity and magnetism: Light, optics and the quantum world.
Methods and Techniques: Core study skills and professional competences necessary for successful university level study. Reading scientific literature, research techniques, report writing skills, presentation skills, computer programming and algorithms.
Physical Science Laboratory: Basic experimental techniques, health and safety in the laboratory, recording data, data analysis and report writing.
Modules shown represent choices available to current students. The range of modules available and the content of any individual module may change in future years.
Year 1
Year 1
Year 1 of the BSc course is your second year at Leicester.
Modules
Physics Skills and Professional Development 1
Speciality module
Build your introductory speciality module by choosing 3 of the following units:
Introduction to Modern Physics covering elementary particles, the building blocks of the Universe and high energy experiments.
Introduction to Applied Physics covering great experiments and the historical significance of fundamental discoveries
Introduction to Astrophysics covering observational astronomy, the Sun and stars
Introduction to Space Science covering space technology and planetary exploration
Modules shown represent choices available to current students. The range of modules available and the content of any individual module may change in future years.
Year 2
Year 2
Year 2 of the BSc course is your third year at Leicester.
Modules
Physics Skills and Professional Development 2
Option module
Build your intermediate option module by choosing 2 of the following units:
Intermediate Modern Physics covering the development of classical and quantum mechanics, fractals and chaos
Intermediate Applied Physics covering quantum devices and remote sensing
Intermediate Astrophysics covering stellar structure, galaxies and the Universe
Intermediate Space Science covering spacecraft and mission design, and jovian and terrestrial planets.
Modules shown represent choices available to current students. The range of modules available and the content of any individual module may change in future years.
Year in Industry or Abroad (optional)
Year in Industry or Abroad (optional)
If you want to, you can spend your third year studying abroad at one of our partner institutions or working on an industrial placement (eligibility is dependent on your academic performance in Years 1 and 2). Alternatively, you can opt to continue studying at the University and complete your degree in four years.
NB. A year spent abroad or on an industrial placement still incurs a tuition fee, but this is much lower than for a normal year at Leicester. See our Fees and Funding section for details.
Year Abroad
Studying abroad is not just for people who are interested in travelling and meeting new people. It is about acquiring life skills that are becoming increasingly significant for a wide range of jobs in our modern globalised society. Whether you go on to work in the private sector, the state sector, a non-governmental organisation or become self-employed you will find the experience invaluable. Find out more from our International Office.
Our exchange programme with the University of Groningen is administered through the European Erasmus scheme. If you are eligible for a loan from Student Finance you can apply for a travel grant from them.
For the latest information on the future of the Erasmus scheme at UK universities please see our Brexit microsite.
We also have links with some universities outside Europe. If you are receiving financial assistance from Student Finance your support will continue and you may also be eligible to apply for additional travel grants or scholarships. We have links with the following universities:
Year in Industry
An industrial placement is a fantastic opportunity to gain experience of a professional working environment, between your second and third years of study. By enhancing your degree with an industrial placement, you can make yourself a more attractive proposition to employers after you graduate.
You'll benefit from real-world experience in a commercial setting, enabling you to make an easier transition from studying to working after you finish your degree. You'll gain invaluable insight into a potential career path, as well as strengthening your CV significantly in preparation for entering the graduate labour market. On top of all this, you'll be paid a salary for your placement, which gives you greater financial flexibility as well as offsetting the cost of the extra year.
For further information, please visit the Industrial Placement pages on the College of Science and Engineering website.
Modules shown represent choices available to current students. The range of modules available and the content of any individual module may change in future years.
Final Year
Final Year
Your final year will allow you to delve further into subjects that intrigue you, through advanced specialist options, along with group and research projects that span an entire semester.
Core modules
Physics Skills and Professional Development 3
Option modules
Choose two option modules from:
Elementary particles, the Standard Model and Beyond
Applied and Medical Physics
Stellar Astrophysics
Cosmology
The Space Environment
Planetary Physics
Modules shown represent choices available to current students. The range of modules available and the content of any individual module may change in future years.
Additional Information
Accreditation
All of our degrees are accredited by the Institute of Physics.
An accredited degree not only gives you a solid grounding in core physics, it also sets you on a route towards Institute of Physics membership and the Chartered Physicist (CPhys) professional qualification. With an accredited BSc degree to your name, you will have partially fulfilled the educational requirements for CPhys status.
Teaching and Assessment
You will be taught through a combination of lectures, small group tutorials, lab sessions, seminars, workshop classes and project work. Training in scientific computing and programming is built into each degree.
A typical week for a first year physics student might consist of five hours of lectures, about two afternoons in laboratory or computing workshops (six hours), two hours of problem classes, four hours of workshops, and one hour in a small group tutorial session. This is a total of about 20 hours of contact time. You will also spend several hours a week on private study.
Assessment includes exams and course work (such as workshop and seminar problem classes). Lab work is primarily assessed in real time and project work is assessed through written reports and oral presentations.
You will have regular meetings with your personal tutor to discuss progress in your studies. Your personal tutor will also provide a sympathetic ear for all matters of personal concern, whether they be academic, financial, housing, career or social issues.
Entry Requirements
A-levels: BBB or points equivalent from your best three A-levels (non-traditional science A-levels considered). You must have taken Maths or Physics at AS-level or hold GCSEs grade A/A* in Maths and Physics.
BTEC Diploma: DDM in appropriate subject area – typically Engineering or a Physical Science discipline (no Maths assessment test required)
International Baccalaureate: Pass diploma with 28 points minimum.
Access to HE courses in Science and Engineering: 45 L3 credits, including some at Distinction in relevant science and Maths modules (no Maths assessment test required)
We welcome applicants with other qualifications. Please contact seadmissions@le.ac.uk to find out more.
NB. This course is only open to applicants from the UK and other EU countries. Applicants outside the EU can apply for our International Foundation Year.
Selection Process
When considering your application, we will look for evidence that you will be able to fulfil the objectives of the course and achieve the standards required. We will take into account a range of factors including previous exam results.
English Language Requirements
IELTS 6.0 or equivalent. If your first language is not English, you may need to provide evidence of your English language ability. If you do not yet meet our requirements, our English Language Teaching Unit (ELTU) offers a range of courses to help you to improve your English to the necessary standard.
International Qualifications
Find your country in this list to check equivalent qualifications, scholarships and additional requirements.
Countries list
Fees and Funding
Starting in 2017

£9,250 in your first year. After 2017/18, the tuition fee you pay may increase annually in line with inflation (RPIX) and is subject to government regulations. (RPIX is a measure of inflation in the UK, equivalent to all items in the Retail Price Index (RPI) excluding mortgage interest payments.)

Year Abroad:

your fee will be £1,250 for that year.
Year in Industry: your fee will be 15% of the full-time tuition fee that applies in that year.

Starting in 2018

Find out more about scholarships and funding.

Please note this course is not available to International (non-EU) students.
Career Opportunities
You can gain first-hand experience of physics education through a final year mentoring scheme with physics teachers in local schools, working for half a day a week over one semester.
We offer a small number of Summer Research Placements: six weeks of paid employment working with the research groups within the Department of Physics and Astronomy. These placements provide excellent experience if you want to go on to a career in academic or industrial research.
Our dedicated Careers Tutor can provide information, advice and guidance on the graduate job application process.
Careers
Our Career Development Service is here to support you, with advice on interviews, CVs, work experience, volunteering and more. From Freshers' Week to Graduation and beyond, they are here to help you reach your professional goals.
| Course | Qualification | Duration | UCAS Code | Availability |
| --- | --- | --- | --- | --- |
| Physics with a Foundation Year | BSc | 4 years full-time | F399 | Apply Now |
Course
Physics with a Foundation Year
Qualification
BSc
Duration
4 years full-time
UCAS Code
F399
Availability