Post-16
We deliver a range of events, activities and information sessions for post-16 students, both on campus and in schools and colleges, and virtually.
Realising Opportunities programme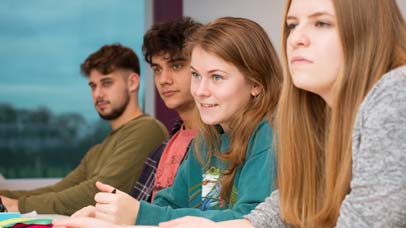 Are you thinking about going to university when you finish school or college? Not sure where you want to study? Would you like to know more about what options are available to you? As well as find out how to receive lower offers from leading universities?
If so, then the Realising Opportunities (RO) may be exactly what you're looking for!
Realising Opportunities (RO) is a unique collaboration of leading, research intensive universities, working together to promote fair access and social mobility of students from groups underrepresented in higher education. To find out more about the programme, to see whether you are eligible and to apply, please visit the Realising Opportunities national website.
If you have any questions please feel free to get in touch with us by emailing progression@le.ac.uk. We hope to hear from you shortly and look forward to working with you on this programme in the near future!
HE talks and workshops
The University of Leicester offers a range of free talks and workshops in schools and colleges across the country to support your students, as they make decisions about their future. Sessions are designed to help students and parents make sense of the many aspects of going to university and the opportunities available to them.
University of Leicester representatives are also willing to attend your careers fairs and parents evenings (subject to staff availability).
A sample of the talks and workshops that the team offer include:
Why university?
How to choose the right course and university
The UCAS process
Personal statements
Student finance and budgeting
Student life - my journey (delivered by a Leicester Student Ambassador)
Applying for Medicine
All of the above sessions last between 30 minutes and one hour and can be delivered to whole year groups, or much smaller groups for a more interactive workshop.
To find out more or to book one of these sessions, please email schools@le.ac.uk and a member of the team will respond as soon as possible.
Campus visits (25-70 students)
Bring your Year 12 and 13 students to campus to find out more about university life. Please contact schools@le.ac.uk for further information.
Sessions in schools and colleges
We run a range of events, in class and digitally, for students in Years 12 and 13, as well as for parents and teachers. Please contact schools@le.ac.uk for further information.
Year 12
Student finance
Employability – application writing and interview skills
Personal statements
How to choose a course and a university
Study skills
Preparing for higher education exhibitions
Preparing for open days
The UCAS process
Student life
Why university?
Options and Higher Education fairs
Taster in Medicine
Careers in Medicine and Healthcare
Taster in Law
Careers in Law and the legal sector
Year 13
Budgeting
Student finance
Study skills
Preparing for the transition from college to university
Student life
Why university?
Preparing for Clearing and confirmation
Post-application: The next steps
Options and Higher Education fairs
Parents
Budgeting
Student finance
The UCAS process
Why university?
Options and Higher Education fairs
Careers in Medicine and Healthcare
Careers in Law and the legal sector
Teachers
Teacher's reference writing