China
The University of Leicester welcomes students from China.
莱斯特大学-欢迎中国留学生
You can find country specific information here including entry requirements for our courses, and information about the Chinese student community.
The Future Students Office
The Future Students Office can provide you with more information about studying in the UK at Leicester.
Our regional recruitment team based in China would be more than happy to answer any questions that you might have, put you in touch with one of our current students or recent alumni, or arrange an individual consultation at a time that is convenient for you. Please feel free to contact Euphie Kuang, Regional Manger (China) (ek292@leicester.ac.uk) or Kyle Zheng, Global Recruitment and Marketing Officer (China) (yz689@leicester.ac.uk) at any time, so please get in touch!
Please visit our contact us page for details.
Gaokao accepted
If you achieve 75% in the National College Entrance Examination (Gaokao), we may make you an offer to study a Bachelors degree. Please contact admissions@le.ac.uk after you have received your results.
Digital China Open Day
We have successfully completed the Digital China Open Day with our top colleges, schools and partnership institutions. On Digital China Open Day, we also conducted the virtual campus tour, helping prospective students know more about the campus. If you missed the live streaming or would like to watch the recording, please check the links below.
Useful information
China mini guide in Chinese language
China Scholarship Council for PhD programmes
Entry requirements
Undergraduate (Bachelors) degrees
We are pleased to announce that we are now accepting Gaokao scores for entry to first-year undergraduate courses.
We will consider applications from students who have already received their Gaokao scores, achieving a minimum of 75% across all subject areas (except School of Leicester Medical School). You can find out more by contacting admissions@le.ac.uk
If you are studying A-levels or the International Baccalaureate (IB) then you can begin from the first year of a Bachelors degree. Please see individual course pages for entry requirements.
If you have already completed the first year of an undergraduate degree at a Chinese university, you may be considered for entry to the first year of a Bachelors degree if you have studied relevant subjects.
If you do not meet the entry requirements for one of our courses, you can apply for an International Foundation Year run by the Global Study Centre. The GSC provides academic support to help you progress to your chosen undergraduate degree at the University of Leicester.
Postgraduate (Masters) degrees
If you have completed a four-year Bachelors degree in China, you can be considered for entry to a Masters degree at Leicester. If you have graduated from a prestigious university in China (211/985 project universities or ranked in top 270 Chinese universities), you may be asked for 70% overall if you are applying for an Engineering or Science degree, or 75% for an Arts, Humanities, Law or Social Science degree. If you have graduated from other Chinese universities you may require higher scores (75-85%).
If you have completed a three-year college diploma from a Chinese university, you will need to upgrade your diploma to a Bachelor's degree with minimum 3 years working experience, or have a postgraduate degree before applying for a Master's degree.
PhDs and other research degrees
To apply for a PhD (or other postgraduate research qualification) you must have an undergraduate (Bachelors) degree with at least 75% overall, usually in a related subject area, from a recognised Chinese university (depending on the subject that you wish to study and the rank of the university from which you graduated).
You must also be able to demonstrate practical knowledge of appropriate research methodologies. Research degrees are demanding and intensive: to succeed at this level you must be highly motivated, be able to work independently, and have an appropriate familiarity with the discipline and its associated research techniques/methodologies.
Where a Masters degree is required, this is indicated in the relevant description on our Postgraduate Research webpages, together with further information about requirement.
English language requirements
Please see details of our English language requirements.
Chinese student community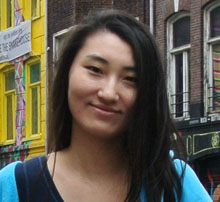 "I have had lots of opportunity to understand the local culture and make friends with people from a variety of countries." - Qicong, Media and Advertising MA and Management PhD
Read more about Qicong's time studying at Leicester
Student Societies
Other sources of information
Chinese Social Media
We are operating WeChat, Weibo, Bilibili, Douyin, and Youku in order to offer you the latest information and videos about what is happening on our campus. You can also ask us any questions you may have and we will answer them as quickly as possible. All the information and communication is in Chinese for your convenience. Please scan QR codes to access our Chinese social media channels.
Agents in your region
We work with agents in the following regions of China:
Beijing
Changchun
Changsha
Chengdu
Chongqing
Dalian
Fuzhou
Guangzhou
Hangzhou
Hankou
Harbin
Hefei
Hohhot
Jinan
Kunming
Lanzhou
Nanchang
Nanjing
Ningbo
Qingdao
Shanghai
Shenyang
Shenzhen
Shijiazhuang
Suzhou
Taiyuan
Taizhou
Tangshan
Tianjin
Wenzhou
Wuchang
Wuhan
Wuxi
Xiamen
Xi'an
Xinjiang
Yiwu
Zhengzhou