Alumni volunteering
Join our friendly community of alumni volunteers and use your skills and expertise to make a difference to the lives of the next generation of Leicester graduates. We have a diverse range of volunteering opportunities, with flexibility in mind, to work around your existing commitments.
Hear from some of our volunteers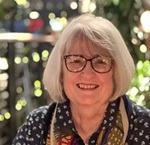 Lynda Wight has volunteered at the University of Leicester for over 9 years, previously holding the position of Vice-Chair for the Alumni Association Committee.
Being a volunteer for the University has been a great way to maintain a relationship with the institution and the city where I simply had the best time. The greatest satisfaction I had was playing a part in establishing the Alumni Awards to acknowledge the wealth of talent and achievement in our alumni community. If you have fond memories of your time at University, or feel gratitude for the opportunities your Leicester degree opened up; or if you have a passion for helping young people to become 'Citizens of Change' for good in the world, then you are the sort of person the University will want on their volunteer team! All kinds of skills are valuable, so you don't have to be world-famous. Everyone can have something to contribute from their life experience!
What are the benefits of volunteering?
Access our exclusive alumni benefits
Make a difference to the lives of current University of Leicester students
Share your expertise and develop new skills both for professional and personal development
Meet new friends and expand your network
Receive a copy of the 'Your Impact' report and get a behind the scenes look at the impact our supporters and volunteers have
Receive a reference for your volunteering on request
Current opportunities
Submit an alumni profile
Alumni Chapters
Archives and Special Collections: Sounds for the Future Project
Alumni in Residence
Attenborough Arts Centre opportunities
Inspirational career talks
Mentor a student
Museum Studies Connect
Governors for Schools
Volunteering documents
If you have any other volunteering ideas that you are interested in, such as giving a guest lecture, please do contact us (alumni.relations@leicester.ac.uk) and we would be more than happy to discuss this further with you.