Current students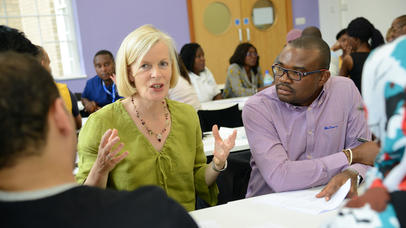 University is more than just the classes you take. It's the friends, the memories, the achievements. It's managing to juggle deadlines with participation in sports and societies. It's nights out at the O2 Academy. And when you graduate, it's lifetime membership to an ever-growing community of more than 185,000 fellow alumni.
The Philanthropy, Alumni and Community Engagement Office (PACE) are here to help you connect with that community while you're still at Leicester, and to support your alumni journey after you leave.
Get involved
Improve your employability
Become a mentor or mentee on the University's Professional Mentoring Programme. If you have completed the Leicester Award Gold, you are eligible to sign up for the programme as a mentee (log-in required). You'll be supported and mentored by an industry professional who will be able to provide insight into your desired career path. Your mentor is likely to be a Leicester alum, so you'll be able to swap University anecdotes whilst being mentored.
Earn some money
We have some fantastic opportunities for paid part-time work. For example, becoming a Telephone Fundraising Ambassador in our Telephone Campaign Calling Team is a great way to develop professional transferable skills and enhance your CV. You will raise vital funds for some of the University's priority appeals, have a chance to chat with alumni about life after graduation, and pick up some great careers advice (or even an internship or two!). We use recruitment service UniTemps for our hiring, so make sure you sign up to take advantage of our paid work opportunities.
Do something remarkable
The University is a charity and was founded on philanthropic donations from local families - and we'd love you to get on board to help us in our fundraising efforts! From helping with bucket collections to running a marathon, you could support everything from student societies to life-saving medical research. Look out for opportunities to join in!
Plan for your future
Considering future study? As Alumni you're automatically entitled to a 20% discount on postgraduate degrees at the University of Leicester – including part time, full time, and distance learning.
We're here to help, so get in touch via alumni.relations@le.ac.uk for more information on any of these opportunities. In the meantime, don't forget to join our LinkedIn, Twitter, Facebook and Instagram pages.