Pre 16
We deliver a range of events, activities and information sessions for pre-16 secondary school students, both on campus and in schools. In addition to these sessions, we can also attend school careers' fairs and parents' evenings. In the current climate, we have also recorded a number of our talks and can send you a link to our Youtube channel. If there are any other of our sessions which you would like a recording of to deliver in school, please don't hesitate to get in touch.
If you have any questions about any of our activities, or would like to get in touch, please contact schools@le.ac.uk.
Talks and Workshops (Years 7-11)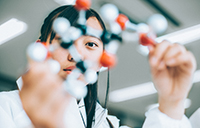 We run a number of workshops for students in Years 7 to 11, led by staff and current students. We have already recorded a number of these talks onto Youtube and you can access these by clicking on the relevant links below. If there is anything listed that hasn't yet been recorded that you would be interested in, please do let us know. We would also be happy to deliver any of these talks live for your school, so please get in touch to arrange this.
Popular sessions include:
Revision skills talk and workshop
Skills to Success workshops
University Experience Days (Years 7-11)
At present, we are unable to run any campus visits, but are hoping to be able to offer some in time for the Summer term 2021. If you are interested in booking a campus visit, please get in touch to discuss your requirements.
Year 7 – Skills for Success Day
Years 8 and 9 – University Explored
Year 10 – University Explored
Year 11 – Revision skills morning or afternoon