Pre 16
We deliver a range of events, activities and information sessions for pre-16 secondary school students, both on campus and in schools. In addition to these sessions, we can also attend school careers' fairs and parents' evenings.
If you have any questions about any of the activities listed below, or would like to get in touch, please contact schools@le.ac.uk.
Botanic Gardens (Years 7-11)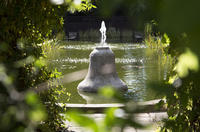 Care Leavers (Years 7-11)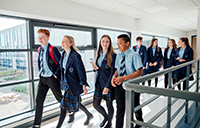 Careers and Employability (Years 7-11)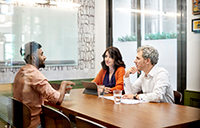 Pathways to Law (Years 10-11)
Run by current University of Leicester Law students, Pathways to Law gives students in Years 10 and 11 the chance to find out more about the legal professions.
Students will develop their debating skills by discussing a criminal law case as well as exploring the subject of Criminology and the importance of work experience
Students in Classroom (Years 7-11)
Placing our students into classrooms in local schools and colleges is a really valuable way to raise young people's aspirations towards Higher Education.
Acting as positive and inspiring role models, students taking part are keen to share their passion for their subject, encourage young people in their learning and engage with the local community.
Talks and Workshops (Years 7-11)
We run a number of workshops for students in Years 7 to 11, led by staff and current students.
Popular sessions include:
Why HE?
Making subject choices
Revision skills
Medicine, Law and Engineering subject taster sessions
University Experience Days (Years 7-11)