Pre-16
We deliver a range of events, activities and information sessions for pre-16 school students. These activities can be delivered on campus, in schools or delivered virtually (live or recorded). In the current climate, we have a large bank of recorded talks available. If there are any other sessions which you would like a recording of to deliver in school, please do not hesitate to get in touch.
If you have any questions about any of our activities, or would like to get in touch, please contact schools@le.ac.uk.
Talks and workshops (Years 7-11)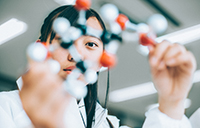 We run a number of careers workshops for students in Years 7 to 11, led by staff and current students. We have recorded these talks and made them available online for you to deliver at a time that suits. We are also able to deliver these sessions live to your students. You can request this content by following the link to our online form below. Popular sessions include:
Benefits of HE
Choosing GCSE options
Choosing post-16 options
Revision skills
Student life
Skills for Success
Goal setting workshop
If there is a session you would find useful but is not listed above, please do let us know.
Request a talk by a University of Leicester outreach representative
University Experience Days (Years 7-11)
At present, we are unable to run any campus visits due to the pandemic. However, we intend to offer experience days from the summer 2021, subject to government guidance. If you are interested in booking a campus visit, please get in contact to discuss your requirements.