Goal 3: Health and Wellbeing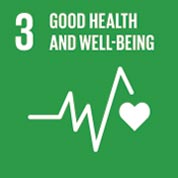 The third Sustainable Development Goal is to ensure healthy lives and promote wellbeing for all at all ages.
Though more people today are living healthier lives than ever before, many are still suffering needlessly from preventable diseases and premature death. Through working together, we can make the world a healthier place.
Teaching
41 modules have intended learning outcomes directly relating to this goal, and 5,438 students have the opportunity to choose these modules.
Research
569 articles relating to this goal were published in Scopus between 2015 and 2019, and 28,073 articles were 'cited by' in Scopus.
What we're doing (University activity)
Our impactful research is world-leading, covering the breadth of biological sciences through to clinical specialities and health sciences.
Strong relationships with the NHS and industry enable us to draw on our novel discoveries to solve the most pressing issues in the life sciences. Research is thriving due to our ambitious, multi-disciplinary approach, which is underpinned by our investment in facilities and benefits from the ethnically diverse surroundings that make Leicester so special.
Staff health and well-being strategy
The staff health and well-being strategy provides support and advice, including:
Active/healthy life
Emotional wellbeing
Health promotion
Social events/clubs
Benefits and rewards
Positive environment
Health Matters Programme
The Health Matters Programme is the George Davies Centre Community Engagement Project, funded by the Edith Murphy Foundation. By bringing together students, clinicians, researchers, community support groups, patient groups and the public to promote discussions and debate, community engagement tackles our society's biggest health challenges.
The University of Leicester Yellow Book
The University of Leicester Yellow Book has been created in partnership with RethinkYourMind as part of the Health Matters initiative. It is an inspirational guide launched in March 2019 and features positive poetry and artwork by staff and students from the University of Leicester to help spread the positive mental wellbeing message.
Courses/modules relating to the goal
Life Sciences
Biological Sciences
Neuroscience, Psychology and Behaviour
Cardiovascascular Sciences
Healthcare
Medicine
Science and Engineering
Computing
Physics and Astronomy
Geology
Social Sciences, Arts and Humanities
Business - Economics
Politics and International Relations
Law