Biological Sciences (Genetics)
Biological Sciences (Genetics)
BSc, 3-4 years
This is for you if... you want to understand why research in genetics and molecular biology is at the cutting edge of today's biosciences, from synthetic life to the use of stem cells to treat human disease.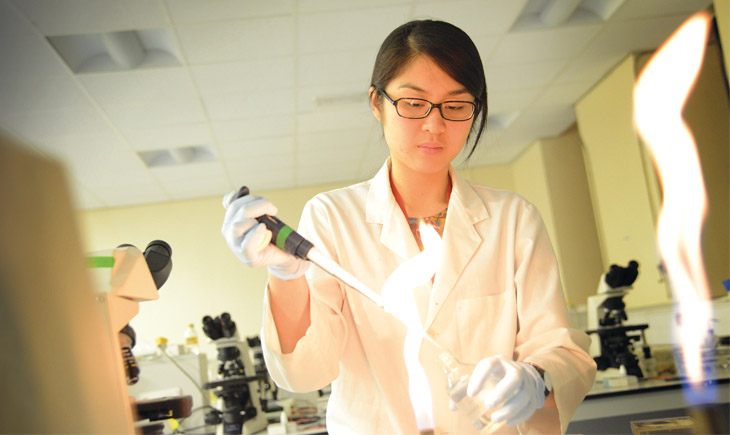 Course Description
Genetics pervades many aspects of society including human health, food production, environmental quality, species conservation, ethics and law. You will learn how genetic engineering, molecular and developmental genetics, human genetics and evolutionary genetics all contribute to a greater understanding of the discipline. You will gain a balanced understanding of modern genetics focusing on the organisation, inheritance, expression and evolution of genes in organisms ranging from bacteria to man.
At the University of Leicester, our Biological Sciences degrees are actually seven degrees in one. You can apply for this degree in Biological Sciences (Genetics) or any of the five specialist degrees listed below - or a general degree in Biological Sciences.
Whichever degree you choose, your first year will be the same and you will have the same choice of modules in your second year and again in your final year. Selecting particular modules in your second and final years will steer you towards one of our specialist degrees (which doesn't have to be the one you originally applied for). Or you can make your own selection of modules in those years and graduate with the broad knowledge that comes from a non-specialised degree.
The other available specialisms are:
Or a general degree in Biological Sciences.
What's the difference?
Our seven Biological Sciences degrees cover major aspects of biology across a wide range of organisms from bacteria and fungi to humans and plants. Our four Medical Sciences degrees focus more closely on the application of those biological principles to medicine, including the social and ethical issues raised by recent advances in medical science.
Why Leicester?
Our seven Biological Sciences degrees let you study a broad range of topics in Year 1 before choosing the area that really fascinates you, within a flexible module system that lets you also study topics outside of your main interest.
In your final year you will undertake your own research project, using professional lab-based techniques and academic skills that are crucial for careers in the biosciences.
The technique of 'DNA fingerprinting' – used by courts and crime agencies throughout the world – was invented at the University of Leicester in 1984.
Our geneticists were instrumental in identifying the remains of King Richard III, discovered by University of Leicester archaeologists underneath a car park, by comparing skeletal DNA with living relatives of the King.
Additional Information
Accreditation
If you choose to spend a year working in industry, your degree will be accredited by the Royal Society of Biology.
Teaching and Assessment
Most of your teaching will be delivered through lectures, which may include practical demonstrations. Individual lecture styles vary considerably, depending on the topic – and the lecturer! In tutorials, a small group of students meets with a member of staff for an hour to discuss and explore topics, or solve problems as a group. Some tutorials will require you to research a particular topic beforehand.
All of our Biological Sciences courses are practical degrees with strong emphasis on lab work and fieldwork.
Your first year exams will mostly be multiple choice and short answer papers, with longer essay-style questions in your second and final year exams. Coursework may include practical lab work, a lab write-up or report, a practical skills test, essays, online multiple choice assessments, a data handling exercise, solo or group presentations, a field journal or critical evaluation of a scientific paper. At the end of each semester in Years 1 and 2 you will be able to judge your overall performance, enabling you to closely monitor your progress and, if necessary, adjust your work pattern.
A significant part of your final year will be spent on an individual research study which will form the basis of your dissertation.
You will have regular meetings with your personal tutor to discuss progress in your studies. Your personal tutor will also provide a sympathetic ear for all matters of personal concern, whether they are academic, financial, housing, career or social issues.
Research Stories
Entry Requirements
A-levels: typical offer AAB/ABB, normally including at least two relevant science subjects from Biology (preferred), Chemistry, Physics or Maths. We may consider two AS-levels in place of one A2-level. General Studies not accepted.
EPQ with A-levels: typical offer BBB + EPQ at grade B. A-level subjects to include two relevant science subjects from Biology (preferred), Chemistry, Physics or Maths. General Studies not accepted.
GCSE: At least Grade C in both English Language and Maths (if not held at A-level)
Access to HE Diploma: Pass relevant diploma with 45 credits at level three, with distinctions in some subjects.
International Baccalaureate: Pass Diploma with 32/30 points, including at least two relevant science subjects at Grade 6 at higher level.
BTEC Nationals: Pass relevant Diploma with DDD plus five GCSEs at B or above including two relevant sciences. Please contact Admissions before applying.
Other national and international qualifications considered. If you do not meet the entry requirements for this course, you can apply for the
International Foundation Year
run by our dedicated International Study Centre. The ISC provides academic and English language support to help you progress to your chosen undergraduate degree at the University of Leicester.
Second year entry may be possible with suitable qualifications.
Selection Process
Applicants are not normally interviewed. If you receive an offer you will be invited to visit the School of Biological Sciences.
English Language Requirements
IELTS 6.5 or equivalent. If your first language is not English, you may need to provide evidence of your English language ability. If you do not yet meet our requirements, our English Language Teaching Unit (ELTU) offers a range of courses to help you to improve your English to the necessary standard.
International Qualifications
Find your country in this list to check equivalent qualifications, scholarships and additional requirements.
Countries list
Fees and Funding
Starting in 2017

An inflationary increase (2.8% based on RPIX*) in tuition fees and student support loans has been announced by the Government for 2017. This is still subject to formal parliamentary approval however, if approved, fees for 2017/18 entry could rise to £9,250 in 2017/18.

After 2017/18, the tuition fee you pay may increase annually in line with inflation (RPIX) and is subject to government regulations.

(*RPIX is a measure of inflation in the UK, equivalent to all items in the Retail Price Index (RPI) excluding mortgage interest payments.)

Starting in 2017

£18,855 per year
If you take a Year Abroad or Year in Industry, your fee will be £2,828.25 which is 15% of the full-time tuition fee.
Career Opportunities
Our 'Careers After Biological Sciences' series of lectures features Leicester graduates giving insights into their career experiences and good advice for finding jobs.
In the summer vacation between Years 2 and 3, a range of internal research placements are available in research labs, giving you the chance to develop your scientific skills.
We run bespoke bioscience careers events in the summer term each year, based on what our students tell us about their career intentions.
As a student in the School of Biological Sciences, you are welcome to attend seminars in any department, presented by national and international experts in the biosciences. This allows you to enhance your knowledge and get useful insights into current topics.
Careers
Our Career Development Service is here to support you, with advice on interviews, CVs, work experience, volunteering and more. From Freshers' Week to Graduation and beyond, they are here to help you reach your professional goals.
| Course | Qualification | Duration | UCAS Code | Availability |
| --- | --- | --- | --- | --- |
| Biological Sciences (Genetics) | BSc | 3 years full-time | C400 | Apply Now |
| Biological Sciences (Genetics) with Year Abroad | BSc | 4 years full-time | C400 | Apply Now |
| Biological Sciences (Genetics) with Year in Industry | BSc | 4 years full-time | C400 | Apply Now |
Course
Biological Sciences (Genetics)
Qualification
BSc
Duration
3 years full-time
UCAS Code
C400
Availability
Course
Biological Sciences (Genetics) with Year Abroad
Qualification
BSc
Duration
4 years full-time
UCAS Code
C400
Availability
Course
Biological Sciences (Genetics) with Year in Industry
Qualification
BSc
Duration
4 years full-time
UCAS Code
C400
Availability