Goal 15: Life on Land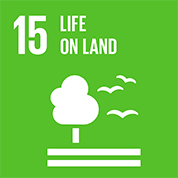 The fifteenth Sustainable Development Goal is to protect, restore and promote sustainable use of terrestrial ecosystems, sustainably manage forests, combat desertification, and halt and reverse land degradation and halt biodiversity loss.
We only have one planet, and we are proud to be working hard to protect it - ensuring we use it responsibly now, and conserve it for the future.
Teaching
26 modules have intended learning outcomes directly relating to this goal, and 3,232 students have the opportunity to choose these modules.
Research
187 articles relating to this goal were published in Scopus between 2015 and 2019, and 2,714 articles were 'cited by' in Scopus.
What we're doing (University activity)
Peat soils project
Professor Susan Page in the School of Geography, Geology and the Environment is working to raise awareness of and reduce the climate impact of land uses on peat soil.
Professor Page's research includes a particular emphasis on the impacts of land-use change and fire on the carbon cycle of tropical peatlands. By developing engagement opportunities with external organisations and businesses, her expertise has been crucial to science-based approaches to peatland management that, when implemented, support the mitigation and management of peat carbon and greenhouse gas emissions.
Biodiversity Action Plan
With 88 acres of green space hosting a plethora of species, our Biodiversity Action Plan seeks not only to 'do no harm', but also to instigate projects and strategies that make a positive contribution for all life on our sites.
Bee-utiful campus
We have undertaken number of projects to enhance our sites for pollinators and other important species - including wildflower areas, beehives, edible planters and a Forest Garden for all our staff, students and visitors to enjoy.
The Gardens and Grounds Team have planted tapestry lawns outside Astley Clarke and George Davis Centre. Tapestry Lawns are lawns with a mixture of over 60 different plant species that changes throughout the seasons. They attract 25% more invertebrate life than a typical grass lawn, with ten times the visits from twice as many pollinators – making them great for biodiversity!
Courses that feature modules relating to this goal
Life Sciences
Biological Sciences
Natural Sciences
Science and Engineering
Chemistry
Computing
Mathematical Sciences
Geography
Geology
Social Sciences, Arts and Humanities
Business - Economics
Business - Management
Politics and International Relations
Law