Geology
Geology
MGeol, 4 years
This is for you if... you want to understand the theory and applications of geology to Earth processes and systems, with a view to studying for a PhD, and with the possibility of spending a year abroad.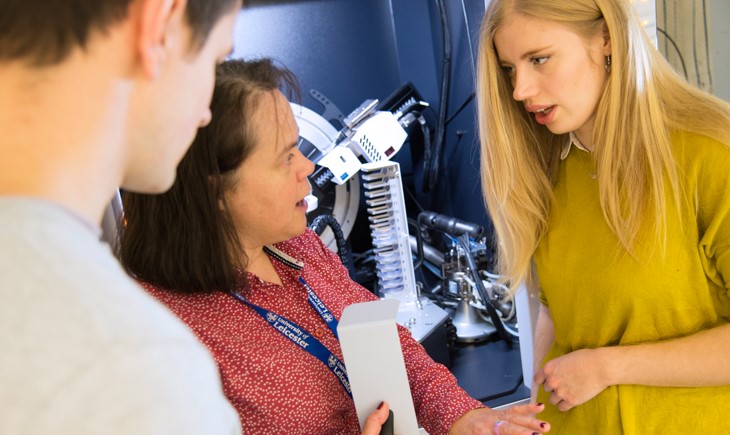 Course Description
The Department of Geology at Leicester provides a friendly, dynamic and supportive environment in which to learn about the evolution of our planet from geoscientists at the forefront of their field. Our teaching is led by our research and you will be taught by staff recognised internationally for their expertise in fields such as palaeobiology, economic geology, volcanology, structural geology, geophysics and palaeoenvironments.
Because all our degrees include common modules in the first year, you can transfer between courses as you discover those aspects of the geosciences which inspire you most and best match your particular interests and career aspirations. We pride ourselves on our excellent staff-student relations and have high student satisfaction levels not least because of our small group teaching and tutorials, which provide individually tailored academic and pastoral support throughout your degree.
Whether you study for the BSc or the MGeol, your Geology degree will provide you with a comprehensive understanding of all the key elements of geoscience. You will learn about the essential theories, practices and techniques to come out of the discipline and become well prepared for a career as a professional geoscientist.
There are plenty of chances to get your hands dirty as well! Each year of the degree includes different field work opportunities including trips to Scotland, Spain and Wales where you will be able to apply all that you have learned here on campus.
What's the difference?
Apply for a four-year MGeol degree if you are looking to fast-track your professional geological employment or to continue on to PhD research after graduation. MGeol courses include a major cutting-edge independent research project on a topic chosen by you, giving you the opportunity to work with specialist analytical facilities, learn the skills required to succeed in a research environment and potentially see your work published in a peer-reviewed journal. Plus you may be able to spend your third year abroad.
Apply for a BSc degree if you want an ideal three-year route to becoming a professional geologist or you're looking to pursue further geological studies through a specialist MSc course.
It is possible to transfer between the BSc and the MGeol up to the end of Year 2.
Fieldwork
In your first year you will receive basic geological field training on the Isle of Arran, one of the most geologically varied spots on Earth. Further field trips will take you to:
Spain - field mapping and training in advanced sedimentological techniques in an arid terrain.
Anglesey - examining and interpreting structurally complex rocks.
In your third year you will pick one from the following:
Wales - studying the geology, palaeontology and evolution of this Palaeozoic sedimentary basin
The Northwest Highlands - exploring classic areas of British geology such as the Moine Thrust zone and the oldest rocks in the UK
Tenerife - studying pyroclastic rocks on the third biggest volcano in the world
Cornwall – investigating a classic area of economic mineralisation and the environmental consequences of mining
The Midlands – hands-on experience of near-surface geophysics and seismology.
And in your fourth year a choice of either:
Overseas Field Course - using multidisciplinary data to unravel complex geologic relationships and the evolution of a region, or
Leicestershire – investigating the Anthropocene, the geological epoch we live in now.
Following additional field training in your second year, you will undertake an Independent Field-based Project. This is an exercise in practical, deductive geology which forms an important part of the degree. You choose the field area, allowing you to develop your geological interests. This will enable you to demonstrate your determination, motivation and ability to solve problems based on your own observations, as well as developing your self-confidence and organisational skills.
There will be no additional charges for your course but you will incur expenses in completing your own independent fieldwork which is a requirement of the course. You will undertake this at the end of the second year of your course and the Department will provide partial financial support for this. Your own expenses will depend upon where you decide to undertake your independent fieldwork.
Why Leicester?
Our 2016 National Student Survey student satisfaction score of 96% reflects the quality of our accredited geoscience degrees.
We have our own dedicated careers tutor with industry experience who works with the University Careers Service to deliver an exclusive and tailored Careers Development Programme throughout your degree.
The Department is home to SEIS-UK, the UK's national seismology research facility, and is a leading participant in the International Ocean Discovery Program (IODP), the world's largest Earth science research project.
Our student society organises talks, meetings, field trips and social activities. Four further groups cater for those with interests in economic geology, geophysics, palaeobiology and geoscience for global development.
Additional Information
Accreditation
All our degrees are accredited by the Geological Society of London, the professional body for geologists in the UK. Their accreditation panel said that our courses are "excellent" and they were "particularly impressed by the amount of fieldwork undertaken."
Teaching and Assessment
Our courses have a practical emphasis and are based on sound theoretical understanding.
You will be assessed through a combination of coursework, fieldwork, independent reports and projects, seminars, oral and poster presentations and computer-based tests, as well as formal exams.
We place a strong emphasis on safety training, time management, and student initiative.
Your personal tutor will provide you with individually tailored academic support throughout your degree. You will receive non-assessed feedback on every module to help you improve and prepare for your assessed work.
Through the Student-Staff Committee you can raise any issues relating to your studies and suggest course developments.

Entry Requirements
A-levels: AAB including at least two from: Biology, Chemistry, Computer Science, Environmental Science, Geography, Geology, Maths, Use of Maths or Physics.
EPQ with A-levels: AAB + EPQ at grade B. A-level subjects to include two from Biology, Chemistry, Computer Science, Environmental Science, Geography, Geology, Maths, Use of Maths or Physics.
GCSE: Maths Grade C, English Language Grade C
Access to HE Diploma: Pass science diploma with 45 credits at level 3 including at least 30 at distinction
International Baccalaureate: Pass Diploma with 34 points including higher level subjects from those listed above.
BTEC Nationals: Pass Diploma with DDD, plus GCSE requirements.
Other national and international qualifications considered.
If you do not meet the entry requirements for this course, you can apply for the International Foundation Year run by our dedicated International Study Centre. The ISC provides academic and English language support to help you progress to your chosen undergraduate degree at the University of Leicester.
Selection Process
If you receive an offer you will be invited to visit the department.
English Language Requirements
IELTS 6.0 or equivalent. If your first language is not English, you may need to provide evidence of your English language ability. If you do not yet meet our requirements, our English Language Teaching Unit (ELTU) offers a range of courses to help you to improve your English to the necessary standard.
International Qualifications
Find your country in this list to check equivalent qualifications, scholarships and additional requirements.
Countries list
Fees and Funding
Starting in 2017

An inflationary increase (2.8% based on RPIX*) in tuition fees and student support loans have been announced by the Government for 2017. This is still subject to formal parliamentary approval however, if approved, fees for 2017/18 entry could rise to £9,250 in 2017/18.

After 2017/18, the tuition fee you pay may increase annually in line with inflation (RPIX) and is subject to government regulations.

(*RPIX is a measure of inflation in the UK, equivalent to all items in the Retail Price Index (RPI) excluding mortgage interest payments.)

Year Abroad: your fee will be £1,250 for that year.

Scholarships

You can apply for dedicated bursary schemes run by Aggregate Industries and Carl Zeiss Microscopy. These typically have a total value of £13,500 and include work experience with the sponsor. We also offer £1,700 of bursaries funded by the Holloway Trust for students to develop outreach projects. There are competitive prizes and awards in each year for academic achievement and overall performance.

Starting in 2017

Year Abroad: your fee will be £4,713.75 which is 25% of the full-time tuition fee.

Scholarships

You can apply for dedicated bursary schemes run by Aggregate Industries and Carl Zeiss Microscopy. These typically have a total value of £13,500 and include work experience with the sponsor. We also offer £1,700 of bursaries funded by the Holloway Trust for students to develop outreach projects. There are competitive prizes and awards in each year for academic achievement and overall performance.
Career Opportunities
Our dedicated Careers Tutor is a former industry geologist with many years' experience.
Our annual Geology Careers Day is attended by a wide range of companies from across the geoscience sector.
We provide up-to-date information exclusively for our undergraduates on current vacancies, work experience opportunities and options for further study.
Our excellent links with employers provide great opportunities for vacation or year-out work experience.
Our graduate employment record is excellent. Around a quarter of our graduates go on to do further study on a diverse range of MSc courses, or studying for a PhD. For those going in to work, over 75% are employed in graduate level occupations; the majority within the geoscience sector.
Careers
Our Career Development Service is here to support you, with advice on interviews, CVs, work experience, volunteering and more. From Freshers' Week to Graduation and beyond, they are here to help you reach your professional goals.
| Course | Qualification | Duration | UCAS Code | Availability |
| --- | --- | --- | --- | --- |
| Geology | MGeol | 4 years full-time | F601 | Apply Now |
| Geology with a year abroad | MGeol | 4 years full-time | F601 | Apply Now |
Course
Geology
Qualification
MGeol
Duration
4 years full-time
UCAS Code
F601
Availability
Course
Geology with a year abroad
Qualification
MGeol
Duration
4 years full-time
UCAS Code
F601
Availability