Goal 13: Climate action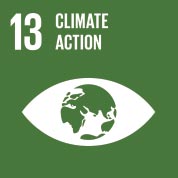 The thirteenth Sustainable Development Goal is to take urgent action to combat climate change and its impacts.
Climate change is a serious threat, and fighting back against it is a priority for both our research and our development as a university: ensuring that we help to preserve our world for generations to come.
Teaching
30 modules have intended learning outcomes directly relating to this goal, and 6,159 students have the opportunity to choose these modules.
Research
359 articles relating to this goal were published in Scopus between 2013 and 2018, and 10,593 articles were 'cited by' in Scopus.
What we're doing
Centre for Landscape and Climate Research
The Centre for Landscape and Climate Research is pursuing research excellence through discovery science and applied research with industrial partners. Our research develops Earth Observation methods, addressing environmental problems of the land and vegetation.
Research themes include:
Earth Observation Data Science, using high-performance computing and cloud computing for the analysis of big satellite datasets
Human/environment interactions, understanding the drivers and consequences of land use change, fire disturbance, deforestation and forest degradation
Water and carbon cycle interactions, using Earth Observation to initialise, constrain and validate land surface and hydrological models
George Davies Centre
Our George Davies Centre building is the UK's largest non-residential project built to the ultra-energy-efficient Passivhaus standard.
The new £42 million building includes a 1.6km-long ground-to-air heat exchanger, inter-slab cooling and a highly-insulated and airtight building envelope.
The building brings together Leicester Medical School, the Department of Health Sciences and Psychology under a single roof, and achieved a DEC 'A' rating in its first recorded year. This demonstrates its very low carbon emissions, helping the University to achieve its ambition to be recognised for 'environmental and sustainability excellence'.
Courses that feature modules relating to this goal
Life Sciences
Biological Sciences
Natural Sciences
Science and Engineering
Chemistry
Engineering
Informatics
Geography
Geology
Social Sciences, Arts and Humanities
Archaeology & Ancient History
Business - Economics
Business - Management
History
Film Studies
Media and Communication
Politics and International Relations
Law