Goal 11: Sustainable Cities and Communities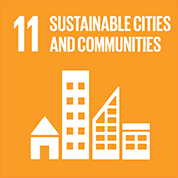 The eleventh Sustainable Development Goal is to make cities and human settlements inclusive, safe, resilient and sustainable.
Teaching
26 modules have intended learning outcomes directly relating to this goal, and 1,741 students have the opportunity to choose these modules.
Research
227 articles relating to this goal were published in Scopus between 2015 and 2019, and 11,901 articles were 'cited by' in Scopus.
What we're doing (University activity)
Air Quality Research
The Air Quality Group provide creative solutions to tomorrow's air quality challenges, informing and enabling intelligent decisions grounded in world class research. Through Air Quality Innovations, they deliver products and services for a range of clients: local authorities, policy makers, government agencies, research institutes and industry, that are tailored to client needs.
Waste Management
We have already met our waste management 2020 targets:
Achieve 50% on-site segregation of waste for recycling (by weight) – current rate 55%
Achieve 95% diversion from landfill (by weight) – current rate 97%
Civic University Agreement
The University of Leicester is among 30 universities to sign a new "Civic University Agreement" to reaffirm its role in contributing positively to the local community.
Courses/modules relating to the goal
Life Sciences
Natural Sciences
Science and Engineering
Computing
Geography
Social Sciences, Arts and Humanities
Archaeology and Ancient History
Business - Management
Modern Languages