Goal 11: Sustainable Cities and Communities
Goal 11: Sustainable Cities and Communities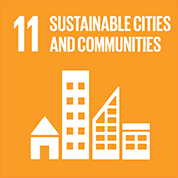 The eleventh Sustainable Development Goal is to make cities and human settlements inclusive, safe, resilient and sustainable.
Teaching
32 modules have intended learning outcomes directly relating to this goal, and 4,834 students have the opportunity to choose these modules.
Research
240 articles relating to this goal were published in Scopus between 2013 and 2018, and 7,119 articles were 'cited by' in Scopus.
What we're doing (University activity)
Air Quality Research
Working with aerial specialists, the University was able to calculate exactly how trees improve urban air quality. This has informed government policy through the DEFRA Air Quality Expert Group (chaired by a UoL Professor)
Waste Management
We have already met our waste management 2020 targets:
Achieve 50% on-site segregation of waste for recycling (by weight) – current rate 55%
Achieve 95% diversion from landfill (by weight) – current rate 97%
Civic University Agreement
The University of Leicester is among 30 universities to sign a new "Civic University Agreement" to reaffirm its role in contributing positively to the local community.
Courses/modules relating to the goal
Life Sciences
Natural Sciences
Science and Engineering
Informatics
Geography
Social Sciences, Arts and Humanities
Archaeology & Ancient History
Business - Management
Modern Languages