Ancient History
Ancient History
BA, 3 years
This is for you if… you want to explore the ancient world in depth, immersing yourself in the social and cultural worlds of antiquity.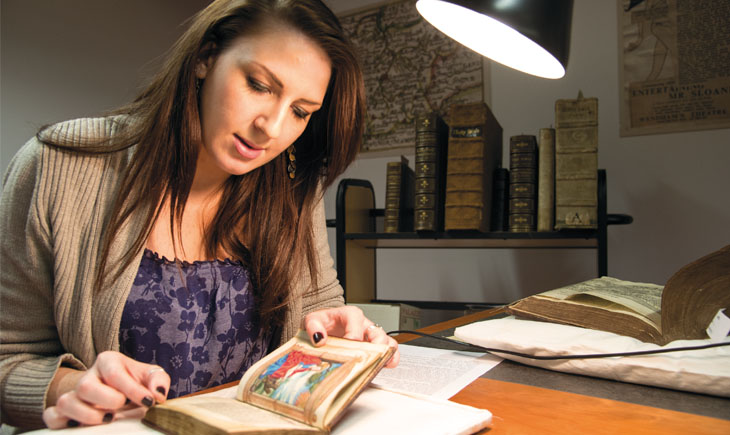 Course Description
As part of the University of Leicester's commitment to being a leading academic institution, we regularly review and update our degrees and modules to ensure that they reflect the most up-to-date research, knowledge, ideas and teaching practices, as well as taking into account student feedback. We also have to take into account the availability of key teaching staff where this will impact on the delivery of the course. As a result, if there are major changes to the course that you have applied for, we will contact you as soon as possible and will ensure that any disruption to your studies is minimised.
The BA in Ancient History offers you the chance to immerse yourself in the history of the classical world. From the Greek city-states to the Roman Empire, from kingdoms in the Near East to networks in North Africa, you will have the chance to explore a fascinating and crucial chapter of our human past.
You will learn about the societies and cultures of antiquity, and investigate the way these changed over time. You will be introduced to key historical frameworks and discover a wide range of sources that bring you face-to-face with the ancient world, from literary texts to ancient artefacts. A broad range of option modules, combined with detailed research projects and a dissertation in your final year will ensure that your course has breadth as well as depth.
Why Leicester?
Our staff conduct research across the breadth of the ancient world, from North Africa to the Near East, as well as in the core of the Greco-Roman Mediterranean.
Our subsidised annual Study Tour to Rome is an unforgettable experience, introducing you to the sites and monuments of the eternal city.
We have strengths in social and cultural history, allowing you to engage with the people of the ancient world in new and innovative ways.
Course Structure
Year 1
Year 1
You will be introduced to Greek and Roman history, as well as key types of source material available for studying the classical world including literature and art, inscriptions, coins, and material culture. You will also learn about thebroader contexts of Greco-Roman antiquity, exploring the diverse societies of the ancient world beyond the Mediterranean from Iron Age Europe to pharaonic Egypt, and from ancient Mesopotamia to the Berbers.
Modules
Introduction to Classical Culture
The Ancient World Beyond the Mediterranean
Modules shown represent choices available to current students. The range of modules available and the content of any individual module may change in future years.
Year 2
Year 2
To develop your skills further, you will undertake an in-depth source project and learn about wide range of approaches and methods for studying the past. You will be able to choose six option modules from a range of options covering Greek, Roman and Near Eastern antiquity. You may also take an optional module in Latin, to improve both your language skills and your knowledge of Latin literature. There is also the opportunity to participate in a subsidised study tour to Rome.
Core modules
Option modules
Choose 6 option modules from:
Greek History in 40 Lives
Modules shown represent choices available to current students. The range of modules available and the content of any individual module may change in future years.
Year 3
Year 3
You will write a dissertation on a topic of your choice, within the field of Ancient History. The rest of the modules are up to you. This gives you the opportunity to tailor the degree to the areas and periods that most interest you.
Core modules
Option modules
Choose 5 option modules from:
Ancient History in Education
Britain in the Roman Empire
Early Christian Europe
The Fall of the Roman Republic
Modules shown represent choices available to current students. The range of modules available and the content of any individual module may change in future years.
Major/Minor Degrees
Major/Minor degrees enable you to create your own degree. You can study a core area in depth (your major subject), while also exploring an additional area (your minor subject).
Why not complement your Major with a subject that you enjoyed before, or which has vocational elements that can boost your career prospects? Alternatively, you may want to try something completely new that you've always been interested in, like a language.
Find out more
Teaching and Assessment
You will be taught by a variety of methods, ranging from large lectures to seminars to individual tutorials. Lectures are used to provide historical narrative and to raise key historical questions and areas of debate. Seminars are where you share your opinion about those debates and put forward your interpretation of history.
Assessment is through exams and essays, source analyses, group projects and presentations.
Research Stories
Entry Requirements
A/AS-levels: ABB. Two AS-levels can be considered in place of one A-level. General Studies or Critical Thinking accepted.
EPQ with A-levels: BBB + EPQ at grade B. Two AS-levels considered in place of one A-level. General Studies accepted.
GCSE: English and Maths at grade C
Access to HE Diploma: Pass diploma with 45 credits at level 3, including some at Distinction
International Baccalaureate: Pass Diploma with 28-30 points.
BTEC Nationals: Pass Diploma with DDM
Other national and international qualifications welcomed.

Second Year Entry may be possible with suitable qualifications.
Selection Process
When considering your application, we will look for evidence that you will be able to fulfil the objectives of the course and achieve the standards required. We will take into account a range of factors including previous exam results.
Applicants are not normally interviewed. If you receive an offer you will be invited to visit the department.
English Language Requirements
IELTS 6.5 or equivalent. If your first language is not English, you may need to provide evidence of your English language ability. If you do not yet meet our requirements, our English Language Teaching Unit (ELTU) offers a range of courses to help you to improve your English to the necessary standard.
International Qualifications
Find your country in this list to check equivalent qualifications, scholarships and additional requirements.
Countries list
Fees and Funding
Starting in 2017

£9,250 in your first year. After 2017/18, the tuition fee you pay may increase annually in line with inflation (RPIX) and is subject to government regulations. (RPIX is a measure of inflation in the UK, equivalent to all items in the Retail Price Index (RPI) excluding mortgage interest payments.)
Year Abroad: your fee will be £1,250 for that year.

Starting in 2018

Find out more about scholarships and funding

Starting in 2017

£15,290 per year
Year Abroad: your fee will be £3,822.50 which is 25% of the full-time tuition fee.

Starting in 2018

Find out more about scholarships and funding.

Career Opportunities
We have dedicated work experience and outreach tutors who organise placements for you in schools, museums, field archaeology units, archives, and on external projects – complementing the volunteering provision within the University.
You can choose to take career-focused modules (such as Professional Skills or Ancient History in Education) with our volunteering scheme: Classics in the Community.
Careers
Our Career Development Service is here to support you, with advice on interviews, CVs, work experience, volunteering and more. From Freshers' Week to Graduation and beyond, they are here to help you reach your professional goals.
| Course | Qualification | Duration | Attendance | UCAS Code | Availability |
| --- | --- | --- | --- | --- | --- |
| Ancient History | BA | 3 years | Full-time | V112 | Apply Now |
Course
Ancient History
Qualification
BA
Duration
3 years
Attendance
Full-time
UCAS Code
V112
Availability