Ancient History and History
BA, 3-4 years
This is for you if... you want to study the foundations upon which modern history stands, covering the great civilisations of antiquity and the nations that rose in the wake of their demise.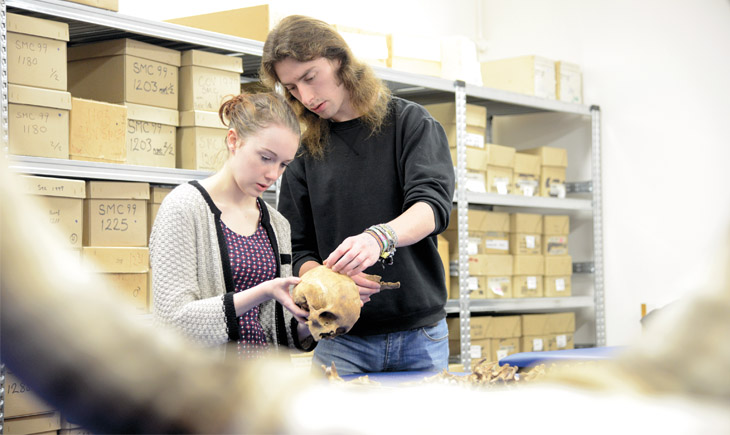 Course Description
The BA Ancient History and History allows you to combine the study of the classical world alongside medieval and modern history. This will provide you with an understanding of societies and cultures from a huge variety of historical periods. This course gives you the opportunity to engage with themes that transcend all ages, such as democracy and empire, and recognises aspects of the human experience that are constant as well as those that have changed with time.
You will discover the societies and cultures of the past, travelling as far back as early Greece and Rome and moving through history to the present day. You will have the opportunity to immerse yourself in the periods of history between these two points through a wide choice of option modules, giving you the chance to analyse the themes that re-occur and change throughout history.
Why Leicester?
Our New History Lab brings together staff and students every fortnight to discuss history over tea and cake. Guest speakers have included newsreader Julie Etchingham and historian Melvyn Bragg.
Our staff teach and research across a wide range of topics - from medieval to modern periods and across all the continents. This is reflected in the diversity and breadth of modules that you can study.
The History Society, one of the largest societies in the University, has won an award for its support network and regular academic and social events, including the annual English and History Ball.
More than 90% of our research has been designated internationally significant, meaning our academics are among the world's best in their subjects. 
Major/Minor Degrees
Major/Minor degrees enable you to create your own degree. You can study a core area in depth (your major subject), while also exploring an additional area (your minor subject).
Why not complement your Major with a subject that you enjoyed before, or which has vocational elements that can boost your career prospects? Alternatively, you may want to try something completely new that you've always been interested in, like a language.
Find out more
Teaching and Assessment
You will be taught by a variety of methods, ranging from large lectures to seminars to individual tutorials. Lectures are used to provide historical narrative and to raise key historical questions and areas of debate. Seminars are where you share your opinion about those debates and put forward your interpretation of history.
Assessment is through exams and essays, source analyses, group projects and presentations.
Independent learning
When not attending lectures, seminars or other timetabled sessions you will be expected to continue learning independently through self-study. Typically, this will involve reading journal articles and books, working on individual and group projects, undertaking research in the library, preparing coursework assignments and presentations, and preparing for exams. To help with your independent learning, you can access the Library and our social study spaces in halls of residence.
Overall workload
Typical workload hours for Archaeology and Ancient History courses in 2016/17:

Year 1: 15% of your time is spent in timetabled teaching and learning activity
Teaching, learning and assessment: 180 hours
Independent learning: 1020 hours
Year 2: 11% of your time is spent in timetabled teaching and learning activity
Teaching, learning and assessment: 132 hours
Independent learning: 1068 hours
Optional year abroad: If you're spending a year abroad, your contact will vary depending on the institution you're studying at.
Final year: 20% of your time is spent in timetabled teaching and learning activity
Teaching, learning and assessment: 240 hours
Independent learning: 960 hours
While your actual contact hours may depend on the option modules you select, the above information gives an indication of how much time you will need to allocate to different activities for each year of your course.
Academic support
Our Student Learning Development Team provides help in the following areas:
study and exam skills
academic writing
presentations
dissertations
numerical data skills
referencing sources
Our AccessAbility Centre offers support and practical help for students with dyslexia or other specific learning difficulties, including physical, mental health or mobility difficulties, deafness, or visual impairment.
Teaching staff
You will be taught by an experienced teaching team whose expertise and knowledge are closely matched to the content of the modules on the course. PhD research students who have undertaken teacher training may also contribute to the teaching of seminars under the supervision of the module leader. Our teaching is informed by the research we do. You can learn more about our staff by visiting our staff profiles.
Entry Requirements
A/AS-levels: ABB. Two AS-levels can be considered in place of one A-level. General Studies or Critical Thinking accepted.
EPQ with A-levels: BBB + EPQ at grade B.
GCSE: English and Maths at grade C
Access to HE Diploma: Pass diploma with 45 credits at level 3, 30 of which must be at Distinction
International Baccalaureate: Pass Diploma with 30 points.
BTEC Nationals: Pass Diploma with DDM
Other national and international qualifications welcomed.
Second Year Entry may be possible with suitable qualifications.
Selection Process
When considering your application, we will look for evidence that you will be able to fulfil the objectives of the course and achieve the standards required. We will take into account a range of factors including previous exam results.
Applicants are not normally interviewed. If you receive an offer you will be invited to visit the department.
English Language Requirements
IELTS 6.5 or equivalent. If your first language is not English, you may need to provide evidence of your English language ability. If you do not yet meet our requirements, our English Language Teaching Unit (ELTU) offers a range of courses to help you to improve your English to the necessary standard.
International Qualifications
Find your country in this list to check equivalent qualifications, scholarships and additional requirements.
Countries list
Fees and Funding
Starting in 2018

£9,250 in your first year. After 2018/19, the tuition fee you pay may increase annually in line with inflation and is subject to government regulations.
Year Abroad: your fee will be £1,250 for that year.

Find out more about scholarships and funding.


Starting in 2018

£15,980 per year
Year Abroad: your fee will be £3,995 which is 25% of the full-time tuition fee.

Find out more about scholarships and funding.

Career Opportunities
We have dedicated work experience and outreach tutors who organise placements for you in schools, museums, field archaeology units, archives, laboratories and on external projects – complementing the volunteering provision within the University.
You can choose to take career-focused modules (such as Professional Skills; Archaeology and Ancient History in Education) and volunteer for Archaeology and Classics in the Community.
Careers
Our Career Development Service is here to support you, with advice on interviews, CVs, work experience, volunteering and more. From Freshers' Week to Graduation and beyond, they are here to help you reach your professional goals.
| Course | Qualification | Duration | UCAS Code | Availability |
| --- | --- | --- | --- | --- |
| Ancient History and History | BA | 3 years full-time | V110 | Apply Now |
| Ancient History and History with Year Abroad | BA | 4 years full-time | V110 | Apply Now |
Course
Ancient History and History
Qualification
BA
Duration
3 years full-time
UCAS Code
V110
Availability
Course
Ancient History and History with Year Abroad
Qualification
BA
Duration
4 years full-time
UCAS Code
V110
Availability
Not what you're looking for?