History
History
BA, 3-4 years
This is for you if... you want to delve into the past and understand how the movements, ideas, and people that shaped the past are still affecting the present and informing our future.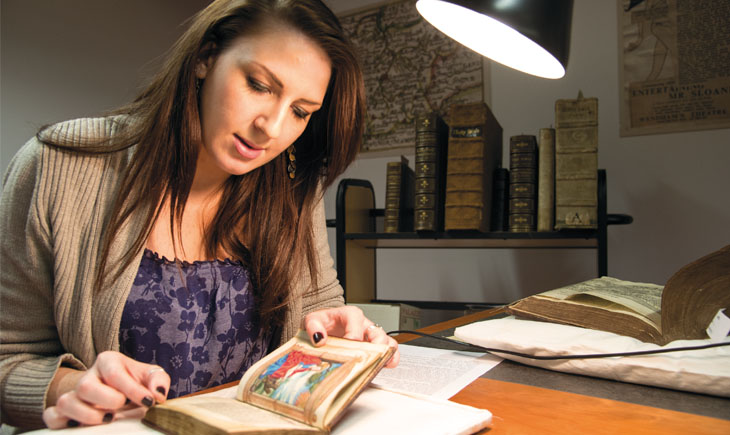 Course Description
As part of the University of Leicester's commitment to being a leading academic institution, we regularly review and update our degrees and modules to ensure that they reflect the most up-to-date research, knowledge, ideas and teaching practices, as well as taking into account student feedback. We also have to take into account the availability of key teaching staff where this will impact on the delivery of the course. As a result, if there are major changes to the course that you have applied for, we will contact you as soon as possible and will ensure that any disruption to your studies is minimised.
The History BA will give you the opportunity to explore a wide range of historical periods from medieval to modern, and locations from Europe to Asia. Within this scope you will discover the various approaches from which history is often viewed. Political, cultural, intellectual, social, economic, and international perspectives will all come into play as you explore the web of factors that contributes to our understanding of history.
As one of the largest history departments in the UK, we can offer you a broad choice of periods and subjects, from the fifth century to the contemporary world, and from English local history to globalisation.
Your first year will be spent acquiring foundational skills and knowledge, as well as exploring areas of history that particularly interest you. As your degree progresses, you will specialise increasingly in topics that inspire you as well as learning the essential elements of the historian's craft. With experts in a plethora of topics, you will always be able to find modules that pique your curiosity and quench your thirst for knowledge – from peopling Australia to the history of alcohol in America.
Why Leicester?
The University Library contains some fascinating historical archives, including the East Midlands Oral History Archive, featuring 30 years of recordings dating back to the Victorian period. 
Our staff expertise covers history from every part of the globe and from the medieval to modern periods. This is reflected in the diversity and breadth of modules that you can study.
You will be taught by academics at the forefront of their fields. Their enthusiasm and the opportunity to contribute your own ideas makes for an exciting learning environment.
More than 90% of our research has been designated internationally significant, meaning our academics are among the world's best in their subjects. 
Major/Minor Degrees
Major/Minor degrees enable you to create your own degree. You can study a core area in depth (your major subject), while also exploring an additional area (your minor subject).
Why not complement your Major with a subject that you enjoyed before, or which has vocational elements that can boost your career prospects? Alternatively, you may want to try something completely new that you've always been interested in, like a language.
Find Out More
Teaching and Assessment
We teach through a variety of methods, ranging from large lectures to seminars to individual tutorials. Lectures are used to provide historical narrative and to raise key historical questions and areas of debate; seminars are where you share your opinion about those debates and put forward your interpretation of history. The first year normally sees about ten contact hours per week, and greater emphasis is placed on small group teaching and independent study as you progress through the degree.
Assessment is through exams and coursework comprising long and short essays, source analyses, group projects, and both group and individual presentations. Approximately two thirds of your final degree mark will be based on your coursework; one third on your exams.
You will have regular meetings with your personal tutor to discuss progress in your studies. Your personal tutor will also provide a sympathetic ear for all matters of personal concern, whether academic, financial, housing, career or social.
Research Stories
Entry Requirements
A/AS-levels: ABB at A-Level. We prefer A-Level History, though this is not essential. Two AS-Levels considered in place of one A-Level. General Studies is accepted.
EPQ with A-levels: BBB at A-Level + EPQ at grade B. We prefer A-Level History, though this is not essential. Two AS-Levels considered in place of one A-Level. General Studies is accepted.
Access to HE Diploma: Pass relevant diploma with 45 credits at level 3 including some at distinction.
International Baccalaureate: Pass Diploma with 30 points including grade 6 in one Higher Level subject.
BTEC Nationals: Pass Diploma with DDM. Please contact department regarding eligibility.
Other national and international qualifications considered. If you do not meet the entry requirements for this course, you can apply for the International Foundation Year run by our dedicated International Study Centre. The ISC provides academic and English language support to help you progress to your chosen undergraduate degree at the University of Leicester.
Second Year Entry may be possible with suitable qualifications.
Selection Process

When considering your application, we will look for evidence that you will be able to fulfil the objectives of the course and achieve the standards required. We will take into account a range of factors including previous exam results.
Applicants are not normally interviewed. If you receive an offer you will be invited to visit the School of History.
English Language Requirements
IELTS 6.5 or equivalent. If your first language is not English, you may need to provide evidence of your English language ability. If you do not yet meet our requirements, our English Language Teaching Unit (ELTU) offers a range of courses to help you to improve your English to the necessary standard.
International Qualifications
Find your country in this list to check equivalent qualifications, scholarships and additional requirements.
Countries list
Fees and Funding
Starting in 2017

£9,250 in your first year. After 2017/18, the tuition fee you pay may increase annually in line with inflation (RPIX) and is subject to government regulations. (RPIX is a measure of inflation in the UK, equivalent to all items in the Retail Price Index (RPI) excluding mortgage interest payments.)

Year Abroad: your fee will be £1,250 for that year.

Starting in 2018

Find out more about scholarships and funding.

Starting in 2017

Year Abroad: your fee will be £3,822.50 which is 25% of the full-time tuition fee.

Starting in 2018

Find out more about scholarships and funding.


Career Opportunities
The School offers several practical or placement modules so that you can gain hands-on experience in your chosen career path. For example our 'History in the Classroom' module includes practical teaching experience by incorporating a placement in a local school.
The School routinely develops paid internship opportunities for our students to gain additional, relevant work experience during their degrees. Roles such as research assistant, conference organiser, and editorial assistant have been offered in recent years.
Careers
Our Career Development Service is here to support you, with advice on interviews, CVs, work experience, volunteering, and more. From Freshers' Week to Graduation and beyond, they are here to help you reach your professional goals.
| Course | Qualification | Duration | UCAS Code | Availability |
| --- | --- | --- | --- | --- |
| History | BA | 3 years full-time | V100 | Apply Now |
| History with Year Abroad | BA | 4 years full-time | V100 | Apply Now |
Course
History
Qualification
BA
Duration
3 years full-time
UCAS Code
V100
Availability
Course
History with Year Abroad
Qualification
BA
Duration
4 years full-time
UCAS Code
V100
Availability
Not what you're looking for?