Goal 5: Gender Equality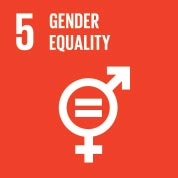 The fifth Sustainable Development Goal is to achieve gender equality and empower all women and girls.
Teaching
38 modules have intended learning outcomes directly relating to this goal, and 3,522 students have the opportunity to choose these modules.
Research
116 articles relating to this goal were published in Scopus between 2015 and 2019, and 3,006 articles were 'cited by' in Scopus.
What we're doing
International Women's Day
Every year the University celebrates International Women's Day (IWD) with a variety of events throughout the week, including Leicester Wall of Women and numerous academic talks. The global theme for IWD 2021 is #ChooseToChallenge which recognises that gender diversity and equality will drive better world and we must continue to strive for this, not only on IWD by every day.
European Commission report
Dr Eugenia Caracciolo di Torella from Leicester Law School has jointly authored a report to the European Commission on the potential impact of the collaborative economy on gender equality. The study argues that the collaborative economy has the potential to affect the principle of gender equality in many respects, and as it continues to develop, these will become more apparent. It is clearly time to acknowledge and regulate the potential impact that the collaborative economy may have on gender equality.
Menopause Policy
Three members of the Business School wrote the Government Equalities Office report 'The effects of menopause transition on women's economic participation in the UK (PDF)'. This resulted in Leicester becoming the first university in the UK to have a menopause policy. The policy demystifies menopause by encouraging staff to talk about it candidly and informally, as well as encouraging men to talk about menopause too.
Courses/modules relating to the goal
Life Sciences
Healthcare
Science and Engineering
Computing
Social Sciences, Arts and Humanities
Archaeology and Ancient History
Business - Management
Criminology
History
Film Studies
Media and Communication
Modern Languages
Politics and International Relations
Sociology
Law