Human Resource Management
BA, 3-4 years
This is for you if... you are fascinated by the way society is organised and the ways human beings relate to one another, with a particular interest in how this relates to human resource matters.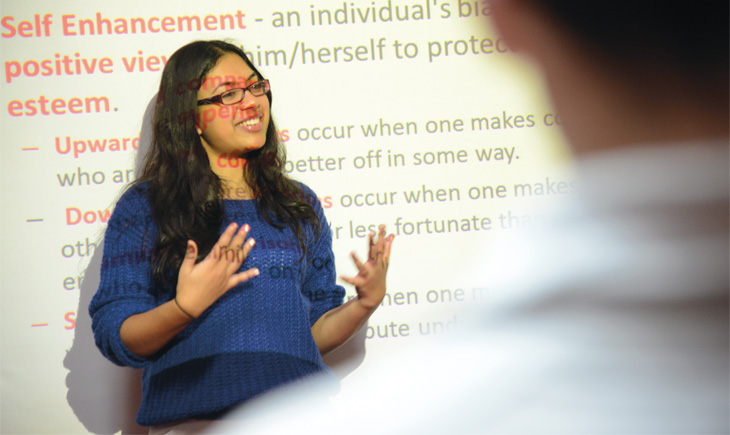 Course Description
Our Human Resource Management BA will expose you to the realities of the managerial experience in both the public and private sectors, and the relevance of theory for the solution of management problems. It enables you to combine your studies of management with a specialist focus on organisational studies. This allows you to acquire a wide range of critical and analytical skills, along with a range of communication and team-working skills, which will be directly transferable to the workplace whatever career you choose to follow.
In all aspects of contemporary society, management fulfils an increasingly vital role. Successful management requires key skills, especially the managing of people in increasingly complex organisational settings. It also requires an understanding of the different cultural, socioeconomic and political factors that shape contemporary organisations and the people that work in them. By specialising in organisation studies, you will gain a comprehensive grounding in the functions of management and its role in successfully managing people and organisations. This is underpinned by critical analysis of the organisational context in which managers and employees work.
At Leicester we approach management and organisation so far as it affects not only upon the lives of managers, but also the lives of more or less everybody. We are known for the 'Leicester Model' of management studies – an approach that challenges the status quo and seeks to give voice to those individuals, groups and societies who are traditionally overlooked in global management and organisational processes. With our distinctive approach to the study of management, you can be certain that we will provide you with a wealth of exciting learning experiences.
Our courses will provide you with an in-depth understanding of contemporary management techniques, and will allow you to develop the skills to become an effective and socially responsible manager in local and global arenas, whether in public, private or third sector organisations and enterprises.
Why Leicester?
Our multi-disciplinary approach to management draws on anthropology, cultural studies, economics, sociology, politics and psychology – as well as traditional management theories.
We are a member of the Chartered Association of Business Schools and hold a Small Business Charter Award in recognition of our role in helping to kick-start British enterprise.
Throughout the programme there is an emphasis on the demands of employers for critical and analytical problem-solving skills that you will require to keep pace with rapid changes in the workplace.
You will have the opportunity to gain a global outlook and real-world experience through our year abroad and placement year opportunities.
Major/Minor Degrees
Major/Minor degrees enable you to create your own degree. You can study a core area in depth (your major subject), while also exploring an additional area (your minor subject).
Why not complement your Major with a subject that you enjoyed before, or which has vocational elements that can boost your career prospects? Alternatively, you may want to try something completely new that you've always been interested in, like a language.
Find out more
Teaching and Assessment
During your first year you will have 9-10 hours each week of timetabled sessions. These typically consist of 6 hours of lectures and 3-4 hours of seminars or small group work.
A variety of teaching methods are used with the aim of creating a stimulating environment in which you are encouraged to develop your learning skills and to actively participate in the learning process.
Assessment varies from one module to another and ranges between a mixture of coursework and examination in some modules, to others that are 100% coursework or project-based.
We are a vibrant and reflective School and the enthusiasm you will find in the lecture theatre and seminar room comes from our commitment to our subject and our attempts to develop and energise it.
Independent learning
When not attending lectures, seminars or other timetabled sessions you will be expected to continue learning independently through self-study. Typically, this will involve reading journal articles and books, working on individual and group projects, undertaking research in the library, preparing coursework assignments and presentations, and preparing for exams. To help with your independent learning, you can access the Library and our social study spaces in halls of residence.
Overall workload
Typical workload hours for School of Business courses in 2016/17:

Year 1: 16% of your time is spent in timetabled teaching and learning activity
Teaching, learning and assessment: 192 hours
Independent learning: 1008 hours
Year 2: 14% of your time is spent in timetabled teaching and learning activity
Teaching, learning and assessment: 168 hours
Independent learning: 1032 hours
Optional year abroad: If you're spending a year abroad, your contact hours will vary depending on the institution you're studying at.

Final year: 10% of your time is spent in timetabled teaching and learning activity
Teaching, learning and assessment: 120 hours
Independent learning: 1080 hours
While your actual contact hours may depend on the option modules you select, the above information gives an indication of how much time you will need to allocate to different activities for each year of your course.
Academic support
Our Student Learning Development Team provides help in the following areas:
study and exam skills
academic writing
presentations
dissertations

numerical data skills

referencing sources
Our AccessAbility Centre offers support and practical help for students with dyslexia or other specific learning difficulties, including physical, mental health or mobility difficulties, deafness, or visual impairment.
Teaching staff
You will be taught by an experienced teaching team whose expertise and knowledge are closely matched to the content of the modules on the course. PhD research students who have undertaken teacher training may also contribute to the teaching of seminars under the supervision of the module leader. Our teaching is informed by the research we do. You can learn more about our staff by visiting our staff profiles.
Entry Requirements
A/AS-levels: ABB. Two AS-levels may be considered in place of one A-level. General Studies accepted.
EPQ with A-levels: BBB + EPQ at grade B.
GCSE: Mathematics and English Language at grade C.
Access to HE Diploma: Pass relevant diploma with 45 credits at Level 3, including 30 credits at Distinction.
International Baccalaureate: Pass Diploma with 30 points, with grade 4 in SL Maths.
BTEC Nationals: Full Diploma with DDM, plus GCSE requirements as above.
Other national and international qualifications considered.
If you do not meet the entry requirements for this course, you can apply for either the International Year One or the International Foundation Year run by our dedicated International Study Centre. The ISC provides academic and English language support to help you progress to your chosen undergraduate degree at the University of Leicester.
Second Year Entry may be possible with suitable qualifications.
Selection Process
When considering your application, we will look for evidence that you will be able to fulfil the objectives of the course and achieve the standards required. We will take into account a range of factors including previous exam results.
Applicants are not normally interviewed. If you receive an offer you will be invited to visit the School of Business.
English Language Requirements
IELTS 6.5 or equivalent. If your first language is not English, you may need to provide evidence of your English language ability. If you do not yet meet our requirements, our English Language Teaching Unit (ELTU) offers a range of courses to help you to improve your English to the necessary standard.
International Qualifications
Find your country in this list to check equivalent qualifications, scholarships and additional requirements.
Countries List
Fees and Funding
Starting in 2018

£9,250 in your first year. After 2018/19, the tuition fee you pay may increase annually in line with inflation and is subject to government regulations.

Year Abroad:

your fee will be £1,250 for that year.
Year in Industry: your fee will be 15% of the full-time tuition fee that applies in that year.

Find out more about scholarships and funding.




Starting in 2018

Year Abroad: your fee will be £3,980 which is 25% of the full-time tuition fee.

Year in Industry: your fee will be £2,397 which is 15% of the full-time tuition fee.
Career Opportunities
Alongside your academic work we recognise that it is also important that you gain experience and develop your skills. The School's dedicated in-house Career Development Manager works closely with the University's Career Development Service to make sure you get support to achieve your aspirations.
Whether you want to make a difference in the voluntary sector, start your own business or reach the top in an organisation, there are specially designed programmes and activities here at Leicester that can support you in the getting the right skills, experiences and exposure you need.
Careers that our graduates have pursued include roles within management, consultancy, HR, research, finance and accounting and higher education.
Careers
Our Career Development Service is here to support you, with advice on interviews, CVs, work experience, volunteering and more. From Freshers' Week to Graduation and beyond, they are here to help you reach your professional goals.
| Course | Qualification | Duration | UCAS Code | Availability |
| --- | --- | --- | --- | --- |
| Human Resource Management | BA | 3 years full-time | N600 | Apply Now |
| Human Resource Management with Year Abroad | BA | 4 years full-time | N600 | Apply Now |
| Human Resource Management with Year in Industry | BA | 4 years full-time | N600 | Apply Now |
Course
Human Resource Management
Qualification
BA
Duration
3 years full-time
UCAS Code
N600
Availability
Course
Human Resource Management with Year Abroad
Qualification
BA
Duration
4 years full-time
UCAS Code
N600
Availability
Course
Human Resource Management with Year in Industry
Qualification
BA
Duration
4 years full-time
UCAS Code
N600
Availability