Goal 7: Affordable and Clean Energy
Goal 7: Affordable and Clean Energy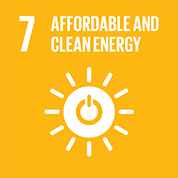 The seventh Sustainable Development Goal is to ensure access to affordable, reliable, sustainable and modern energy for all.
Teaching
11 modules have intended learning outcomes directly relating to this goal, and 1,233 students have the opportunity to choose these modules.
Research
67 articles relating to this goal were published in Scopus between 2015 and 2019, and 1,548 articles were 'cited by' in Scopus.
What we're doing (University activity)
Condensed Matter Physics Research Group
The University of Leicester is involved in a number of industrial collaborations that are leading the way in the search for alternative energy sources. One such example comes from our Condensed Matter Physics Research Group, who are developing thin and transparent photovoltaic film that can be applied to large surface areas, including windows.
Carbon Management Plan
The University's Carbon Management Plan demonstrates the University of Leicester's continued commitment towards reducing carbon emissions impact against its 2004/05 baseline. By taking actions as set out in the Carbon Management Action Plan, the University continues in its aim to reduce emissions from its activities and has already reduced emissions by 46% despite growing in size.

The University has been awarded the triple gold Carbon Saver Standard in carbon, waste and water reductions.
Courses/modules relating to the goal
Life Sciences
Natural Sciences
Science and Engineering
Chemistry
Social Sciences, Arts and Humanities
Business - Management