Goal 1: No Poverty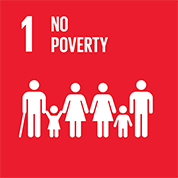 The first Sustainable Development Goal is to end poverty in all its forms everywhere.
Teaching
11 modules have intended learning outcomes directly relating to this goal, and 720 students have the opportunity to choose these modules.
Research
94 articles relating to this goal were published in Scopus between 2015 and 2019, and 1.159 articles were 'cited by' in Scopus.
What we're doing (University activity)
World Awareness for Children in Trauma campaign
Professor Vostanis's research (Psychology) focuses on the impact of trauma on child mental health, with particular focus on low-income countries
The Big Sleep
The Big Sleep 2019 raised over £15,000 for The Bridge Homelessness to Hope as staff and students from the University of Leicester spent a night under the stars to raise awareness of homelessness
Courses/modules relating to the goal
Science and Engineering
Computing
Social Sciences, Art and Humanities
Business - Economics
Politics and International Relations