Economics
Economics
BSc, 3-4 years
This is for you if... you want to investigate in depth the application of mathematics and statistics to core areas of economics.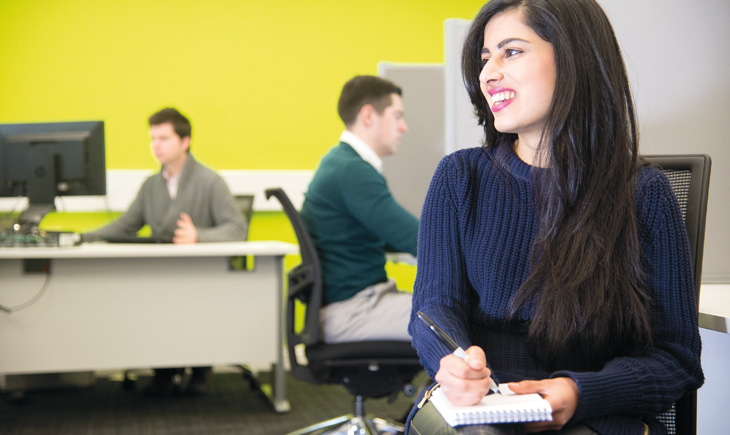 Course Description
An Economics BSc is for you if you want to build on the foundation of a Mathematics A-level and gain specialist knowledge in the application of mathematics and statistics to core areas of economics.
You can't listen to the radio or watch the news without coming across an economic issue. If these issues capture your attention and you want to study them in a young and dynamic department then this is the university for you.
The thorough understanding of economics that this course offers will enable you to better understand the world around you and the economic issues we encounter on a daily basis.
The first year of this degree is common to the following BSc degrees:
This means that you will have the option to switch to one of the BSc degrees in this list during your first year.
This course will prepare you for a career in economic research, statistical forecasting and econometrics, as well as traditional areas of economics such as management, finance and accountancy. Your time here will also equip you with research techniques that are vital to postgraduate study.
Our staff are internationally renowned and have acted as advisers and consultants to many international and national organisations, including the European Central Bank, the United Nations, the International Monetary Fund, the Central Bank of Poland, the Central Bank of Greece and a number of UK Government departments.
To help you develop the skills that leading employers ask for, and let you see how traders work, we have 12 Bloomberg terminals in the University Library.
The close relationship between research and teaching is one of the great advantages of studying with us. We welcome talented students from countries all over the world.
What's the difference?
The Economics BSc differs from the Economics BA in the topics that you will study, as well as the entry requirements.
For the BSc:
You will need to have achieved an A-level in Maths - at least grade B.
You will gain experience in the use of advanced mathematical and statistical techniques in economic analysis and its applications.
For the BA:
You will need to have achieved a GCSE in Maths - at least a grade B.
You will focus on the development of your skills as an economist through their application to a wide range of real world issues.
Why Leicester?
Our 12 Bloomberg terminals let you see how traders work and also access financial news and information, including real-time stock quotes 24/7. By using this industry standard platform, you will develop skills that top employers ask for.
You will have the opportunity to gain a global outlook and real-world experience through our year abroad and year in industry opportunities.
We have a dedicated Student Support Manager who provides information, advice and guidance on the graduate job application process and a Personal Tutor to assist in all areas of your academic study.
All first year Economics students can sign up for a peer mentor who can provide help and support with coursework, exam tips, study skills, careers and how to make the most of your time at Leicester.
Teaching and Assessment
You will usually have eight hours of lectures and four hours of classes or tutorials per week, although this may vary between modules. The lecture programme is supported by small-group tutorials, seminars or practical classes, designed to encourage discussion, exploration and application of issues arising from lecture material.
During the course of your degree you will be assessed by a mixture of exams and coursework. In your final year you will complete an Applied Econometrics Project. This will give you the opportunity to work on a topic of your choice that you are particularly interested in.
Entry Requirements
A/AS-levels: ABB including Maths at Grade B or above. Two AS-levels considered in place of one A-level. General Studies or Critical Thinking not included. Own language may be considered.
EPQ with A-levels: BBB + EPQ at grade B. A level subjects to include Mathematics at grade B. Two AS-levels considered in place of one A level. General Studies and Critical Thinking not accepted. Own language may be considered.
Access to HE Diploma: Pass relevant diploma with some credits at distinction, with equivalent to A-level grade B in Maths.
International Baccalaureate: Pass Full Diploma with 30 points overall including 5 Higher Level Maths.
BTEC Extended National Diploma: DDD in Business diploma with strong GCSE background and A-level Mathematics at grade B.
Other national and international qualifications considered. If you do not meet the entry requirements for this course, you can apply for the International Foundation Year run by our dedicated International Study Centre. The ISC provides academic and English language support to help you progress to your chosen undergraduate degree at the University of Leicester.
Second Year Entry may be possible with suitable qualifications.
Selection Process
Applicants are not normally interviewed. If you receive an offer you will be invited to visit the School of Business.
English Language Requirements
IELTS 6.5 or equivalent. If your first language is not English, you may need to provide evidence of your English language ability. If you do not yet meet our requirements, our English Language Teaching Unit (ELTU) offers a range of courses to help you to improve your English to the necessary standard.
International Qualifications
Find your country in this list to check equivalent qualifications, scholarships and additional requirements.
Countries List
Fees and Funding
Starting in 2017

An inflationary increase (2.8% based on RPIX*) in tuition fees and student support loans have been announced by the Government for 2017. This is still subject to formal parliamentary approval however, if approved, fees for 2017/18 entry could rise to £9,250 in 2017/18.

After 2017/18, the tuition fee you pay may increase annually in line with inflation (RPIX) and is subject to government regulations.

(*RPIX is a measure of inflation in the UK, equivalent to all items in the Retail Price Index (RPI) excluding mortgage interest payments.)

Year Abroad: your fee will be £1,250 for that year.

Year in Industry: your fee will be 15% of the full-time tuition fee that applies in that year.

Find out more about scholarships and funding.

Starting in 2017

Year Abroad: your fee will be £3,822.50 which is 25% of the full-time tuition fee.

Year in Industry: your fee will be £2,293.50 which is 15% of the full-time tuition fee.
Career Opportunities
An economics degree from the University of Leicester will provide you with numerous career opportunities. You can participate in an employability development programme. Working with well-known employers, you will undertake a business game scenario, giving you a taste of the graduate recruitment process.
You have the chance to undertake project work with student societies and employer-led organisations.
Our Student Support Manager provides information, advice and guidance on the graduate job application process. Our award winning Career Development Service is made up of people with an incredible amount of experience from all sectors and sizes of organisations and are able to provide you with insight into a wide range of careers.
Studying here will help prepare you for a wide range of career opportunities in government, business or the financial services sector, as well as for future study at postgraduate level. Typical job roles our graduates have entered have included; Marketing Executive, Business Development Consultant, Trading Assistant, Risk Analyst, Tax Associate etc. Past employers of our graduates have included; Next, NHS, Mazars, Deloitte, Jaguar etc.
Read about some of our recent graduates.
Careers
Our Career Development Service is here to support you, with advice on interviews, CVs, work experience, volunteering and more. From Freshers' Week to Graduation and beyond, they are here to help you reach your professional goals.
| Course | Qualification | Duration | UCAS Code | Availability |
| --- | --- | --- | --- | --- |
| Economics | BSc | 3 years full-time | L102 | Apply Now |
| Economics with Year Abroad | BSc | 4 years full-time | L102 | Apply Now |
| Economics with Year in Industry | BSc | 4 years full-time | L102 | Apply Now |
Course
Economics
Qualification
BSc
Duration
3 years full-time
UCAS Code
L102
Availability
Course
Economics with Year Abroad
Qualification
BSc
Duration
4 years full-time
UCAS Code
L102
Availability
Course
Economics with Year in Industry
Qualification
BSc
Duration
4 years full-time
UCAS Code
L102
Availability