Goal 14: Life Below Water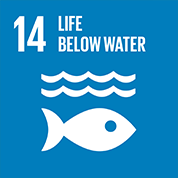 The fourteenth Sustainable Development Goal is to conserve and sustainably use the oceans, seas and marine resources for sustainable development.
Teaching
21 modules have intended learning outcomes directly relating to this goal, and 2,926 students have the opportunity to choose these modules.
Research
27 articles relating to this goal were published in Scopus between 2015 and 2019, and 187 articles were 'cited by' in Scopus.
What we're doing (University activity)
School of Geography, Geology and the Environment
Leicester-led research into coral reefs has revealed the impact of cyclical patterns on the local marine ecosystem around Borneo in Southeast Asia. By analysing core samples, they were able to study sea surface temperature and salinity changes. These coral cores can provide a critical record of local changes in river runoff and rainfall that affect coral reefs.
Geography Student Society
The Geography student society successfully bid for SEED funding to run an awareness raising campaign using metal water bottles as a reward for staff and students to pledge to behave more sustainably.
Courses/modules relating to the goal
Life Sciences
Biological Sciences
Natural Sciences
Science and Engineering
Chemistry
Computing
Mathematical Sciences
Geography
Social Sciences, Arts and Humanities
Business - Economics
Business - Management
History
Politics and International Relations
Law