Goal 14: Life Below Water
Goal 14: Life Below Water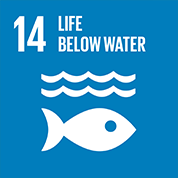 The fourteenth Sustainable Development Goal is to conserve and sustainably use the oceans, seas and marine resources for sustainable development.
Teaching
33 modules have intended learning outcomes directly relating to this goal, and 3,180 students have the opportunity to choose these modules.
Research
197 articles relating to this goal were published in Scopus between 2013 and 2018, and 1,950 articles were 'cited by' in Scopus.
What we're doing (University activity)
River Monster Project
The River Monster Project is a city-wide collaboration where plastic waste from the River Soar has been collected and made into a Loch Ness style monster to illustrate the problem of plastic pollution in the city.
As well as providing volunteers, academics from the University are researching the impact of plastics on water quality
Geography Student Society
The Geography student society successfully bid for SEED funding to run an awareness raising campaign using metal water bottles as a reward for staff and students to pledge to behave more sustainably.
Courses/modules relating to the goal
Life Sciences
Biological Sciences
Natural Sciences
Science and Engineering
Chemistry
Informatics
Mathematics
Geography
Social Sciences, Arts and Humanities
Business - Economics
Business - Management
History
Politics and International Relations
Law