Geography
Geography
BSc, 3-4 years
This is for you if... you are mostly interested in the Earth and environmental science and you want to concentrate on physical geography, while retaining some options for further study of social science aspects of the subject.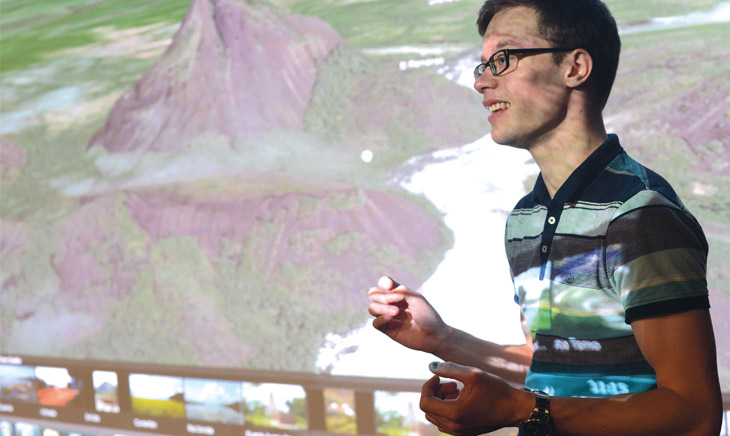 Course Description
At the interface of the human and the physical environments, geography is an integrative discipline that fosters a broad perspective on the problems of today's world and equips you with a variety of transferable and employable skills. The Department of Geography at Leicester provides a stimulating, supportive and friendly environment in which to study contemporary geography.
Our four degrees allow you to specialise in physical geography or human geography – or to combine topics that bridge the science/social science interface. Throughout your degree there will be an emphasis on gaining practical skills and putting them to use in a critical manner. You will receive all of the training needed to carry out independent research in a range of contexts.
If you choose to study for the BSc in Geography your work will emphasise the physical science aspects of geography but will retain options to cover both social science and overlapping themes. Most of your degree will cover physical geography, exploring current theories about the origin and formation of the Earth, Earth surface processes, climatic change and biogeographic patterns. You will also gain skills in remote sensing and geographical information science.
In Year 1 you will also study human geography. If this appeals to you (and your grades are sufficient), you can transfer in Year 2 to the BA degree, which is more focused on the social science aspects of the subject.
What's the difference?
The BA and BSc in Geography each cover both Human Geography (social science; people and places) and Physical Geography (natural science; Earth and environment)
the Geography BA concentrates more on Human, with a bit of Physical
the Geography BSc concentrates more on Physical, with a bit of Human
Why Leicester?
All field classes in your first and second years are subsidised by the University.
You will have access to a Geochronology Lab, an Environmental Stable Isotope Lab, a Palaeoecology Lab and a Geomorphological Hardware Modelling Lab with a rainfall simulator and flume channel, plus a 3D virtual reality theatre.
Our student society GeogSoc is affiliated to EGEA, a massive European network providing great opportunities for exchanges and professional development.
The small-medium size of the Department means that you will be a member of the team, not just an anonymous face.
Course Structure
Year 1
Year 1
You will study a broad range of physical and human geography topics in order to understand the breadth of the subject. A residential field course in Devon will enable you to practice your field and laboratory skills in a natural setting.
Modules
Human Geography for a Globalised World
Environment/Nature/Society
Evolution of the Earth System
Exploring our Digital Planet
Human Geography Field Course: The Dynamics of People and Place
Land-Ecosystem Dynamics
Study Skills for Professional Geographers
Working with Geographical Information
This is the same as the BA in Geography, enabling you to switch between the two degrees at the end of your first year if you wish.
Modules shown represent choices available to current students. The range of modules available and the content of any individual module may change in future years.
Year 2
Year 2
During this year you will begin to focus on the on the key areas of physical geography such as geomorphology, long-term (palaeo-)environmental histories (Glacial Worlds) and biogeography. You will also attend a residential field course in the Lake District at the start of year two, which provides a field-based introduction into these topics.
Core modules
Geographical Research Design (overseas field course)
Laboratory Techniques
Data Analysis
Option modules
Choose four option modules from:
Catchment Systems
The Dynamic Biosphere
Environment and Development
Geography in Education (This module has limited spaces)
Remote Sensing for Geographers
Geographical Information Science
Geomatics for Geographers
Glacial Worlds
Modules shown represent choices available to current students. The range of modules available and the content of any individual module may change in future years.
Year Abroad (optional)
Year Abroad (optional)
If you want to, you can spend your third year studying abroad at one of our partner institutions. Alternatively, you can opt to continue studying at the University and complete your degree in three years.
NB. A year spent abroad still incurs a tuition fee, but this is much lower than for a normal year at Leicester. See our Fees and Funding section for details.
Studying abroad is not just for people who are interested in travelling and meeting new people. It is about acquiring life skills that are becoming increasingly significant for a wide range of jobs in our modern globalised society. Whether you go on to work in the private sector, the state sector, a non-governmental organisation or become self-employed you will find the experience invaluable. Find out more from our International Office.
The Department of Geography at Leicester has links with several European universities, administered through the European Erasmus scheme. If you attend one of these, you may be eligible for an Erasmus grant if you comply with European Commission rules and regulations. If you are eligible for a loan from Student Finance you can apply for a travel grant from them.
For the latest information on the future of the Erasmus scheme at UK universities please see our Brexit microsite.
We have links with the following universities:
During your second year at Leicester you will receive appropriate language training in French or Spanish. (You don't need to speak the language if you go to Finland or the Netherlands.)
We also have links with some universities outside Europe. There is no monthly grant when you attend one of these universities, however if you are receiving financial assistance from Student Finance your support will continue and you may also be eligible to apply for additional travel grants or scholarships. We have links with the following universities:
American universities
Canadian universities
Australian universities
Modules shown represent choices available to current students. The range of modules available and the content of any individual module may change in future years.
Final year
Final year
Your fourth year (or third, if you didn't spend a year abroad) incorporates a blend of teaching and research. You will select a topic to research in your dissertation and choose from a wide range of optional modules, including field trips to the USA and Colombia.
Modules
Choose six option modules from:
African Drylands
The Biosphere in the Earth System
Californian Drylands (field trip)
Critical Digital Geographies
Contemporary Environment Challenges
Quaternary Environmental Change
Neotropical Rainforests (field trip)
Remote Sensing for Geographers
Water Quality Processes and Management
Information Visualisation
Climate Change: Impacts, Vulnerability and Adaptation
Stable Isotopes in the Environment
Geographical Information Science
Geomatics for Geographers
River Dynamics
Modules shown represent choices available to current students. The range of modules available and the content of any individual module may change in future years.
Additional Information
Fieldwork
Fieldwork is integral to any Geography degree. In the field you develop new skills and apply learning from the classroom to real world problems. Here at Leicester we go into the field a lot. Our field trips will be one of the most rewarding and enjoyable experiences for both Human and Physical Geography students.
All field courses in your first and second year will be fully funded by the University of Leicester. There are bursaries available for the optional Year 3 field courses.
If you study on the Geography BSc or Physical Geography BSc, your field trips can include:
Almeria (Year 2)
Examine the striking arid landscapes of South East Spain, investigating the distinctive geomorphology and ecology of this unique area.
The Amazon (Year 3, optional)
Spend two weeks in southern Colombia studying the spectacular tropical vegetation of the region as well as animal biogeography and aquatic ecosystems.
Death Valley (Year 3, optional)
Spend ten days in the Mojave Desert (near Las Vegas). You will stay in a desert research station and spend the trip studying a range of landforms and landscapes characteristic of this remarkable arid landscape, including weathering processes, desert rivers, sand-dunes, salt lakes and - in Death Valley - some of the world's most impressive alluvial fans.
Teaching and Assessment
You will be taught through a mixture of lectures, tutorials, seminars, practicals and fieldwork. All lecture material is available online through our virtual learning environment Blackboard. Contact time typically averages about 10-11 hours per week. Residential field trips are run by academic staff throughout the degree and provide extended periods of small group teaching in field contexts.
Your work will be assessed through a mixture of essays, scientific reports, learning diaries, oral and poster presentations, mock journal articles and of course your final year individual dissertation project. Coursework is mainly undertaken on an individual basis. However, a number of modules (especially field-based modules) involve assessed group project work.
Entry Requirements
A/AS-levels: ABB. Two AS-levels considered in place of one A-level. Geography not essential.
EPQ with A-levels: BBB + EPQ at grade B. Two AS-levels considered in place of one A-level. General Studies accepted.
GCSE: Maths Grade C, English Language Grade C
Access to HE Diploma: Pass relevant diploma with 45 credits at level 3, including some at distinction.
International Baccalaureate: Pass Diploma with 30 plus any subject requirements.
BTEC Nationals: Pass Diploma with DDM.
Other national and international qualifications considered.
If you do not meet the entry requirements for this course, you can apply for the International Foundation Year run by our dedicated International Study Centre. The ISC provides academic and English language support to help you progress to your chosen undergraduate degree at the University of Leicester.
Second year entry may be possible with suitable qualifications.
Selection Process
Applicants are not normally interviewed. If you receive an offer you will be invited to visit the department.
English Language Requirements
IELTS 6.5 or equivalent, with at least 6.0 in each component score. If your first language is not English, you may need to provide evidence of your English language ability. If you do not yet meet our requirements, our English Language Teaching Unit (ELTU) offers a range of courses to help you to improve your English to the necessary standard.
International Qualifications
Find your country in this list to check equivalent qualifications, scholarships and additional requirements.
Countries list
Fees and Funding
Starting in 2017

An inflationary increase (2.8% based on RPIX*) in tuition fees and student support loans have been announced by the Government for 2017. This is still subject to formal parliamentary approval however, if approved, fees for 2017/18 entry could rise to £9,250 in 2017/18.

After 2017/18, the tuition fee you pay may increase annually in line with inflation (RPIX) and is subject to government regulations.

(*RPIX is a measure of inflation in the UK, equivalent to all items in the Retail Price Index (RPI) excluding mortgage interest payments.)

Year Abroad: your fee will be £1,250 for that year.

Find out more about scholarships and funding.

Starting in 2017

Year Abroad: your fee will be £3,891.25 which is 25% of the full-time tuition fee.
Career Opportunities
We have dedicated careers support in the Department to help you find a job. During term time you will also receive email digests containing information about career fairs, jobs opportunities, career development courses and other practical information to help you on your way to employability.
The second year module 'Geography in Education' provides placements in local,secondary schools. Working closely with teachers you will develop skills and experience beneficial to a career in teaching.
The Department has well-established links with many businesses and Government departments, including Natural England, the European Space Agency, the Home Office, BP Exploration and the Joint Research Centre of the European Commission.
Careers
Our Career Development Service is here to support you, with advice on interviews, CVs, work experience, volunteering and more. From Freshers' Week to Graduation and beyond, they are here to help you reach your professional goals.
| Course | Qualification | Duration | UCAS Code | Availability |
| --- | --- | --- | --- | --- |
| Geography | BSc | 3 years full-time | F800 | Apply Now |
| Geography with Year Abroad | BSc | 4 years full-time | F800 | Apply Now |
Course
Geography
Qualification
BSc
Duration
3 years full-time
UCAS Code
F800
Availability
Course
Geography with Year Abroad
Qualification
BSc
Duration
4 years full-time
UCAS Code
F800
Availability
Not what you're looking for?