Goal 6: Clean Water and Sanitation
Goal 6: Clean Water and Sanitation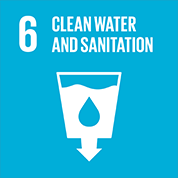 The sixth Sustainable Development Goal is to ensure availability and sustainable management of water and sanitation for all
Teaching
2 modules have intended learning outcomes directly relating to this goal, and 183 students have the opportunity to choose these modules.
Research
214 articles relating to this goal were published in Scopus between 2013 and 2018, and 8,995 articles were 'cited by' in Scopus.
What we're doing (University activity)
Dr Harjinder Sembhi and Dr Darren Ghent are working with EarthLinks UK (UK) and The Energy and Resources Institute (Delhi) to develop new datasets on vegetation stress that will provide the evidence base for intervention strategies for better agriculture and water management. This will feed into targeted policy briefs and recommendations required to protect critical zones across the Indo-Gangetic Plain.
Monitoring wetlands project
A new Earth observation for wetlands project led by the University of Leicester, in conjunction with the Leicestershire and Rutland Wildlife Trust, will enhance monitoring of Rutland Water and the Soar and Wreake River Valleys for nature conservation. The project is being led by Dr Sarah Johnson, Research Fellow in the University of Leicester's School of Geography, Geology and the Environment. Funded by the Natural Environmental Research Council, Dr Johnson will work with the Leicestershire and Rutland Wildlife Trust to monitor its wetland nature reserves using satellite imagery.
Courses/modules relating to the goal