Goal 2: Zero Hunger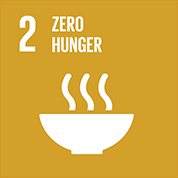 The second Sustainable Development Goal is to end hunger, achieve food security and improved nutrition and promote sustainable agriculture.
Teaching
1 module has intended learning outcomes directly relating to this goal, and 291 students have the opportunity to choose this modules
Research
130 articles relating to this goal were published in Scopus between 2013 and 2018, and 3,938 articles were 'cited by' in Scopus.
What we're doing (University activity)
Sustainable Crop Development Research
Efforts to improve sustainable crop development are being spearheaded by a collaboration between the University of Leicester, the Royal Botanic Gardens, Kew, and the University of Addis Ababa.
Professor Pat Heslop-Harrison is leading an interdisciplinary project "Modelling and genomics resources to enhance exploitation of the sustainable and diverse Ethiopian starch crop Enset" where researchers are helping to enhance crop diversity for vulnerable populations. Their research focuses on the Ethiopian banana in order to better understand the crop species and its genetics. The crop has great potential for improving food security in Ethiopia and other parts of Africa, especially in areas affected by drought.
Edible Campus
The Hungry for Change food growing project at three of our sites, including Edible Campus planters around Centenary Square, aims to change the way students think about what they're eating and why.
Courses/modules relating to the goal
Science and Engineering
Informatics
Social Sciences, Arts and Humanities
Business Management