Goal 2: Zero Hunger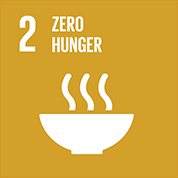 The second Sustainable Development Goal is to end hunger, achieve food security and improved nutrition and promote sustainable agriculture.
Teaching
11 modules have intended learning outcomes directly relating to this goal, and 554 students have the opportunity to choose this modules.
Research
132 articles relating to this goal were published in Scopus between 2015 and 2019, and 7,474 articles were 'cited by' in Scopus.
What we're doing (University activity)
Sustainable Crop Development Research
Efforts to improve sustainable crop development are being spearheaded by a collaboration between the University of Leicester, the Royal Botanic Gardens, Kew, and the University of Addis Ababa.
Professor Pat Heslop-Harrison is leading an interdisciplinary project "Modelling and genomics resources to enhance exploitation of the sustainable and diverse Ethiopian starch crop Enset" where researchers are helping to enhance crop diversity for vulnerable populations. Their research focuses on the Ethiopian banana in order to better understand the crop species and its genetics. The crop has great potential for improving food security in Ethiopia and other parts of Africa, especially in areas affected by drought.
Food waste events
The Social Impact Team held a 'Pumpkin Rescue' event to spread awareness about food waste, especially with pumpkins around Halloween. Students had the chance to carve pumpkins, enjoy free vegan pumpkin soup and learn about sustainable practices at the university.
Courses/modules relating to the goal
Science and Engineering
Computing
Social Sciences, Arts and Humanities
Business Management