Goal 2: Zero Hunger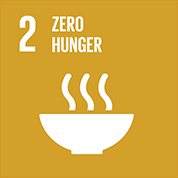 The second Sustainable Development Goal is to end hunger, achieve food security and improved nutrition and promote sustainable agriculture.
Teaching
3 modules have intended learning outcomes directly relating to this goal, and 1,033 students have the opportunity to choose these modules.
Research
135 articles relating to this goal were published in Scopus between 2018 and 2022, and 9,479 articles were 'cited by' in Scopus.
What we're doing (University activity)
Operational
A University collaboration between Leicester Services Partnership and the Students' Union provided a communal kitchen to reducing food waste by sharing donated food and providing access to boiling water, drinking water, a washing up facility, a microwave and a community fridge containing food that has reached its 'sell by' date, but is within the 'use by' date from LSP outlets.
Research
University researchers hosted an international, 2 day conference at College Court in July 2023, focused on addressing socio-economic and environmental challenges in Ukraine with a particular focus on food networks.
The conference brought together expertise in agri-food supply chains related to resilience, sustainability and ecology and covered issues such as traceability, food security, safety, at a national and supply chain level and using industry 4.0 technologies to look specifically at Ukraine.
Courses relating to the goal
Life Sciences
Social Sciences, Arts and Humanities
Business Management