Goal 16: Peace, Justice and Strong Institutions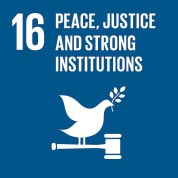 The sixteenth Sustainable Development Goal is to promote peaceful and inclusive societies for sustainable development, provide access to justice for all and build effective, accountable and inclusive institutions at all levels.
We are committed to championing justice, welfare and inclusivity, and investing in research and projects which reflect the interests of our diverse city.
Teaching
61 modules have intended learning outcomes directly relating to this goal, and 3,616 students have the opportunity to choose these modules.
Research
357 articles relating to this goal were published in Scopus between 2015 and 2019, and 13,748 articles were 'cited by' in Scopus.
What we're doing (University activity)
Centre for Hate Studies
With hate and extremism having increasing relevance to multiple fields of work, the Centre works with organisations all over the world to improve responses through evidence-based training, research and evaluation. We shape policy and practice by enabling professionals to engage with diversity, support victims and tackle hate.
The Leicester Hate Crime Project is Britain's biggest-ever study of hate crime victimisation - uncovering new insights into the nature and forms of these acts, and exploring their impact upon victims, families and wider communities.
School of Criminology
Researchers from the School of Criminology are involved in the East Midlands Violence Reduction Information Network. Funded by an Economic and Social Research Council (ESRC) Impact Accelerator Accounts (IAA) strategic fund grant, VRIN aims to develop knowledge and share information concerning the prevention and reduction of public space violence which will have a positive influence on policing operations in the region and beyond.
Courses/modules relating to the goal
Life Sciences
Neuroscience, Psychology and Behaviour
Science and Engineering
Computing
Social Sciences, Arts and Humanities
Archaeology and Ancient History
Business - Accounting and Finance
Criminology
History
Film Studies
Media and Communication
Modern Languages
Politics and International Relations
Law