Goal 16: Peace, Justice and Strong Institutions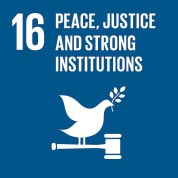 The sixteenth Sustainable Development Goal is to promote peaceful and inclusive societies for sustainable development, provide access to justice for all and build effective, accountable and inclusive institutions at all levels.
We are committed to championing justice, welfare and inclusivity, and investing in research and projects which reflect the interests of our diverse city.
Teaching
75 modules have intended learning outcomes directly relating to this goal, and 5,159 students have the opportunity to choose these modules.
Research
27 articles relating to this goal were published in Scopus between 2018 and 2022, and 47 articles were 'cited by' in Scopus.
What we're doing (University activity)
Operational
The Dignity and Respect at Leicester Framework and associated policy documents outline with clear definitions and examples, what unacceptable behaviours are and the processes in place to address, deal with and report them.
Teaching
During the Leading the Management of Change: Leadership 4 (MW4013) module, Midwifery and Nursing students evaluate the NHS Leadership Academy Nine Dimensions of Leadership and its strategic approach to the future health care agenda and reflect on their own personal leadership and management skills within this.
Courses/modules relating to the goal
Life Sciences
Biological Sciences
Healthcare
Science and Engineering
Chemistry
Engineering
Geology
Computing Sciences and Mathematics
Social Sciences, Arts and Humanities
Archaeology and Ancient History
Business - Management
Criminology
English
Film Studies
History, Politics and International Relations
Law
Media and Communications
Modern Languages
Sociology