Politics and Economics
Politics and Economics
BA, 3-4 years
This is for you if... you are interested in the nature of political economy and want to bring together insight from two of the fundamental disciplines in social science.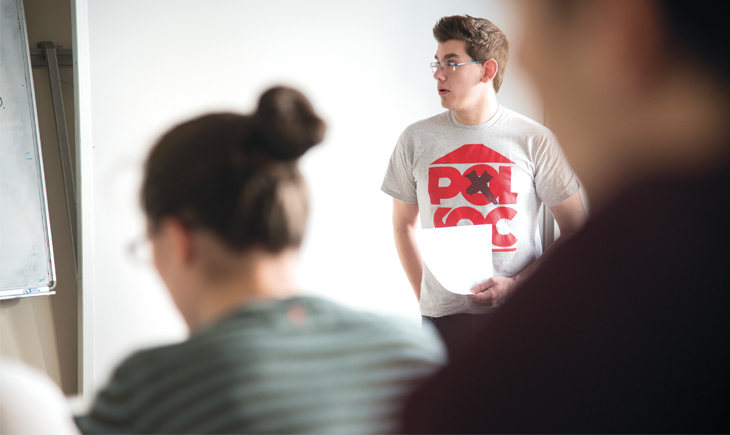 Course Description
Politics and Economics are subjects that go hand in hand because one will always have an impact on the other. Economics studies the ways in which external factors influence the economy and politics is one of the many external factors that has an impact on the economy. The success or failure of the economy is also a key aspect of political debate.
Over the course of your degree you will learn how to analyse political ideas and ideologies and to consider the problems facing diverse political systems. You will also cover the core subjects of microeconomics and macroeconomics, along with basic mathematical and statistical techniques which will help with solving economic problems.
In your third year you will be able to choose all your modules from a wide list of politics and economics modules that you can pursue your own interests and delve deeper into the topics that interest you the most.
As well as examining the workings of political systems in Britain and other states, you will explore some of the most important and interesting issues in politics: Who holds power and why? Is there a crisis of political participation? What are the appropriate limits to individual liberty? Is globalisation a positive process?
Politics and International Relations at Leicester is a dynamic and friendly community. Politics has been taught at Leicester since the 1940s and we have always been at the cutting edge of British political science – we aim to fire your intellectual curiosity about the politics of the world.
Why Leicester?
Our 12 Bloomberg terminals let you see how traders work and also access financial news and information, including real-time stock quotes 24/7. By using this industry standard platform, you will develop skills that top employers ask for.
We run a popular seminar programme delivered by our staff and guest speakers from prestigious institutions around the world. Gain valuable insights and debate current economics topics with these leading scholars.
Politics Review, the leading magazine for students of Politics, has been associated with Politics at Leicester for over 25 years.
Our research strengths in Politics include: political participation; political parties in Europe; ethics and war; environmental politics; Euroscepticism, and US social policy.
Course Structure
Year 1
Year 1
In your first year you will cover the basics of macro and micro-economics whilst gaining a solid foundation in politics.
Core modules
Politics, Power and Ethics
Option modules
Choose one option module from:
Comparative European Politics
Power in the World Economy
Political Concepts
Modules shown represent choices available to current students. The range of modules available and the content of any individual module may change in future years.
Year 2
Year 2
In your second year, your core modules will continue to build upon your knowledge of macro and microeconomics. There is also greater flexibility to shape the course of your degree as you choose from a range of option modules. You will take half your modules in politics and half in economics.
Core modules
Option modules
Choose three option modules from:
Contemporary Political Philosophy: Theories of Justice
European Union Politics
Governing Societies in Conflict
Latin American Politics
Political Analysis (if you intend to write your dissertation on a politics topic you must take this module)
Political Ideas
Political Parties in Contemporary Britain
Politics and Power in Africa
Quantitative Data Analysis
Sex and Gender in Global Politics
The Making of Contemporary US Foreign Policy
Modules shown represent choices available to current students. The range of modules available and the content of any individual module may change in future years.
Year Abroad (optional)
Year Abroad (optional)
If you want to, you can spend your third year studying abroad at one of our partner institutions (eligibility is dependent on your academic performance in Years 1 and 2). Alternatively, you can opt to continue studying at the University and complete your degree in three years.
Studying abroad is not just for people who are interested in travelling and meeting new people. It is about acquiring life skills that are becoming increasingly significant for a wide range of jobs in our modern globalised society. Whether you go on to work in the private sector, the state sector, a non-governmental organisation, or become self-employed you will find the experience invaluable. Find out more from our International Office.
Please note that a year spent abroad still incurs a tuition fee, but this is much lower than for a normal year at Leicester. See our Fees and Funding section for details.
Politics and International Relations at Leicester has links with several European universities, administered through the European Erasmus scheme. If you attend one of these, you may be eligible for an Erasmus grant if you comply with European Commission rules and regulations. If you are eligible for a loan from Student Finance you can apply for a travel grant from them. During your second year at Leicester you will receive appropriate language training.
For the latest information on the future of the Erasmus scheme at UK universities please see our Brexit microsite.
We have links with the following universities:
Modules shown represent choices available to current students. The range of modules available and the content of any individual module may change in future years.
Final Year
Final Year
Your third year gives you the chance to shape your degree according to your own interests with the only core module being the dissertation which will be on a subject of your choosing. You can choose your remaining modules from a wide range of topics in politics and economics. You will take half your modules in politics and half in economics.
Option modules
Choose six option modules from:
British Politics and European Integration
Climate Change: Ethics, Issues, Justice
Contentious Politics in Europe
Democratisation and EU Enlargement in Post-Communist Europe
Feminism
Parliamentary Studies
Political Participation in Britain
Political Parties in Western Democracies
Politics and the Environment
Politics of the International Drug Trade
South African Politics
The Conservatives: Crisis and Recovery
The Political Legacies of Conflict in Northern Ireland
The Politics of Contemporary British Foreign Policy
The Politics of Slavery
The Politics of the Global South
The Politics of War and Peace: Northern Ireland after 1972
Plus your dissertation (in politics or economics)
Modules shown represent choices available to current students. The range of modules available and the content of any individual module may change in future years.
Major/Minor Degrees
Major/Minor degrees enable you to create your own degree. You can study a core area in depth (your major subject), while also exploring an additional area (your minor subject).
Why not complement your Major with a subject that you enjoyed before, or which has vocational elements that can boost your career prospects? Alternatively, you may want to try something completely new that you've always been interested in, like a language.
Find out more
Teaching and Assessment
Teaching
You will be taught by a combination of lectures and small group seminars. Seminars are designed to delve deeper into topics covered in your lectures in order to encourage discussion, exploration and application of issues.
Assessment
You will be assessed through a variety of methods including written examination, assessed essay, reports, briefing papers and presentations.
You will have regular meetings with your personal tutor to discuss progress in your studies. Your personal tutor will also provide a sympathetic ear for all matters of personal concern, whether they be academic, financial, housing, career or social issues.
Entry Requirements
A/AS Levels: BBB. Two AS-levels considered in place of one A-level. General Studies accepted.
EPQ with A-levels: BBC + EPQ at grade B. Two AS-levels considered in place of one A-level. General Studies accepted.
GCSE: Grade B required in Mathematics.
Access to HE Diploma: Pass relevant diploma with some credits at distinction.
International Baccalaureate: Pass Diploma with 28 points minimum.
BTEC Nationals: Full Diploma with DDM.
Other national and international qualifications considered. If you do not meet the entry requirements for this course, you can apply for the International Foundation Year run by our dedicated International Study Centre. The ISC provides academic and English language support to help you progress to your chosen undergraduate degree at the University of Leicester.
Second year entry may be possible with suitable qualifications.
Selection Process
Applicants are not normally interviewed. If you receive an offer you will be invited to visit the University.
English Language Requirements
IELTS 6.5 or equivalent. If your first language is not English, you may need to provide evidence of your English language ability. If you do not yet meet our requirements, our English Language Teaching Unit (ELTU) offers a range of courses to help you to improve your English to the necessary standard.
International Qualifications
Find your country in this list to check equivalent qualifications, scholarships and additional requirements.
Countries list
Fees and Funding
Starting in 2017

£9,250 in your first year. After 2017/18, the tuition fee you pay may increase annually in line with inflation (RPIX) and is subject to government regulations. (RPIX is a measure of inflation in the UK, equivalent to all items in the Retail Price Index (RPI) excluding mortgage interest payments.)

Year Abroad: your fee will be £1,250 for that year.

Find out more about scholarships and funding.

Starting in 2017

Year Abroad: your fee will be £3,822.50 which is 25% of the full-time tuition fee.

Find out more about scholarships and funding.

Career Opportunities
We are aware of the expectation for a degree to enhance your career prospects. With this in mind, we have worked with the University of Leicester Career Development Service to design modules that will ensure you are well equipped to secure graduate roles or places on postgraduate courses.
Our careers tutor and Student Support Manager will also provide information, advice and guidance on the graduate job application process.
Read about some of our recent graduates.
Careers
Our Career Development Service is here to support you, with advice on interviews, CVs, work experience, volunteering and more. From Freshers' Week to Graduation and beyond, they are here to help you reach your professional goals.
| Course | Qualification | Duration | UCAS Code | Availability |
| --- | --- | --- | --- | --- |
| Politics and Economics | BA | 3 years full-time | LL12 | Apply Now |
| Politics and Economics with Year Abroad | BA | 4 years full-time | LL12 | Apply Now |
Course
Politics and Economics
Qualification
BA
Duration
3 years full-time
UCAS Code
LL12
Availability
Course
Politics and Economics with Year Abroad
Qualification
BA
Duration
4 years full-time
UCAS Code
LL12
Availability