Goal 12: Responsible Consumption and Production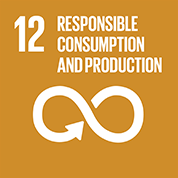 The twelfth Sustainable Development Goal is to ensure sustainable consumption and production patterns.
Teaching
20 modules have intended learning outcomes directly relating to this goal, and 1,406 students have the opportunity to choose these modules.
Research
119 articles relating to this goal were published in Scopus between 2015 and 2019, and 2,499 articles were 'cited by' in Scopus.
What we're doing (University activity)
Sustainable Procurement Guidance
The Sustainable Procurement Guidance provides a menu of sustainability risk mitigations and added value options for including in tenders/contracts, including in relation to demand management and product efficiency, as is relevant and proportionate to the contract in question.
Ethical Investment Policy
The Ethical Investment Policy commits the University to investing our endowment funds on a responsible basis.
In addition, the University has allocated 11% of the endowment funds to impact investments across the themes of resource efficiency, clean energy, financial services, healthcare and education.
Courses/modules relating to the goal
Life Sciences
Natural Sciences
Science and Engineering
Chemistry
Computing
Geography
Geology
Social Sciences, Arts and Humanities
Business - Management
History
Media and Communication
Politics and International Relations
Law