Accounting and Finance
Accounting and Finance
BSc, 3-4 years
This is for you if... you are interested in learning the skills, expertise and analytical knowledge necessary for working in areas such as professional accountancy, investment banking, management consultancy and financial management.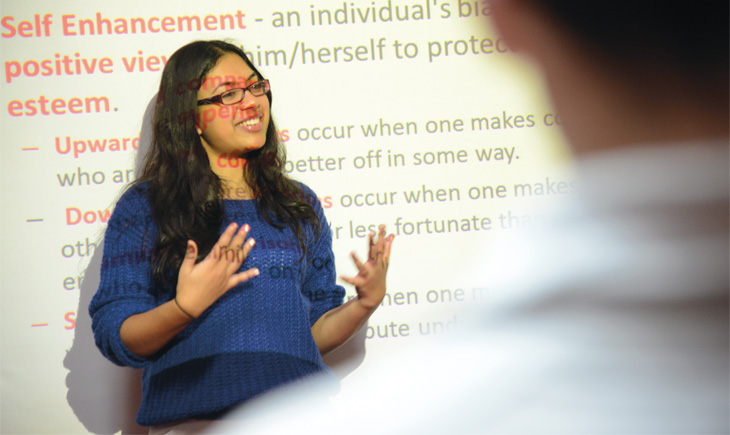 Course Description
The BSc in Accounting and Finance will provide you with a solid foundation and technical skills in accounting and finance. We will help you to develop quantitative, communications and information technology skills and the ability to apply these skills in an accounting and finance context. You will learn how managers, shareholders and other stakeholders make decisions in organisations.
The course will prepare you for a career or further training opportunities in the accounting and finance professions - in the public and private sectors or in voluntary organisations. If you are interested in postgraduate study this course will prepare you for the increasingly independent aspects of further study and research.
Why Leicester?
We are a member of the Chartered Association of Business Schools and hold a Small Business Charter Award in recognition of our role in helping to kick-start British enterprise.
Throughout the programme there is an emphasis on the demands of employers for critical and analytical problem-solving skills that you will require to keep pace with rapid changes in the workplace.
You will have the opportunity to gain a global outlook and real-world experience through our year abroad and placement year opportunities.
Our 12 Bloomberg terminals let you see how traders work and also access financial news and information, including real-time stock quotes 24/7. By using this industry standard platform, you will develop skills that top employers ask for.
Course Structure
Year 1
Year 1
In your first year you will learn about the foundations of finance, management and economics and begin to acquire the basic statistical skills to prepare you for your dissertation in your final year. The modules that you take this year will provide you with a solid base for the more specialised modules of the second and third years.
Modules
Financial Accounting
Introduction to Accounting Theory
Management Accounting
Foundations of Finance
Foundations of Management
Foundations of Economics
Understanding and Using Statistical Information
Modules shown represent choices available to current students. The range of modules available and the content of any individual module may change in future years.
Year 2
Year 2
In your second year you will begin to specialise in specific topics on accounting and finance. On the finance side you will learn the essentials of corporate finance; corporate governance and the pricing of financial futures and forward contracts. The Research Methods module will help prepare you for your final year dissertation, whilst an option module will allow you to focus on a subject that particularly interests you.
Core Modules
Accounting, Decision Making and Control
Foundations of Financial Reports Analysis
Corporate Finance
Corporate Governance
Financial Market Products: Futures and Forwards
Research Methods
Option modules
Choose one option module from:
Accounting for Small and Medium Enterprises
Accounting Theory
Macro-Finance
Public Accounting
Modules shown represent choices available to current students. The range of modules available and the content of any individual module may change in future years.
Year Abroad or Placement Year (optional)
Year Abroad or Placement Year (optional)
You have the option of spending a year studying abroad at one of our partner institutions or working in an industrial placement. Alternatively, you can opt to continue studying at the University and complete your degree in three years.
Placement Year
A placement year is a fantastic opportunity to gain experience of a working environment within the sector of your choice. It is normally a paid position, more than offsetting the additional cost of your extra year.
Eligibility is dependent on your academic performance in Years 1 and 2. If you are accepted onto the programme you will be responsible for securing your own placement, with support from the School. Please note that being accepted onto the programme does not guarantee you a placement.
During your placement year you will be supported by the School of Business Placement Team. This will include communication with you and your manager and a visit to your place of work. You will also undertake written work to capture your learning from the placement experience which will include reflection on your personal and professional development and your academic understanding. This work will be assessed to allow you to gain recognition for your placement year.
Your placement effectively begins in Year 1 when you will be introduced to various opportunities to develop your skills, your understanding and experience. In Year 2 you will be supported through guided sessions, such as:
Introduction to the placement year scheme
Researching placement opportunities
Making successful applications
Effective interview techniques
Preparing for my placement
A placement year is an excellent opportunity to learn more about the types of professions you can choose after you graduate, and can also point you towards postgraduate studies that may help you on the path to your chosen career.
Year Abroad
If you want to, you can spend your third year studying abroad at one of our partner institutions. Eligibility is dependent on your academic performance in Years 1 and 2.
Studying abroad is not just for people who are interested in travelling and meeting new people. It is about acquiring life skills that are becoming increasingly significant for a wide range of jobs in our modern globalised society. Whether you go on to work in the private sector, the state sector, a non-governmental organisation, or become self-employed you will find the experience invaluable. Find out more from our International Office.
Please note that a year spent abroad still incurs a tuition fee, but this is much lower than for a normal year at Leicester. See our Fees and Funding section for details.
The School of Business has links with several European universities, administered through the European Erasmus scheme. If you attend one of these, you may be eligible for an Erasmus grant if you comply with European Commission rules and regulations. If you are eligible for a loan from Student Finance you can apply for a travel grant from them. During your second year at Leicester you will receive appropriate language training.
For the latest information on the future of the Erasmus scheme at UK universities please see our Brexit microsite.
We have links with the following universities:
Modules shown represent choices available to current students. The range of modules available and the content of any individual module may change in future years.
Final Year
Final Year
Your final year will introduce you to the study of financial markets and advanced accounting topics. You will study financial markets in a very novel way, analysing how organisational and technological dimensions of the markets affect price behaviour. You will also learn about the pricing of option contracts and will study a semester-long module on advanced financial accounting, regulation and auditing. A dissertation – a major piece of independent research supported by one-on-one supervisions with a member of faculty – and two optional modules will give you the chance to explore in more depth the subjects and issues that interest you the most.
Core modules
Derivatives Pricing 1
Derivatives Pricing 2
Advanced Financial Accounting
Social Studies of Finance
Plus your Dissertation
Option modules
Choose two option modules from:
Advanced Management Accounting
Accounting for Non-Profit Organisations
Advanced Option Pricing
Behavioural Finance and Investment Strategies
Finance for Small and Medium Enterprises
Performance Measurement in Financial Institutions
Technology in Financial Markets
Modules shown represent choices available to current students. The range of modules available and the content of any individual module may change in future years.
Major/Minor Degrees
Major/Minor degrees enable you to create your own degree. You can study a core area in depth (your major subject), while also exploring an additional area (your minor subject).
Why not complement your Major with a subject that you enjoyed before, or which has vocational elements that can boost your career prospects? Alternatively, you may want to try something completely new that you've always been interested in, like a language.
Find out more
Teaching and Assessment
During your first year you will have 9-10 hours each week of timetabled sessions. These typically consist of 6 hours of lectures and 3-4 hours of seminars or small group work.
A variety of teaching methods are used with the aim of creating a stimulating environment in which you are encouraged to develop your learning skills and to actively participate in the learning process.
Assessment varies from one module to another and ranges between a mixture of coursework and examination in some modules, to others that are 100% coursework or project-based.
We are a vibrant and reflective School and the enthusiasm you will find in the lecture theatre and seminar room comes from our commitment to our subject and our attempts to develop and energise it.
Entry Requirements
A/AS-levels: ABB. Two AS-levels may be considered in place of one A-level. General Studies accepted.
EPQ with A-levels: BBB + EPQ at grade B. Two AS-levels considered in place of one A-level. General Studies accepted.
GCSE: Maths at grade B plus English Language at grade C.
Access to HE Diploma: Pass relevant diploma with some credits distinction.
International Baccalaureate: Pass Diploma with 30 points, with grade 5 in SL Maths.
BTEC Nationals: Full Diploma with DDD, plus GCSE requirements as above.
Other national and international qualifications considered. If you do not meet the entry requirements for this course, you can apply for the International Foundation Year run by our dedicated International Study Centre. The ISC provides academic and English language support to help you progress to your chosen undergraduate degree at the University of Leicester.
Second Year Entry may be possible with suitable qualifications.
Selection Process
Applicants are not normally interviewed. If you receive an offer you will be invited to visit the School of Business.
English Language Requirements
IELTS 6.5 or equivalent. If your first language is not English, you may need to provide evidence of your English language ability. If you do not yet meet our requirements, our English Language Teaching Unit (ELTU) offers a range of courses to help you to improve your English to the necessary standard.
International Qualifications
Find your country in this list to check equivalent qualifications, scholarships and additional requirements.
Countries List
Fees and Funding
Starting in 2017

£9,250 in your first year. After 2017/18, the tuition fee you pay may increase annually in line with inflation (RPIX) and is subject to government regulations. (RPIX is a measure of inflation in the UK, equivalent to all items in the Retail Price Index (RPI) excluding mortgage interest payments.)

Year Abroad: your fee will be £1,250 for that year.

Year in Industry: your fee will be 15% of the full-time tuition fee that applies in that year.

Find out more about scholarships and funding.



Starting in 2017

Year Abroad: your fee will be £3,822.50 which is 25% of the full-time tuition fee.

Year in Industry: your fee will be £2,293.50 which is 15% of the full-time tuition fee.
Career Opportunities
Alongside your academic work we recognise that it is also important that you gain experience and develop your skills. The School's dedicated in-house Career Development Manager works closely with the University's Career Development Service to make sure you get support to achieve your aspirations.
Whether you want to make a difference in the voluntary sector, start your own business or reach the top in an organisation, there are specially designed programmes and activities here at Leicester that can support you in the getting the right skills, experiences and exposure you need.
Careers
Our Career Development Service is here to support you, with advice on interviews, CVs, work experience, volunteering and more. From Freshers' Week to Graduation and beyond, they are here to help you reach your professional goals.
| Course | Qualification | Duration | UCAS Code | Availability |
| --- | --- | --- | --- | --- |
| Accounting and Finance | BSc | 3 years full-time | 72N7 | Apply Now |
| Accounting and Finance with Year Abroad | BSc | 4 years, full-time | 72N7 | Apply Now |
| Accounting and Finance with Placement Year | BSc | 4 years, full-time | 72N7 | Apply Now |
Course
Accounting and Finance
Qualification
BSc
Duration
3 years full-time
UCAS Code
72N7
Availability
Course
Accounting and Finance with Year Abroad
Qualification
BSc
Duration
4 years, full-time
UCAS Code
72N7
Availability
Course
Accounting and Finance with Placement Year
Qualification
BSc
Duration
4 years, full-time
UCAS Code
72N7
Availability