Goal 8: Decent Work and Economic Growth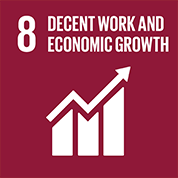 The eighth Sustainable Development Goal is to promote sustained, inclusive and sustainable economic growth, full and productive employment and decent work for all.
Teaching
38 modules have intended learning outcomes directly relating to this goal, and 5,182 students have the opportunity to choose these modules.
Research
393 articles relating to this goal were published in Scopus between 2018 and 2022, and 13,243 articles were 'cited by' in Scopus.
What we're doing
Enterprise
An assessment of Space Park Leicester in March 2023 demonstrated that Space Park made an £89m impact on the economy in its first year of operation. The calculation represents the impact of 607 jobs whose employment is supported by the pioneering space hub, 8% of which are UK STEM recent graduates. The Space city cluster supports organising leading the way in space innovation as well as non-space related businesses working on issues such as decarbonisation.
Operational
All students undertake a programme through the Leicester Award as an undergraduate. Students learn to develop, reflect and articulate transferable employment skills.
The University of Leicester recognises the value of SMEs to the regional economy. SMEs offer flexibility, excellent customer service and innovative solutions. They are also the larger organisations and employers of the future. It is therefore important that the University's procurement processes are as lean as possible, the University procurement team has ensured that it does not create unnecessary barriers which deter SMEs from competing for our contracts or inhibit them when tendering.
Courses/modules relating to the goal
Life Sciences
Biological Sciences
Healthcare
Science and Engineering
Computing and Mathematical Sciences
Geography
Physics
Social Sciences, Arts and Humanities
Archaeology and Ancient History
Business - Accounting and Finance
Business - Economics
Business - Management
History, Politics and International Relations
Law
Media and Communication
Sociology