Goal 8: Decent Work and Economic Growth
Goal 8: Decent Work and Economic Growth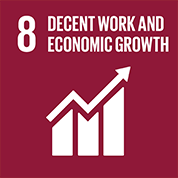 The eighth Sustainable Development Goal is to promote sustained, inclusive and sustainable economic growth, full and productive employment and decent work for all.
Teaching
40 modules have intended learning outcomes directly relating to this goal, and 4,672 students have the opportunity to choose these modules.
Research
229 articles relating to this goal were published in Scopus between 2013 and 2018, and 1,587 articles were 'cited by' in Scopus.
What we're doing (University activity)
'Resilient Pastoralism: Towards Sustainable Futures in Rangelands'
Within the study 'Resilient Pastoralism: Towards Sustainable Futures in Rangelands' the University worked with locals and specialists in Kenya and Mongolia to study concepts of resilience in pastoral societies. Contemporary pastoralism supports the livelihoods of 500 million people worldwide and this research contributes toward a stable future for these societies by encouraging effective policy intervention.
Leicester Award
The Leicester Award is an inspirational personal development programme for all students with a wide range of activities including volunteering and professional mentoring to develop confidence, resilience and decision making skills
Career Development Service
The University's Career Development Service won an award for the 'Best University Employability Service'. Leicester is one of 9 universities that produce the most CEOs.
Courses/modules relating to the goal
Life Sciences
Natural Sciences
Allied Health Professions
Science and Engineering
Social Sciences, Arts and Humanities
Business - Accounting & Finance
Business - Management
Media & Communication
Law