Computer Science
Computer Science
BSc, 3-4 years
This is for you if... you are fascinated by the possibilities that computers provide in the modern world and want to learn more about the scientific and mathematical aspects of the subject.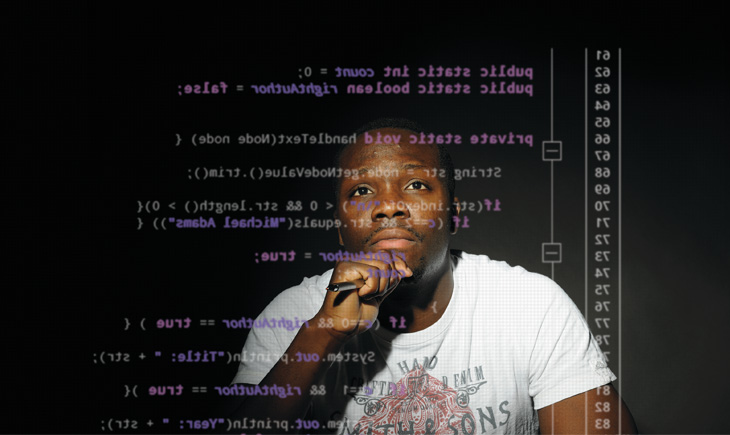 Course Description
As part of the University of Leicester's commitment to being a leading academic institution, we regularly review and update our degrees and modules to ensure that they reflect the most up-to-date research, knowledge, ideas and teaching practices, as well as taking into account student feedback. We also have to take into account the availability of key teaching staff where this will impact on the delivery of the course. As a result, if there are major changes to the course that you have applied for, we will contact you as soon as possible and will ensure that any disruption to your studies is minimised.
The BSc in Computer Science covers the scientific and theoretical foundations of the subject. You will also learn about logic and scientific problem solving which will help you tackle the challenges of the workplace in a truly organised way. A wide range of third year option modules typically include algorithms and security, cryptography, compression methods for multimedia, advanced web technologies and concurrent processes.
This degree includes extensive study of software engineering system development techniques. You will learn how to understand customer requirements; specify, design and code a computer solution; and test and release your solution to your customer. At the heart of coding such system developments you will have the opportunity to learn state-of-the-art technologies including Java, XML, PHP, C++, C# and .NET and modern programming development environments such as Eclipse. You will also discover technical modelling techniques such as UML, and business concepts such as project management.
Hardware and networking modules will provide you with essential knowledge of modern computing systems, from personal computers to world-distributed computation. You will study database information systems, the fundamentals of web and internet technologies, and how web and information systems interact. You can also explore a range of more advanced topics including multimedia and computer graphics (Java 3D), web technologies, internet security, distributed systems and applications, and software quality.
The Department of Informatics at Leicester is young, dynamic and takes a scientific and rigorous approach to computing. We recognise that computing is a vibrant and diverse discipline that ranges from the management and architecture of global IT projects, through to the scientific development of innovative theories and technologies. With such variety we will help you to build on your strengths and interests, whether they lie in creativity, inventiveness, scientific problem-solving, or applying business sense and organisation.
Project work forms a vital part of your understanding and is seen as highly desirable by employers. Second year projects will teach you the demands of working in a professional environment as you work to deliver projects that are commissioned by real clients. In your final year, you will take a project into your own hands, exercising your creativity and innovation to design a solution and applying all that you have been taught to deliver it. Previous projects have included 3-D games, mobile phone/tablet apps, security software, internet telephony and programming robots.
What's the difference?
Interested in a career in IT but not necessarily in the theoretical and scientific aspects? Try the BSc in Computing. You will become familiar with common programming languages, and understand how computer systems help in analysing, managing, processing and communicating information, including large organisations.
Intrigued by computational phenomena, like why and how programming languages actually work? Want to know more about the processes and techniques through which new software systems can be built? The BSc in Computer Science is the course for you. Or, if you want to start your career at a higher level, or study for a PhD, try the MComp which is the BSc with an extra year on the end.
Or take the BSc in Computing with Management if you want to study computing... with management.
Why Leicester?
The British Computer Society funds an award for the most promising first year student.
In the second-year group project you will get the experience of working in a software development team and delivering a solution to a real client.
The Students' Union Computing Society organises a range of events including educational talks and social outings.
Our labs are open 24/7 with fully networked Windows/Linux dual-boot PCs and wireless access.
Teaching and Assessment
Teaching in the Department of Informatics includes lectures and lab classes together with small group tutorials. Lectures include innovative software demonstrations as well as more traditional presentations.
State-of-the-art web-based materials, automated feedback and marking systems, on-line tests and electronic coursework submission all provide an excellent modern learning environment. Apart from project work, which is assessed by coursework only, most modules are assessed partly by coursework and partly by exam.
You will be assigned your own personal tutor who can provide advice about not just academic matters but also welfare concerns and careers development. You can see your personal tutor at any time by appointment or during office hours.
Entry Requirements
A/AS-levels: ABB. Two AS-levels considered in place of one A-level. General Studies accepted.
EPQ with A-levels: BBB + EPQ at grade B. Two AS-levels considered in place of one A-level. General Studies accepted.
GCSE: Maths Grade B
Access to HE Diploma: Pass relevant diploma with some credits at distinction.
International Baccalaureate: Pass Diploma with 30.
BTEC Nationals: Full Diploma with D*D*D*
Other national and international qualifications considered.
If you do not meet the entry requirements for this course, you can apply for the International Foundation Year run by our dedicated International Study Centre. The ISC
provides academic and English language support to help you progress to your chosen undergraduate degree at the University of Leicester.
Second year entry may be possible with suitable qualifications.
Selection Process
When considering your application, we will look for evidence that you will be able to fulfil the objectives of the course and achieve the standards required. We will take into account a range of factors including previous exam results.
Applicants are not normally interviewed, but an additional assessment test may be required. If you receive an offer you will be invited to visit the Department of Informatics.
English Language Requirements
IELTS 6.0 or equivalent. If your first language is not English, you may need to provide evidence of your English language ability. If you do not yet meet our requirements, our English Language Teaching Unit (ELTU) offers a range of courses to help you to improve your English to the necessary standard.
International Qualifications
Find your country in this list to check equivalent qualifications, scholarships and additional requirements.
Countries list
Fees and Funding
Starting in 2017

£9,250 in your first year. After 2017/18, the tuition fee you pay may increase annually in line with inflation (RPIX) and is subject to government regulations. (RPIX is a measure of inflation in the UK, equivalent to all items in the Retail Price Index (RPI) excluding mortgage interest payments.)
Year Abroad: your fee will be £1,250 for that year.
Year in Industry: your fee will be 15% of the full-time tuition fee that applies in that year.

Starting in 2018

Find out more about scholarships and funding.

Starting in 2017

£18,855 per year
Year Abroad: your fee will be £4,713.75 which is 25% of the full-time tuition fee.
Year in Industry: your fee will be £2,828.25 which is 15% of the full-time tuition fee.

Starting in 2018

Scholarship

Department of Informatics Scholarships are available to international students. The scholarship is a reduction in your tuition fee and is based solely on your academic achievements and any exam results you get before starting your degree. All international applicants will be automatically considered for these scholarships; there is no application form to fill in. However, you must have applied by 31 August in the year you plan to start at Leicester.

Career Opportunities
Many of our modules feature external speakers who are able to give first-hand accounts of how the latest computing innovations are used in industry.
You will work on a project commissioned by a real client and gain an insight into the practices of design, implementation and professional project management. You will be taught how to specify, design and develop software systems, gaining the technical skills and insights that employers value very highly.
Graduates from the Department of Informatics have gone on to many different careers, whether working for large companies, such as Accenture, BAE systems, Bloomberg and LogicaCMG, or for small, innovative start-ups. You may go on to apply your knowledge directly as a software engineer or systems analyst – or you may apply your IT skills and problem-solving abilities in a related field such as finance, marketing or general business.
Careers
Our Career Development Service is here to support you, with advice on interviews, CVs, work experience, volunteering and more. From Freshers' Week to Graduation and beyond, they are here to help you reach your professional goals.
| Course | Qualification | Duration | UCAS Code | Availability |
| --- | --- | --- | --- | --- |
| Computer Science | BSc | 3 years full-time | G400 | Apply Now |
| Computer Science with Year Abroad | BSc | 4 years full-time | G401 | Apply Now |
| Computer Science with Year in Industry | BSc | 4 years full-time | G402 | Apply Now |
Course
Computer Science
Qualification
BSc
Duration
3 years full-time
UCAS Code
G400
Availability
Course
Computer Science with Year Abroad
Qualification
BSc
Duration
4 years full-time
UCAS Code
G401
Availability
Course
Computer Science with Year in Industry
Qualification
BSc
Duration
4 years full-time
UCAS Code
G402
Availability
Not what you're looking for?