Computer Science with Foundation Year
Computer Science with Foundation Year
BSc, 4-5 years
This is for you if... you want to study computer science, but don't have the traditional entry requirements.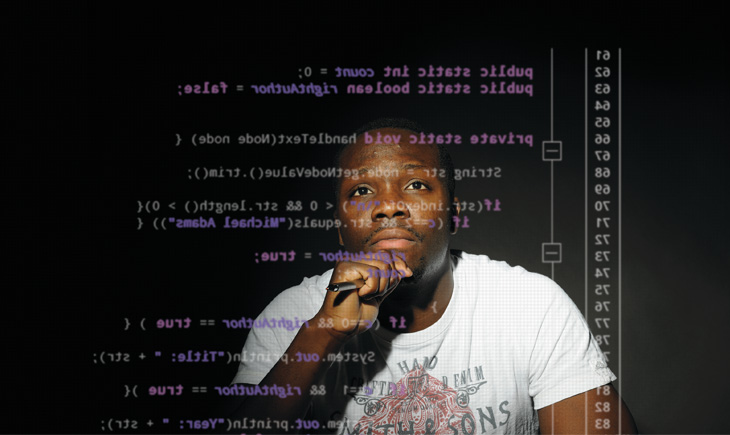 Course Description
Our integrated Science, Technology and Engineering (STEM) Foundation Year degrees are aimed at students who wish to study a STEM subject, such as computer science, but don't have the traditional entry requirements.
By completing the STEM Foundation Year you will automatically progress onto the first year of your chosen degree.
You will be taught by our expert academic staff from across a number of departments.
The course does not require a maths test for entry, but it will cover the A-level maths syllabus and understanding of this will be measured before you progress.
The course strongly emphasises the development of essential professional and personal skills, which are necessary throughout your studies and beyond.
During your foundation year you will join our student community and be able to enjoy all aspects of the University of Leicester student experience. You will be able to join the Students' Union, use our academic and leisure facilities, live in our accommodation and access all our support services.
You will have a personal tutor to support you.
Why Leicester?
The British Computer Society funds an award for the most promising first year student.
In the second-year group project you will get the experience of working in a software development team and delivering a solution to a real client.
The Students' Union Computing Society organises a range of events including educational talks and social outings.
Our labs are open 24/7 with fully networked Windows/Linux dual-boot PCs and Macs and wireless access.
Course Structure
Foundation Year
Foundation Year
Modules
Maths: Core A-level content, with an emphasis on developing your competence and confidence at applying mathematics to problems in the physical sciences.
Science 1: Materials: Phases of matter (solids, liquids and gases), atomic structure and radioactivity, chemical bonds and chemical reactions, properties of solids (engineering materials, elastic properties, strength, toughness, failure and electrical properties).
Science 2: Mechanics: Newton's laws, forces, mass, velocity acceleration, projectiles, momentum, angular momentum, circular motion, simple harmonic motion and resonance.
Science 3: Heat and energy: Temperature, heat, power, ideal gases and kinetic theory.
Science 4: Electricity and magnetism: Light, optics and the quantum world.
Methods and Techniques: Core study skills and professional competences necessary for successful university level study. Reading scientific literature, research techniques, report writing skills, presentation skills, computer programming and algorithms.
Physical Science Laboratory: Basic experimental techniques, health and safety in the laboratory, recording data, data analysis and report writing.
Modules shown represent choices available to current students. The range of modules available and the content of any individual module may change in future years.
Year 1
Year 1
In the first year of the BSc proper (your second year at Leicester) you will cover a number of core topics in Java programming and program development environments (such as Eclipse), along with database systems and internet technologies (development environments such as Dreamweaver, and coding such as PHP and HTML, together with databases such as Access and SQL), and basic discrete mathematics for applications. You will also receive a fascinating introduction to hardware processors, as well as scientific problem solving and artificial intelligence. You will learn about the logic that underpins applications such as processor verification, computer learning and mechanised reasoning.
Modules
Computer Systems
Data Structures and Development Environments
Databases and Web Applications
Discrete Structures
Logic and Problem Solving
Program Design
Requirements Engineering and Professional Practice
At the end of this year you can, if you wish, transfer to the BSc in Computing.
Modules shown represent choices available to current students. The range of modules available and the content of any individual module may change in future years.
Year 2
Year 2
Year 2 of the BSc course is your third year at Leicester.
A good knowledge of networking is extremely useful in today's world of distributed computing; and previous students have found the module on multimedia both exciting and challenging. In addition, we offer you a module on automata, which are models of computation that enable us to better understand some of the fundamentals of computing. For example, some of the latest research by Microsoft uses automata to better understand the new and fascinating ideas of chemical computers. You will also learn functional programming: languages used in the production of mobile embedded systems and computer verification systems.
Modules
Automata, Languages and Computation
Functional Programming
Multimedia and Computer Graphics
Operating Systems, Networks and Distributed Systems
Software Engineering Group Project
Software Engineering and System Development
Software Project Management and Professionalism
Use Interfaces and HCI
In the second year project, you will be part of a team of students working together to develop software that has been commissioned by a real client. You will learn to work with, and manage, a team. Each team works within a teaching framework, broad enough to allow you to work flexibly and innovatively, but moderated to ensure that teams are performing and progressing. You will learn to prepare written reports, and give a group presentation (these are skills that employers rate very highly).
Modules shown represent choices available to current students. The range of modules available and the content of any individual module may change in future years.
Year in Industry or Abroad (optional)
Year in Industry or Abroad (optional)
If you want to, you can spend the third year of the BSc, which will be your fourth year at Leicester - away from Leicester. You can study abroad at one of our partner institutions or work in an industrial placement (eligibility is dependent on your academic performance in Years 1 and 2). Alternatively, you can opt to continue studying at the University and complete the final year of your degree.
NB. A year spent abroad or on an industrial placement still incurs a tuition fee, but this is much lower than for a normal year at Leicester. See our Fees and Funding section for details.
Year Abroad
Studying abroad is not just for people who are interested in travelling and meeting new people. It is about acquiring life skills that are becoming increasingly significant for a wide range of jobs in our modern globalised society. Whether you go on to work in the private sector, the state sector, a non-governmental organisation or become self-employed you will find the experience invaluable. Find out more from our International Office.
The Department of Informatics at Leicester has links with several European universities, administered through the European Erasmus scheme. If you attend one of these, you may be eligible for an Erasmus grant if you comply with European Commission rules and regulations. If you are eligible for a loan from Student Finance you can apply for a travel grant from them. During your second year at Leicester you will receive appropriate language training.
For the latest information on the future of the Erasmus scheme at UK universities please see our Brexit microsite.
We have links with the following universities:
The Department of Informatics also has links with some universities outside Europe. There is no monthly grant when you attend one of these universities, however if you are receiving financial assistance from Student Finance your support will continue and you may also be eligible to apply for additional travel grants or scholarships. We have links with the following universities:
Year in Industry
An industrial placement is a fantastic opportunity to gain experience of a working environment - and will normally be a paid position, more than offsetting the additional cost of the extra year. Industrial placements are limited and are awarded through a competitive selection process, based on your performance in your first year.
During your placement you will be visited by your personal tutor and will also come back to the University to give a brief presentation of your work experience. You will be provided with a log book to document your placement and will write a final report detailing your work, which will be assessed as part of your degree.
We provide excellent careers support, and our Industrial Advisory Board assists us in keeping our degrees fit for satisfying industrial needs. A year in industry is an excellent opportunity to learn more about the type of profession that you can choose after you graduate, and can also point you towards postgraduate studies that may help you strengthen the profile that you have identified for your career.
Your placement effectively begins in year two when you will be briefed in writing a CV, interview techniques and the procedures that you need to follow to obtain an industrial placement. In addition, a list of potential industrial partners who have taken students in past years will be provided to you.
Modules shown represent choices available to current students. The range of modules available and the content of any individual module may change in future years.
Final Year
Final Year
The final year of your course will be either your fourth or fifth year at Leicester, depending on whether you took a year out. This is an opportunity to specialise in the areas of computing that interest you. The third year project is a chance to follow your own interests in depth, with one-to-one supervision.
Modules
Choose four option modules from:
Advanced C++ Programming
Analysis and Design of Algorithms
Big Data and Predictive Analytics
Communication and Concurrency
Compression Methods for Multimedia
Computational Intelligence and Software Engineering
Cryptography and Internet Security
Distributed Systems and Applications
Software Measurement and Quality Assurance
Web Technologies
plus your Computing Project
Recent final year projects have included:
Example worksheet for introducing image processing
Virtual environment using Java 3D
Social Puzzle Game for Android Mobile Devices
3D Gravity Simulator
Modules shown represent choices available to current students. The range of modules available and the content of any individual module may change in future years.
Major/Minor Degrees
Major/Minor options allow you to create your own degree. You can concentrate on one subject as your Major (75% of your course) while broadening your knowledge with a Minor subject (25% of your course).
Why not complement your Major with a subject that you enjoyed before, or which has vocational elements that can boost your career prospects? Alternatively, you may want to try something completely new that you've always been interested in, like a language.
Find out more
Teaching and Assessment
Teaching in the Department of Informatics includes lectures and lab classes together with small group tutorials. Lectures include innovative software demonstrations as well as more traditional presentations.
State-of-the-art web-based materials, automated feedback and marking systems, on-line tests and electronic coursework submission all provide an excellent modern learning environment. Apart from project work, which is assessed by coursework only, most modules are assessed partly by coursework and partly by exam.
You will be assigned your own personal tutor who can provide advice about not just academic matters but also welfare concerns and careers development. You can see your personal tutor at any time by appointment or during office hours.
Research Stories
Entry Requirements
A-levels: BBB or points equivalent from your best three A-levels (non-traditional science A-levels considered). You must have taken Maths or Physics at AS-level or hold GCSEs grade A/A* in Maths and Physics.
BTEC Diploma: DDM in appropriate subject area – typically Engineering or a Physical Science discipline (no Maths assessment test required)
International Baccalaureate: Pass diploma with 28 points minimum.
Access to HE courses in Science and Engineering: 45 L3 credits, including some at Distinction in relevant science and Maths modules (no Maths assessment test required)
We welcome applicants with other qualifications. Please contact seadmissions@le.ac.uk to find out more.
NB. This course is only open to applicants from the UK and other EU countries. Applicants outside the EU can apply for our International Foundation Year.
English Language Requirements
IELTS 6.0 or equivalent. If your first language is not English, you may need to provide evidence of your English language ability. If you do not yet meet our requirements, our English Language Teaching Unit (ELTU) offers a range of courses to help you to improve your English to the necessary standard.
International Qualifications
Find your country in this list to check equivalent qualifications, scholarships and additional requirements.
Countries list
Fees and Funding
Starting in 2017

An inflationary increase (2.8% based on RPIX*) in tuition fees and student support loans have been announced by the Government for 2017. This is still subject to formal parliamentary approval however, if approved, fees for 2017/18 entry could rise to £9,250 in 2017/18.

After 2017/18, the tuition fee you pay may increase annually in line with inflation (RPIX) and is subject to government regulations.

(*RPIX is a measure of inflation in the UK, equivalent to all items in the Retail Price Index (RPI) excluding mortgage interest payments.)

Please note this course is not available to International (non-EU) students.
Career Opportunities
Many of our modules feature external speakers who are able to give first-hand accounts of how the latest computing innovations are used in industry.
You will work on a project commissioned by a real client and gain an insight into the practices of design, implementation and professional project management. You will be taught how to specify, design and develop software systems, gaining the technical skills and insights that employers value very highly.
Graduates from the Department of Informatics have gone on to many different careers, whether working for large companies, such as Accenture, BAE systems, Bloomberg and LogicaCMG, or for small, innovative start-ups. You may go on to apply your knowledge directly as a software engineer or systems analyst – or you may apply your IT skills and problem-solving abilities in a related field such as finance, marketing or general business.
Careers
Our Career Development Service is here to support you, with advice on interviews, CVs, work experience, volunteering and more. From Freshers' Week to Graduation and beyond, they are here to help you reach your professional goals.
| Course | Qualification | Duration | UCAS Code | Availability |
| --- | --- | --- | --- | --- |
| Computer Science with Foundation Year | BSc | 4 years full-time | G499 | Apply Now |
| Computer Science with Foundation Year with Year Abroad | BSc | 5 years full-time | G499 | Apply Now |
| Computer Science with Foundation Year with Year in Industry | BSc | 5 years full-time | G499 | Apply Now |
Course
Computer Science with Foundation Year
Qualification
BSc
Duration
4 years full-time
UCAS Code
G499
Availability
Course
Computer Science with Foundation Year with Year Abroad
Qualification
BSc
Duration
5 years full-time
UCAS Code
G499
Availability
Course
Computer Science with Foundation Year with Year in Industry
Qualification
BSc
Duration
5 years full-time
UCAS Code
G499
Availability