Goal 9: Industry, Innovation and Infrastructure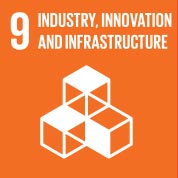 The ninth Sustainable Development Goal is to build resilient infrastructure, promote inclusive and sustainable industrialisation and foster innovation.
Developing and maintaining world-class infrastructure and investing in entrepreneurship and innovation are two of our key priorities, and the benefits can be felt around our University, in the local community and beyond.
Teaching
45 modules have intended learning outcomes directly relating to this goal, and 2,898 students have the opportunity to choose these modules.
Research
78 articles relating to this goal were published in Scopus between 2015 and 2019, and 1,345 articles were 'cited by' in Scopus.
What we're doing (University activity)
The Enterprise Strategy, led by our Research and Enterprise Division, prioritises ensuring that the world-class research and knowledge we generate is translated and applied, bringing improvements and benefits to business and the wider community and delivering new solutions to global challenges. We will develop more and stronger partnerships with our linked organisations and potential users of our applied research and enterprise services. This will empower us to deliver better research and enterprise across all of our disciplines.
Library LED project
When a group of students analysed lighting in a number of main campus rooms, they presented the University with a proposal to save thousands of pounds and hundreds of tonnes of CO2. This led to a large scheme, including a £1.3 million project to replace lighting in the library that saved a fantastic 93% in energy costs.
Leicester Innovation Hub
The Leicester Innovation Hub is a £5.1 million programme invested in by the University of Leicester and European Regional Development Fund (ERDF), and is a long-term strategic University project. The Hub is the 'front door' to launching great ideas and also provides a dedicated incubation and innovation space, making it easier for companies to utilise innovation support, expertise and facilities.
Courses/modules relating to the goal
Life Sciences
Natural Sciences
Science and Engineering
Engineering
Computing
Mathematical Sciences
Physics and Astronomy
Geology
Social Sciences, Arts and Humanities
Business - Management
Media and Communication
Law