Chemistry
Chemistry
MChem, 4 years
This is for you if... you love chemistry and want to carve out a career as a professional research chemist in industry or the public sector, or study for a PhD in the subject.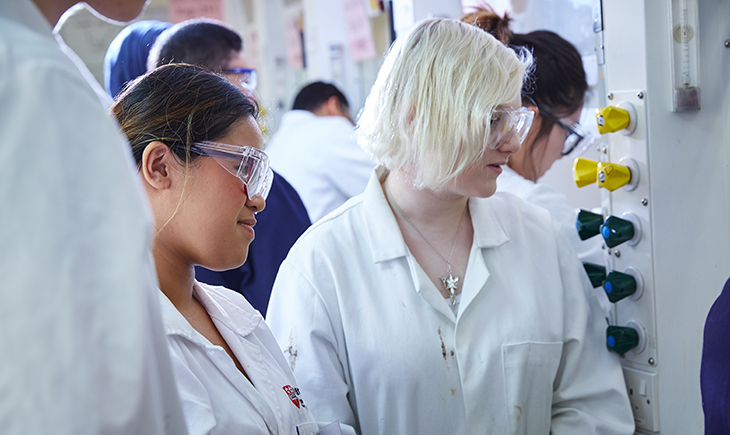 Course Description
As part of the University of Leicester's commitment to being a leading academic institution, we regularly review and update our degrees and modules to ensure that they reflect the most up-to-date research, knowledge, ideas and teaching practices, as well as taking into account student feedback. We also have to take into account the availability of key teaching staff where this will impact on the delivery of the course. As a result, if there are major changes to the course that you have applied for, we will contact you as soon as possible and will ensure that any disruption to your studies is minimised.
Chemistry is the fundamental cornerstone for many economically important industries today, creating a demand for high quality chemistry graduates. The constant desire for innovation, new products and new solutions continually drives forward research and development. By studying the interaction of molecules, their structure and properties, we learn vital information about the world we live in and this offers opportunities to find answers to many of the problems we, as a society, face today.
If you choose to study for a BSc or MChem degree in Chemistry, you will find it is an incredibly exciting science, with substantial hands-on practical work. You will graduate with the skills and expertise that may lead you to make new discoveries. These discoveries can result in advances in many important fields such as health and medicine, energy and the environment, materials and technology or food and agriculture. As a chemistry graduate you will have a diverse range of career options open to you.
The Department of Chemistry at Leicester is one of the best in the UK for both teaching and research. We have a reputation as a friendly, supportive department that produces highly trained graduates with skills valued by employers. This is because we offer high quality courses that are designed to give you a wide range of employment opportunities, and are carefully structured to ensure you will cover all the relevant topics.
Whichever degree you study, you will always benefit from our excellent teaching, our well-equipped laboratories, our high-quality welfare provision and academic support. You will also reap the benefits of the cutting-edge research being carried out in the department by our academics – the same academics who teach you.
Our specialist research areas include atmospheric chemistry, chemical biology, materials and interfaces, spectroscopy and dynamics, and sustainable synthesis and catalysis. You can be sure of learning about the very latest breakthroughs in each area throughout your course. In your final year, you will carry out your own personal research project, working under one of our academic staff and applying the knowledge and practical skills which you have gained on the course – placing you at the cutting-edge of chemistry research.
What's the difference?
Study for a BSc and you will receive rigorous training in chemistry and related, transferable skills – which will put you in a strong position to apply for a range of different employment sectors. Or you may want to continue your studies by applying for a Masters degree (MSc).
If you specifically want to find work as a chemist, whether in industry or the public sector, you should consider an MChem. The extra depth of experience and knowledge you will gain is valued by prospective employers that use chemical processes, and will keep you competitive in the job market against graduates who may have studied for the longer degrees taught in some European countries. Alternatively, an MChem provides a solid basis for progressing to a PhD.
Each of our three MChem degrees share a common first two years with the respective BSc, during which you can switch between them (transfer from BSc to MChem is subject to satisfactory progress). Both the MChem and BSc degrees are taught and assessed to the same high standards. The difference is one of content, not quality.
Also please note that the Year in Industry and Year Abroad options are not available on our BSc degrees.
Why Leicester?
Students are trained as high-level users of state-of-the-art equipment such as UV/Visible spectrometers, gas/liquid chromatographs (GC/MS and HPLC), NMR spectrometers, atomic force microscopes, fluorimeters, FTIR, refractometers, mass spectrometers and X-ray diffractometers.
We focus on high-quality, technically innovative and interactive small group teaching activities. The highlights of these are weekly level 1 and 2 tutorials and an excellent staff to student rations for problem classes, laboratory sessions and our C/PBL activities.
You will benefit from our high teaching standards and dedicated academic and pastoral support structure. Personal, careers, industrial placement, study-abroad and accessibility tutors are all here to ensure that each student has a chance to reach their full potential.
All of our degrees involve an independent research project in the final year. Some of these academic-led research projects have resulted in previous students having their work published in leading scientific journals.
Course Structure
Year 1
Year 1
You will be introduced to the fundamental concepts and basic practical elements of chemistry, all of which will give you the solid chemistry foundation required to complete your degree.
Modules
Chemical Principles
Chemistry Special Topics Part A and Part B
Co-ordination Chemistry
Chemistry Practical Parts A and B
Kinetics and Thermodynamics
Organic Reactivity and Mechanisms
Organic Structure and Functional Groups
Maths for Chemists
This is the same as the first year of the BSc.
NB. It is possible to switch at the end of the first year from a degree in Chemistry with Forensic Science or in Pharmaceutical Chemistry to this regular Chemistry degree, but transferring in the other direction is not possible because of the specialised modules taught on those courses. So if you like the sound of either of our specialised Chemistry subjects but you're not completely certain that's where you want to go, you should apply for the specialised degree and then consider your options at the end of Year 1.
Modules shown represent choices available to current students. The range of modules available and the content of any individual module may change in future years.
Year 2
Year 2
During this year you will extend the foundation knowledge from your first year and begin to gain more advanced and specialised practical skills. You will also consider how chemistry and scientific advancements are communicated to wider audiences, a vital skill when applying for a job or research funding.
Modules
Bifunctional Molecules
Chemistry of Rings
Physical Chemistry of Colloids
Kinetics and Mechanisms
Molecular Spectroscopy
Organometallic Chemistry
Science Communication and Career Skills
Chemistry Practical Parts A and B
Plus either Introduction to Analytical Chemistry or Material Science
Plus either Bioanalytical Chemistry or Polymer Chemistry
This is the same as the second year of the BSc.
Modules shown represent choices available to current students. The range of modules available and the content of any individual module may change in future years.
Year 3
Year 3
You will spend your third year honing your practical skills and gaining a more complex understanding of chemistry, having acquired all the necessary skills and information to be able to pursue a research project of your own.
On an MChem degree you have three options for your third year: a year abroad, an industrial placement, or further study in Leicester.
Spend a year abroad
If you choose to spend a year abroad, you will study relevant Chemistry modules at one of our partner universities and also undertake a research project there in one of the institution's research groups. Eligibility for the year abroad is dependent on your academic performance in Years 1 and 2.
Studying abroad is not just for people who are interested in travelling and meeting new people. It is about acquiring life skills that are becoming increasingly significant for a wide range of jobs in our modern globalised society. Whether you go on to work in the private sector, the state sector, a non-governmental organisation or are self-employed you will find the experience invaluable. Find out more from our International Office.
The Department of Chemistry at Leicester has links with several European universities, administered through the European Erasmus scheme. If you attend one of these, you may be eligible for an Erasmus grant if you comply with European Commission rules and regulations. If you are eligible for a loan from Student Finance you can apply for a travel grant from them. During your second year at Leicester you will receive appropriate language training.
For the latest information on the future of the Erasmus scheme at UK universities please see our Brexit microsite.
We have links with the following universities:
We also have links with some universities outside Europe. There is no monthly grant when you attend one of these universities, however if you are receiving financial assistance from Student Finance your support will continue and you may also be eligible to apply for additional travel grants or scholarships. We have links with the following universities:
American universities
Spend a year working
You will carry out a year long project in the research and development section of your host company, such as developing new drugs or exploring new analytical techniques for testing the purity of petroleum products. You will also study some Year 3 Chemistry modules by distance learning.
In addition to getting paid, throughout your industrial placement you will have all the same entitlements as other employees in the company. Salaries vary but the average is around £15,000-17,000 per year.
Recent host employers include: GlaxoSmithKline, Astra Zeneca, 3M, BASF, the Ministry of Defence, Lubrizol and Reckitt Benckiser.
Unsure whether to spend your third year working in industry or living abroad? You could enjoy both experiences by spending a year working for an overseas employer. If you need language training, this will be provided in Year 2.
Stay in Leicester
If you choose to stay in Leicester, in your third year you will continue with your studies, looking at advanced aspects of different areas of chemistry. You will also carry out more in-depth practical experiments to prepare you for your project in Year 4.
Core modules
Advanced Inorganic Chemistry
Advanced Organic Chemistry
Advanced Chemistry Practical
Chemistry General Skills
Advanced Physical Chemistry
Option modules
Choose one option module from:
Biological Chemistry
Metals in Organic Synthesis
Advanced Analytical Chemistry
Modules shown represent choices available to current students. The range of modules available and the content of any individual module may change in future years.
Final Year
Final Year
You will spend your final year becoming proficient in the areas that professional research chemists use most frequently to plan and deliver their work.
Modules
Advanced Structure Determination
Advanced Synthetic Methods
Cancer Chemistry
Computational Chemistry
Earth System Science
Green Chemistry
Plus your Research Project
Modules shown represent choices available to current students. The range of modules available and the content of any individual module may change in future years.
Teaching and Assessment
Teaching is a mixture of lectures, tutorials, exams, lab reports, essays, oral presentations, poster design and problem based learning. A typical week might include nine hours of lectures, seven hours of lab work, and two or three workshops or tutorials. You will also be expected to spend several hours each week on private study which might include answering problem sheets, preparing for tutorials or writing up lab reports.
All of our courses are linked to Blackboard – a virtual learning environment that gives you access to lecture notes, self-test exercises, supplementary information and background literature about the course.
We place a strong emphasis on small group tutorials, in which half a dozen students meet with a member of staff to discuss questions arising from the lectures. Often you will go over a set of problems handed out a few days earlier. Tutorials are also an ideal opportunity to discuss any aspects of the course that you don't fully understand.
Chemistry is, of course, a very practical subject, so strong emphasis is placed on the acquisition of laboratory skills. In Years 1 and 2 you will spend about four to six hours each week in the lab. In your third year, you will increase your lab time to about 10-12 hours per week. In your fourth year you will spend up to 24 hours a week in the lab carrying out your research project.
You are assessed on your performance through exams at the end of the semester or at the end of the year and through continuous assessment throughout your modules.
NB. All lab work is continually assessed - there are no practical exams.
You will have regular meetings with your personal tutor to discuss progress in your studies. Your personal tutor will also provide a sympathetic ear for all matters of personal concern, whether they are academic, financial, housing, career or social issues.
Entry Requirements
A/AS-levels: AAB-ABB including Chemistry. (The lower offer is given to students studying two or more science subjects.) Two AS-levels considered in place of one A-level.
EPQ with A-levels: ABB-BBB + EPQ at grade B
GCSE: Grade A Maths (if Maths or Physics not held at A/AS-level)
Access to HE Diploma (Science): 60 credits overall with 45 credits at level 3, including some at distinction in relevant Chemistry modules. At least 15 credits of Chemistry at level 3.
International Baccalaureate: Pass Diploma with 32 points (with grade 5 in Chemistry).
BTEC Nationals: BTEC Diploma in Applied Science with DDD, plus A-level Chemistry.
Other national and international qualifications considered.
If you do not meet the entry requirements for this course, you can apply for the International Foundation Year run by our dedicated International Study Centre. The ISC
provides academic and English language support to help you progress to your chosen undergraduate degree at the University of Leicester.
Second year entry may be possible with suitable qualifications.
Selection Process
When considering your application, we will look for evidence that you will be able to fulfil the objectives of the course and achieve the standards required. We will take into account a range of factors including previous exam results.
Applicants are not normally interviewed. If you receive an offer you will be invited to visit the department.
English Language Requirements
IELTS 6.0 or equivalent. If your first language is not English, you may need to provide evidence of your English language ability. If you do not yet meet our requirements, our English Language Teaching Unit (ELTU) offers a range of courses to help you to improve your English to the necessary standard.
International Qualifications
Find your country in this list to check equivalent qualifications, scholarships and additional requirements.
Countries list
Fees and Funding
Starting in 2017

£9,250 in your first year. After 2017/18, the tuition fee you pay may increase annually in line with inflation (RPIX) and is subject to government regulations. (RPIX is a measure of inflation in the UK, equivalent to all items in the Retail Price Index (RPI) excluding mortgage interest payments.)
Year Abroad: your fee will be £1,250 for that year.
Year in Industry: your fee will be 15% of the full-time tuition fee that applies in that year.

Starting in 2018

Find out more about scholarships and funding.


Additional costs

You will need to have your final year research project professionally bound. The cost of binding 2 copies of your project is included in your tuition fee.

Please note that you will need to pay a refundable deposit for a locker padlock (£10).

Starting in 2017

£18,855 per year
Year Abroad: your fee will be £4,713.75 which is 25% of the full-time tuition fee.
Year in Industry: your fee will be £2,828.25 which is 15% of the full-time tuition fee.

Starting in 2018

Find out more about scholarships and funding.


Additional costs

You will need to have your final year research project professionally bound. The cost of binding 2 copied of your project is included in your tuition fee.

Please note that you will need to pay a refundable deposit for a locker padlock (£10).
Career Opportunities
Many of our graduates seek employment in the chemical and pharmaceutical industries, which are the largest employers of scientists in the UK and are among the country's leading manufacturing exporters.
As well as gaining detailed knowledge of different aspects of chemistry you will gain a range of transferable skills from your degree in areas such as problem solving, data analysis, numeracy, computing and time management. This combination of chemistry knowledge and transferable skills means that after you graduate your job prospects are extremely good.
Each of our Chemistry degrees includes a specialist module with guidance on searching and applying for jobs, and on writing CVs and application letters. Plus we have a dedicated Careers Tutor organising careers events throughout the academic year.
Careers
Our Career Development Service is here to support you, with advice on interviews, CVs, work experience, volunteering and more. From Freshers' Week to Graduation and beyond, they are here to help you reach your professional goals.
| Course | Qualification | Duration | UCAS Code | Availability |
| --- | --- | --- | --- | --- |
| Chemistry | MChem | 4 years full-time | F105 | Apply Now |
| Chemistry with Year Abroad | MChem | 4 years full-time | F107 | Apply Now |
| Chemistry with Year in Industry | MChem | 4 years full-time | F106 | Apply Now |
Course
Chemistry
Qualification
MChem
Duration
4 years full-time
UCAS Code
F105
Availability
Course
Chemistry with Year Abroad
Qualification
MChem
Duration
4 years full-time
UCAS Code
F107
Availability
Course
Chemistry with Year in Industry
Qualification
MChem
Duration
4 years full-time
UCAS Code
F106
Availability
Not what you're looking for?