Chemistry with Foundation Year
Chemistry with Foundation Year
BSc, 4 years
This is for you if... you want to study chemistry, but don't have the traditional entry requirements.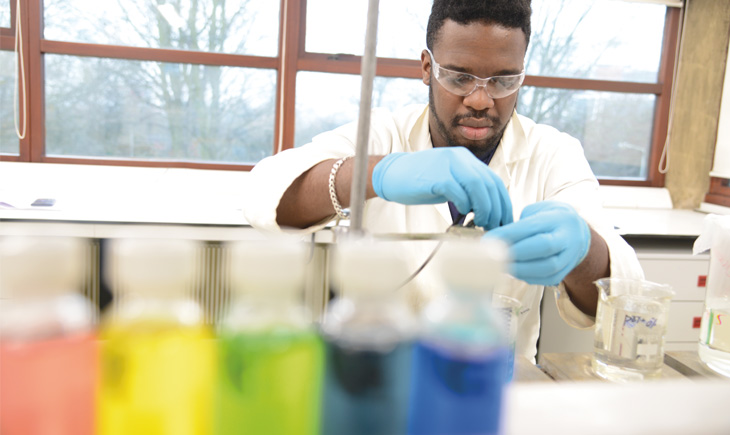 Course Description
The UCAS code for this course is F199.
Our integrated Science, Technology and Engineering (STEM) Foundation Year degrees are aimed at students who wish to study a STEM subject, such as geology, but don't have the traditional entry requirements.
By completing the STEM Foundation Year you will automatically progress onto the first year of your chosen degree.
You will be taught by our expert academic staff from across a number of departments.
The course does not require a maths test for entry, but it will cover the A-level maths syllabus and understanding of this will be measured before you progress.
The course strongly emphasises the development of essential professional and personal skills, which are necessary throughout your studies and beyond.
During your foundation year you will join our student community and be able to enjoy all aspects of the University of Leicester student experience. You will be able to join the Students' Union, use our academic and leisure facilities, live in our accommodation and access all our support services.
You will have a personal tutor to support you, and our excellent staff/student ratio means that you will get all the help you need throughout your studies.
Why Leicester?
Course Structure
Foundation Year
Foundation Year
Modules
Introduction to Chemistry: This module is designed to provide students with the chemistry knowledge and skills required for a successful transition to degree-level study in Chemistry. The module provides a foundation in knowledge in inorganic, organic and physical chemistry.
Chemistry in Society: A look at the application of chemistry in medicine, in industry and in the home.
Maths: Core A-level content, with an emphasis on developing your competence and confidence at applying mathematics to problems in the physical sciences.
Science 1: Materials: Phases of matter (solids, liquids and gases), atomic structure and radioactivity, chemical bonds and chemical reactions, properties of solids (engineering materials, elastic properties, strength, toughness, failure and electrical properties).
Science 3: Heat and energy: Temperature, heat, power, ideal gases and kinetic theory.
Methods and Techniques: Core study skills and professional competences necessary for successful university level study. Reading scientific literature, research techniques, report writing skills, and presentation skills.
Foundation Chemistry Practical: Basic experimental technique, health and safety in the laboratory, recording of data, data analysis and report writing.
Modules shown represent choices available to current students. The range of modules available and the content of any individual module may change in future years.
Year 1
Year 1
You will be introduced to the fundamental concepts and basic practical elements of chemistry, all of which will give you the solid chemistry foundation required to complete your degree.
Modules
Chemical Principles
Chemistry Special Topics Part A and Part B
Co-ordination Chemistry
Chemistry Practical Parts A and B
Kinetics and Thermodynamics
Organic Reactivity and Mechanisms
Organic Structure and Functional Groups
Maths for Chemists
Modules shown represent choices available to current students. The range of modules available and the content of any individual module may change in future years.
Year 2
Year 2
During this year you will extend the foundation knowledge from your first year and begin to gain more advanced and specialised practical skills. You will also consider how chemistry and scientific advancements are communicated to wider audiences, a vital skill when applying for a job or research funding.
Modules
Bifunctional Molecules
Chemistry of Rings
Physical Chemistry of Colloids
Kinetics and Mechanisms
Molecular Spectroscopy
Organometallic Chemistry
Science Communication and Career Skills
Chemistry Practical Parts A and B
Plus either Introduction to Analytical Chemistry or Material Science
Plus either Bioanalytical Chemistry or Polymer Chemistry
Modules shown represent choices available to current students. The range of modules available and the content of any individual module may change in future years.
Year 3
Year 3
You will spend your final year honing your practical skills and gaining a more complex understanding of chemistry. You will have acquired all the necessary skills and information to be able to pursue a research project of your own.
Core modules
Advanced Analytical Chemistry
Advanced Inorganic Chemistry
Advanced Organic Chemistry
Chemistry General Skills
Industrial Chemistry
Chemistry Project
Option modules
Choose one option module from:
Advanced Physical Chemistry
Biological Chemistry
Metals in Organic Synthesis
Modules shown represent choices available to current students. The range of modules available and the content of any individual module may change in future years.
Teaching and Assessment
Teaching is a mixture of lectures, tutorials, exams, lab reports, essays, oral presentations, poster design and problem based learning. A typical week might include nine hours of lectures, seven hours of lab work, and two or three workshops or tutorials. You will also be expected to spend several hours each week on private study which might include answering problem sheets, preparing for tutorials or writing up lab reports.
All of our courses are linked to Blackboard – a virtual learning environment that gives you access to lecture notes, self-test exercises, supplementary information and background literature about the course.
We place a strong emphasis on small group tutorials, in which half a dozen students meet with a member of staff to discuss questions arising from the lectures. Often you will go over a set of problems handed out a few days earlier. Tutorials are also an ideal opportunity to discuss any aspects of the course that you don't fully understand.
Chemistry is, of course, a very practical subject, so strong emphasis is placed on the acquisition of laboratory skills. In Years 1 and 2 you will spend about four to six hours each week in the lab. In your third year, work on your research project will increase your lab time to about 10-12 hours per week.
The academic year is divided into two 12-week semesters spread over three terms. You are assessed on your performance through exams at the end of each semester and coursework during the semester.
NB. All lab work is continually assessed - there are no practical exams.
You will have regular meetings with your personal tutor to discuss progress in your studies. Your personal tutor will also provide a sympathetic ear for all matters of personal concern, whether they are academic, financial, housing, career or social issues.
Entry Requirements
English Language Requirements
International Qualifications
Find your country in this list to check equivalent qualifications, scholarships and additional requirements.
Countries list
Fees and Funding
Starting in 2017

An inflationary increase (2.8% based on RPIX*) in tuition fees and student support loans have been announced by the Government for 2017. This is still subject to formal parliamentary approval however, if approved, fees for 2017/18 entry could rise to £9,250 in 2017/18.

After 2017/18, the tuition fee you pay may increase annually in line with inflation (RPIX) and is subject to government regulations.

(*RPIX is a measure of inflation in the UK, equivalent to all items in the Retail Price Index (RPI) excluding mortgage interest payments.)

Additional costs

You will need to have your final year research project professionally bound. The cost of binding 2 copied of your project is included in your tuition fee.

Please note that you will need to pay a refundable deposit for a locker padlock (£10).

Please note this course is not available to International (non-EU) students.
Career Opportunities
Many of our graduates seek employment in the chemical and pharmaceutical industries, which are the largest employers of scientists in the UK and are among the country's leading manufacturing exporters.
As well as gaining detailed knowledge of different aspects of chemistry, you will gain a range of transferable skills from your degree in areas such as problem solving, data analysis, numeracy, computing and time management. This combination of chemistry knowledge and transferable skills means that after you graduate your job prospects are extremely good.
Each of our Chemistry degrees includes a specialist module with guidance on searching and applying for jobs, and on writing CVs and application letters. Plus we have a dedicated Careers Tutor organising careers events throughout the academic year.
Careers
Our Career Development Service is here to support you, with advice on interviews, CVs, work experience, volunteering and more. From Freshers' Week to Graduation and beyond, they are here to help you reach your professional goals.
| Course | Qualification | Duration | Availability |
| --- | --- | --- | --- |
| Chemistry with Foundation Year | BSc | 4 years | Please call our Clearing Hotline on +44 (0)116 373 6000 to apply |
Course
Chemistry with Foundation Year
Qualification
BSc
Duration
4 years
Availability
Please call our Clearing Hotline on +44 (0)116 373 6000 to apply