Media and Communication
Media and Communication
BA, 3-4 years
This is for you if... you want to develop an understanding of a wide range of contemporary issues related to the theory, development and practice(s) of mass and interactive communication, both nationally and internationally.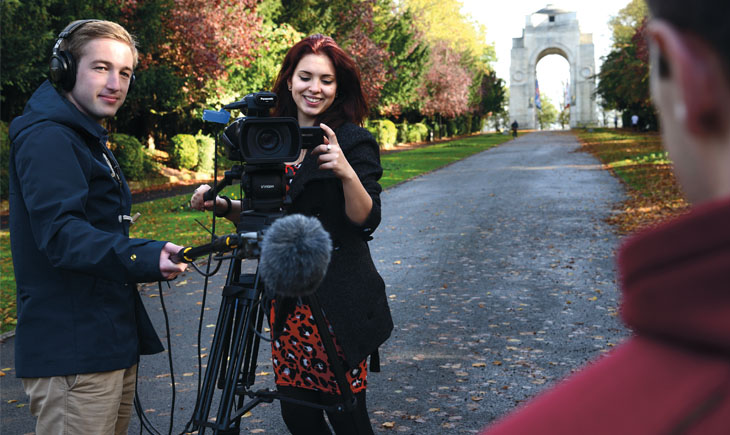 Course Description
Today, the media is in your pocket, on your bedside table and in your classroom, unlike a few years ago when it was just in the living room. Media is an integral part of social and political revolutions and changes. From Pinterest to photo and location tagging on Facebook, from long-trusted newspapers read in print to films discussed on YouTube – the media are now so much part of our lives that we take them for granted.
Media and Communication at the University of Leicester has been at the forefront of media research since 1966 and our teaching has always been informed by all the latest developments in the field.
The course is designed to provide you with an understanding of a wide range of contemporary issues related to the theory, development and practice of mass and interactive communication, both nationally and internationally. You will learn about how news is produced and reported, and how media industries, politics, culture and society interact, as well as learning about a very wide range of media, from newspapers to Twitter, from Hollywood movies to reality TV.
You will study a wide range of issues in the field of media and communication but you will also have the opportunity to choose those topics that you are most interested in. You can specialise by choosing from four different routes:
Mass communication
New and digital media
Media practice
Film and cultural studies
Or develop your own route by choosing option modules which interest you the most.
Through the great academic and practical support we offer you in group, as well as individual teaching situations, you will learn to work both collaboratively and independently. The way we will assess you will foster skills in critical analysis, communication, research methods, group work and of course, media practice. We also place great emphasis on helping you to build your skills for the world of work.
Why Leicester?
For your practical work you will have access to professional standard film, sound and editing equipment.
Media and Communication at Leicester was ranked 9th in the Guardian University Guide 2014 and 7th in the 2014 Complete University Guide.
As one of the longest established academic centres specialising in the study of media and communication, you will be taught by experienced and highly qualified tutors who are leading researchers in their field.
You can get involved with our student radio station LUSH, our student TV station LUST, or our student magazine Galaxy – all of which look good on a CV.
Major/Minor Degrees
Major/Minor degrees enable you to create your own degree. You can study a core area in depth (your major subject), while also exploring an additional area (your minor subject).
Why not complement your Major with a subject that you enjoyed before, or which has vocational elements that can boost your career prospects? Alternatively, you may want to try something completely new that you've always been interested in, like a language.
Find out more
Teaching and Assessment
In each year there are six modules, each of which involves approximately 30 hours of contact time and around 120 hours of private study.
Teaching methods include lectures, seminars, screenings, various practical activities and assessments, and one-to-one supervision. All teaching is by subject specialists and teaching methods are adapted to suit the aims and objectives of each module.
In your first year you will have additional workshops around study skills, essay writing and preparing for exams. A variety of teaching approaches are employed in the second and third year depending on the modules you take. For example, teaching in film studies incorporates film screenings, group work and student presentations based on detailed research on a chosen film topic. One-to-one teaching is an important feature of the programme. In your third year your dissertation work will be supervised by a subject-specialist. You will be allocated a personal tutor whose job is to provide you with pastoral and academic support throughout the programme.
Modules are assessed by a combination of essays, exams and presentations. You will complete a 8,000-10,000-word dissertation project in your third year.
You will have regular meetings with your personal tutor to discuss progress in your studies. Your personal tutor will also provide a sympathetic ear for all matters of personal concern, whether they be academic, financial, housing, career or social issues.
Research Stories
Entry Requirements
A/AS-levels: ABB. All subjects accepted. Two AS-levels considered in place of one A-Level.
EPQ with A-levels: BBB + EPQ at grade B. Two AS-levels considered in place of one A-level. General Studies accepted.
Access to HE Diploma: Pass relevant diploma with some credits at distinction.
International Baccalaureate: Pass Diploma with 30 points.
BTEC Nationals: Full Diploma with DDM.
Other national and international qualifications considered. If you do not meet the entry requirements for this course, you can apply for the International Foundation Year run by our dedicated International Study Centre. The ISC provides academic and English language support to help you progress to your chosen undergraduate degree at the University of Leicester.
Second Year Entry may be possible with suitable qualifications.
Selection Process
Applicants are not normally interviewed. If you receive an offer you will be invited to visit the department.
English Language Requirements
IELTS 6.5 or equivalent. If your first language is not English, you may need to provide evidence of your English language ability. If you do not yet meet our requirements, our English Language Teaching Unit (ELTU) offers a range of courses to help you to improve your English to the necessary standard.
International Qualifications
Find your country in this list to check equivalent qualifications, scholarships and additional requirements.
Countries List
Fees and Funding
Starting in 2017

£9,250 in your first year. After 2017/18, the tuition fee you pay may increase annually in line with inflation (RPIX) and is subject to government regulations. (RPIX is a measure of inflation in the UK, equivalent to all items in the Retail Price Index (RPI) excluding mortgage interest payments.)

Year Abroad: your fee will be £1,250 for that year.

Find out more about scholarships and funding.

Starting in 2017

Year Abroad: your fee will be £3,822.50 which is 25% of the full-time tuition fee.
Career Opportunities
We run employability and media production modules as part of our curriculum – e.g., Digital Narratives; Working in the Creative Industries; TV Production; Professionalism and Employment in the Media
We offer exclusive opportunities for students to gain media-related experience through internships and placements, such as placements in the University's Press Office.
Our students are encouraged to get involved in the student-run media on campus, including Galaxy - our student magazine, LUST - our student TV station, and LUSH Radio - our student radio station.
We organise external speaker events, industry visit days, career development training and other initiatives in collaboration with local and national media organisations, giving you valuable insights into the professional media world.
In addition, our departmental Careers Tutor can support and advise you on careers matters throughout your time with us.
Recent graduates have gone on to work for companies such as American Express, Artavia Advertising, BBC, City Index, E.ON Energy, Gogglebox Entertainment, HMRC, Lloyds Bank, Sky Media, Transport for London, Web Liquid Digital Marketing. Others have gone on to further study in the following fields: Broadcast Journalism, Journalism, Marketing, Cinema and Television, and International Relations.
Careers
Our Career Development Service is here to support you, with advice on interviews, CVs, work experience, volunteering and more. From Freshers' Week to Graduation and beyond, they are here to help you reach your professional goals.
| Course | Qualification | Duration | UCAS Code | Availability |
| --- | --- | --- | --- | --- |
| Media and Communication | BA | 3 years full-time | P910 | Apply Now |
| Media and Communication with Year Abroad | BA | 4 years, full-time | P910 | Apply Now |
Course
Media and Communication
Qualification
BA
Duration
3 years full-time
UCAS Code
P910
Availability
Course
Media and Communication with Year Abroad
Qualification
BA
Duration
4 years, full-time
UCAS Code
P910
Availability
Not what you're looking for?