Politics
BA, 3-4 years
This is for you if... you want to understand where power lies in political systems and how this affects the organisation of society.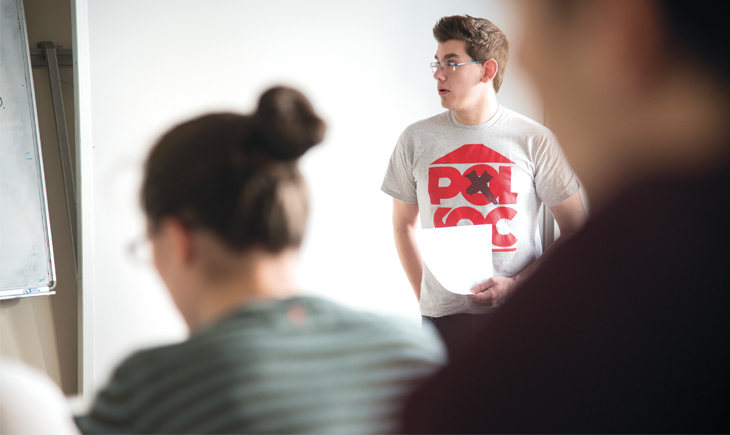 Course Description
As part of the University of Leicester's commitment to being a leading academic institution, we regularly review and update our degrees and modules to ensure that they reflect the most up-to-date research, knowledge, ideas and teaching practices, as well as taking into account student feedback. We also have to take into account the availability of key teaching staff where this will impact on the delivery of the course. As a result, if there are major changes to the course that you have applied for, we will contact you as soon as possible and will ensure that any disruption to your studies is minimised.
Politics has been taught at Leicester since the 1940s and we have always been at the cutting edge of British political science – we aim to fire your intellectual curiosity about the politics of the world. As well as examining the workings of the political system in the UK and other states, you will explore some of the most important and interesting issues in politics: Who holds power and why? Is there a crisis of political participation? What are the appropriate limits to individual liberty? Is globalisation a positive process? When is war just?
Our lecturers produce internationally renowned, cutting-edge research, and are keen to share their knowledge. During your time with us, we will encourage you to focus your studies on your own areas of interest. All our degrees offer a wide range of exciting module choices – and as our lecturers have such diverse interests, you will receive enthusiastic support and guidance for whichever area you choose.
We are aware of the expectation for a degree to enhance your career prospects. With this in mind, we have worked with the University of Leicester Career Development Service to design modules that will ensure you are well equipped to secure graduate roles or places on postgraduate courses. The popularity of Politics at degree level also reflects the value of the transferable skills students gain. The ability to analyse complex issues and reach reasoned conclusions, to present coherent arguments in written and oral form, to engage in independent research, and work effectively as a member of a team are skills highly valued by employers.
Why Leicester?
Notable figures who have given talks at Leicester in recent years include MPs, members of the House of Lords, MEPs, members of the US Congress, officials working in UK and EU institutions, diplomats and senior personnel from the armed forces.
Politics Review, the leading magazine for students of Politics, has been associated with Politics at Leicester for over 25 years.
Our student Politics and International Relations Society organises a series of events, including visiting speakers, socials and an annual Summer Ball.
Our research strengths in Politics include: political participation; political parties in Europe; ethics and war; environmental politics; Euroscepticism, and US social policy.
Course Structure
Year 1
Year 1
In your first year you will take introductory modules that focus on the study of government, political ideas and ideologies, and power and ethics. You will also have a choice of option modules in politics and international relations.
Core modules
Comparative European Politics
Political Concepts
Politics, Power and Ethics
Option modules
Choose three option modules from:
Classics of International Relations
Cold War, Crisis and Confrontation: International Relations, 1945-1989
Order and Disorder: International Relations from 1989 to the Present
Power in the World Economy
Modules shown represent choices available to current students. The range of modules available and the content of any individual module may change in future years.
Year 2
Year 2
In year two, you will develop your understanding of government and political theory. There is also greater flexibility to shape the course of your degree as you choose from a range of option modules in government, political theory and international relations.
Core modules
Political Ideas
Political Analysis
Political Parties in Contemporary Britain
Option modules
Choose two option modules from:
Foreign Policy Analysis
Governing Societies in Conflict
International Security Studies
International Theory
The Making of Contemporary US Foreign Policy
Quantitative Data Analysis
Sex and Gender in Global Politics
Contemporary Political Philosophy: Theories of Justice
Latin American Politics
European Union Politics
Politics and Power in Africa
You will have the opportunity to spend one semester of your second year studying Politics and International Relations at one of our partner universities in Europe. If you wish to study abroad, you should decide during your first year. Alongside the University, we have awarded travel bursaries to students wishing to study the politics of another country in the Easter or summer vacations.
Modules shown represent choices available to current students. The range of modules available and the content of any individual module may change in future years.
Year Abroad (optional)
Year Abroad (optional)
If you want to, you can spend your third year studying abroad at one of our partner institutions (eligibility is dependent on your academic performance in Years 1 and 2). Alternatively, you can opt to continue studying at the University and complete your degree in three years.
Studying abroad is not just for people who are interested in travelling and meeting new people. It is about acquiring life skills that are becoming increasingly significant for a wide range of jobs in our modern globalised society. Whether you go on to work in the private sector, the state sector, a non-governmental organisation, or become self-employed you will find the experience invaluable. Find out more from our International Office.
Please note that a year spent abroad still incurs a tuition fee, but this is much lower than for a normal year at Leicester. See our Fees and Funding section for details.
Politics and International Relations at Leicester has links with several European universities, administered through the European Erasmus scheme. If you are eligible for a loan from Student Finance you can apply for a travel grant from them. During your second year at Leicester you will receive appropriate language training.
For the latest information on the future of the Erasmus scheme at UK universities please see our Brexit microsite.
We have links with the following universities:
Modules shown represent choices available to current students. The range of modules available and the content of any individual module may change in future years.
Final Year
Final Year
In your third year you will have the freedom to specialise in areas of the subject that particularly interest you, as well as writing a 10,000 word dissertation on a topic of your own choosing.
Option modules
Choose four option modules from:
British Politics and European Integration
Contentious Politics in EUrope
Democratisation and EU Enlargement in Post-Communist Europe
Feminism
Global Justice and Human Rights
Parliamentary Studies
Political Participation in Britain
Political Parties in Western Democracies
Politics and the Environment
The Politics of Contemporary British Foreign Policy
Politics of the International Drug Trade
Technology, Politics and War
The Changing Character of War
Climate Change: Ethics, Issues, Justice
The Conservatives: Crisis and Recovery
The Political Legacies of Conflict in Northern Ireland
The Politics of Counter Terrorism
The Politics of Nuclear Weapons
The Politics of Slavery
The Politics of the Global South
The Politics of War and Peace: Northern Ireland after 1972
South African Politics
Plus your dissertation
Modules shown represent choices available to current students. The range of modules available and the content of any individual module may change in future years.
Major/Minor Degrees
Major/Minor degrees enable you to create your own degree. You can study a core area in depth (your major subject), while also exploring an additional area (your minor subject).
Why not complement your Major with a subject that you enjoyed before, or which has vocational elements that can boost your career prospects? Alternatively, you may want to try something completely new that you've always been interested in, like a language.
Find out more
Teaching and Assessment
Teaching
You will experience a variety of learning and teaching methods throughout your time at Leicester. We use the latest teaching resources, such as the Blackboard virtual learning environment where students can access support materials for all our modules. As well as traditional lectures and seminars, you will work in small groups, take part in debates and simulation exercises, and undertake a research project of your choice in your final year.
The development of transferable skills is a key feature of teaching at Leicester. Our courses are designed to improve your skills in written communications (from short reports to a long dissertation), oral presentation (both formal and informal), working as part of a team, independent learning (e.g. information gathering and time management), problem solving and information technology.
All members of Politics and International Relations at Leicester are engaged in cutting-edge research. We believe that good teaching flourishes in an intellectual environment informed by original research. Final year modules reflect the research interests of academic staff, exposing students to the latest thinking.
Assessment
You will be assessed through a variety of methods including written examination, assessed essay, reports, briefing papers and presentations.
Independent learning
When not attending lectures, seminars or other timetabled sessions you will be expected to continue learning independently through self-study. Typically, this will involve reading journal articles and books, working on individual and group projects, undertaking research in the library, preparing coursework assignments and presentations, and preparing for exams. To help with your independent learning, you can access the Library and our social study spaces in halls of residence.
Overall workload
Typical workload hours for Politics and International Relations courses in 2016/17:

Year 1: 12% of your time is spent in timetabled teaching and learning activity
Teaching, learning and assessment: 144 hours
Independent learning: 1056 hours
Year 2: 12% of your time is spent in timetabled teaching and learning activity
Teaching, learning and assessment: 144 hours
Independent learning: 1056 hours
Year abroad: If you're spending a year abroad, your contact hours will vary depending on the institution you're studying at.

Final year: 11% of your time is spent in timetabled teaching and learning activity
Teaching, learning and assessment: 132 hours
Independent learning: 1068 hours
While your actual contact hours may depend on the option modules you select, the above information gives an indication of how much time you will need to allocate to different activities for each year of your course.
Academic support
Our Student Learning Development Team provides help in the following areas:
study and exam skills
academic writing
presentations
dissertations
numerical data skills
referencing sources
Our AccessAbility Centre offers support and practical help for students with dyslexia or other specific learning difficulties, including physical, mental health or mobility difficulties, deafness, or visual impairment.
Teaching staff
You will be taught by an experienced teaching team whose expertise and knowledge are closely matched to the content of the modules on the course. PhD research students who have undertaken teacher training may also contribute to the teaching of seminars under the supervision of the module leader. Our teaching is informed by the research we do. You can learn more about our staff by visiting our staff profiles.
Entry Requirements
A/AS Levels: BBB. Two AS-levels considered in place of one A-level. General Studies accepted.
EPQ with A-levels: BBC + EPQ at grade B.
Access to HE Diploma: Pass diploma with 45 credits at Level 3, including 25 credits at Distinction.
International Baccalaureate: Pass Diploma with 28 points minimum.
BTEC Nationals: Full Diploma with DDM.
Other national and international qualifications considered. If you do not meet the entry requirements for this course, you can apply for the International Foundation Year run by our dedicated International Study Centre. The ISC provides academic and English language support to help you progress to your chosen undergraduate degree at the University of Leicester.
Second Year Entry may be possible with suitable qualifications.
Selection Process
When considering your application, we will look for evidence that you will be able to fulfil the objectives of the course and achieve the standards required. We will take into account a range of factors including previous exam results.
Applicants are not normally interviewed. If you receive an offer you will be invited to visit the University.
English Language Requirements
IELTS 6.5 or equivalent. If your first language is not English, you may need to provide evidence of your English language ability. If you do not yet meet our requirements, our English Language Teaching Unit (ELTU) offers a range of courses to help you to improve your English to the necessary standard.
International Qualifications
Find your country in this list to check equivalent qualifications, scholarships and additional requirements.
Countries List
Fees and Funding
Starting in 2018

£9,250 in your first year. After 2018/19, the tuition fee you pay may increase annually in line with inflation and is subject to government regulations.
Year Abroad: your fee will be £1,250 for that year.

Find out more about scholarships and funding.

Starting in 2018

£15,980 per year
Year Abroad: your fee will be £3,995 which is 25% of the full-time tuition fee.

Find out more about scholarships and funding.


Career Opportunities
Our degrees provide you with the transferable skills to equip you for a wide range of careers, including government, the media, education, administration, and management in industry and commerce.
Our careers and employability tutors support and facilitate your academic, professional and personal development. They will help you to make an informed choice, provide help and advice on employability, and send you information on potentially interesting traineeships and vacancies.
Careers
Our Career Development Service is here to support you, with advice on interviews, CVs, work experience, volunteering and more. From Freshers' Week to Graduation and beyond, they are here to help you reach your professional goals.
| Course | Qualification | Duration | UCAS Code | Availability |
| --- | --- | --- | --- | --- |
| Politics | BA | 3 years full-time | L200 | Apply Now |
| Politics with Year Abroad | BA | 4 years full-time | L200 | Apply Now |
Course
Politics
Qualification
BA
Duration
3 years full-time
UCAS Code
L200
Availability
Course
Politics with Year Abroad
Qualification
BA
Duration
4 years full-time
UCAS Code
L200
Availability
Not what you're looking for?