Archaeology
Archaeology
BA, 3-4 years
This is for you if... you want to unearth the lives and societies of the past by piecing together the material evidence that they have left behind.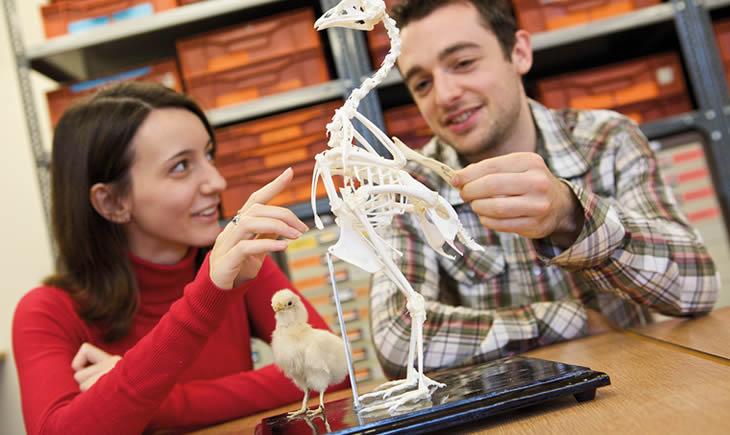 Course Description
As part of the University of Leicester's commitment to being a leading academic institution, we regularly review and update our degrees and modules to ensure that they reflect the most up-to-date research, knowledge, ideas and teaching practices, as well as taking into account student feedback. We also have to take into account the availability of key teaching staff where this will impact on the delivery of the course. As a result, if there are major changes to the course that you have applied for, we will contact you as soon as possible and will ensure that any disruption to your studies is minimised.
The Archaeology BA will enhance your understanding of the diverse societies of the past through the traces they have left in the form of material objects and texts. We will cover topics ranging from as far back as human evolution and the first use of stone tools 2.6 million years ago through to the present day.
Practical experience is a key part of our degree programme. You will have the opportunity to participate in excavation work throughout your degree to ensure that your skills are continually used and developed. You will also gain the knowledge necessary to properly interpret what you unearth.
You will have the chance to study a wide array of topics during your time here but our staff have particular expertise in Roman Archaeology, Prehistory, Historical Archaeology, Archaeological Theory, and the Archaeological Sciences, as well as all aspects of Classical (Greek and Roman) History.
Our degrees provide transferable skills in communication, presentation, critical analysis, and teamwork that you may need in your future career, whether it is in archaeological studies or in one of the wide range of other professions that attract our graduates. It doesn't matter if you have little or no previous experience in archaeological studies; we have designed our courses for maximum flexibility, to allow you to choose how you want to specialise or diversify as your knowledge and understanding develop.
As one of our members, you will be provided with a fertile and stimulating environment for learning, which will enable you to contribute to our understanding of the past.
Why Leicester?
We run an incredible week-long study tour in Rome and also offer fieldwork opportunities across Britain and as far away as America.
Archaeology and Ancient History at Leicester achieved 95% student satisfaction in the NSS in 2015, with 100% for staff enthusiasm.
You will receive practical training from ULAS (University of Leicester Archaeological Services), who were involved with the discovery of Richard III.
We have nine specialist laboratories (including a new Osteology Lab): four dedicated to teaching and all available for student use.
Course Structure
Year 1
Year 1
You will study the archaeological past from the origins of the human species to the twentieth century, learning the aims and methods of archaeology along the way. You will also gain practical experience across a broad spectrum of archaeological activities. A key part of your first year will be your participation in an excavation training school at Bradgate Park. This Leicestershire park dates back to the thirteenth century and was the location of one of the first unfortified brick-built aristocratic houses in England - which later became the birthplace of Lady Jane Grey, the 'Nine-Day Queen'.
Core modules
Plus one option module from a wide range.
Modules shown represent choices available to current students. The range of modules available and the content of any individual module may change in future years.
Year 2
Year 2
During your second year, you will be able to choose four particular archaeological periods to study in detail. You will also have the option to study a range of laboratory-based modules. At the end of the year you will participate in a research excavation, which can take place anywhere in the world! You also have the option of transferring to a BSc stream, where there is greater emphasis on laboratory and science-based modules.
Core modules
Option modules
Choose three option modules from:
Prehistoric and Classical Mediterranean
Modules shown represent choices available to current students. The range of modules available and the content of any individual module may change in future years.
Year Abroad (optional)
Year Abroad (optional)
If you want to, you can spend your third year studying abroad at one of our partner institutions or working in an industrial placement (eligibility is dependent on your academic performance in Years 1 and 2). Alternatively, you can opt to continue studying at the University and complete your degree in three years.
Studying abroad is not just for people who are interested in travelling and meeting new people. It is about acquiring life skills that are becoming increasingly significant for a wide range of jobs in our modern globalised society. Whether you go on to work in the private sector, the state sector, a non-governmental organisation, or become self-employed you will find the experience invaluable. Find out more from our International Office.
Please note, a year spent abroad or on an industrial placement still incurs a tuition fee, but this is much lower than for a normal year at Leicester. See our Fees and Funding section for details.
We have links with several European universities, administered through the European Erasmus scheme. If you are eligible for a loan from Student Finance you can apply for a travel grant from them. During your second year at Leicester you will receive appropriate language training.
For the latest information on the future of the Erasmus scheme at UK universities please see our Brexit microsite.
We have links with the following universities:
We also have links with some universities outside Europe. If you are receiving financial assistance from Student Finance your support will continue and you may also be eligible to apply for additional travel grants or scholarships. We have links with the following universities:
Modules shown represent choices available to current students. The range of modules available and the content of any individual module may change in future years.
Final Year
Final Year
This is your chance to truly take charge of your degree and choose the direction you want to take. The only core module is a compulsory dissertation but you will decide the topic.Your option modules reflect staff research interests, enabling you to explore archaeological topics in fine detail, learning about recent advances and contemporary debates in the process.
Option Modules
Choose four option modules from:
Archaeology/Ancient History in Education
Britain in the Roman Empire
Ceramic Technology
Households and Domesticity in the Roman World
Origins of Modern Humans
The Archaeology of Colonialism in the Americas
The Archaeology of Islamic Spain
Plus your dissertation
Modules shown represent choices available to current students. The range of modules available and the content of any individual module may change in future years.
Major/Minor Degrees
Major/Minor degrees enable you to create your own degree. You can study a core area in depth (your major subject), while also exploring an additional area (your minor subject).
Why not complement your Major with a subject that you enjoyed before, or which has vocational elements that can boost your career prospects? Alternatively, you may want to try something completely new that you've always been interested in, like a language.
Find Out More
Teaching and Assessment
Teaching
All of our teaching is based around a stimulating combination of lectures, small group work, and practical 'hands-on' experience. Flexible academic classes are combined with practical instruction in the field. You will have the chance to study a wide range of different societies and will develop the skills to examine them in more detail. It is possible to transfer to a BSc degree in Year 2, which places a particular emphasis on laboratory and science based courses.
Assessment
Your assessment may include essays, exams, lab reports, practical tests, group work, and oral presentations - plus, of course, your dissertation.
In addition, you will have regular meetings with your personal tutor to discuss progress in your studies. Your personal tutor will also provide a sympathetic ear for all matters of personal concern, whether they be academic, financial, housing, career, or social issues.
Entry Requirements
A/AS-levels: BBB. Two AS-levels can be considered in place of one A-level. General Studies or Critical Thinking accepted.
EPQ with A-levels: BBC + EPQ at grade B. Two AS-levels considered in place of one A-level. General Studies accepted.
GCSE: English and Maths at grade C.
Access to HE Diploma: Pass diploma with 45 credits at level 3, including some at Distinction.
International Baccalaureate: Pass Diploma with 28-30 points.
BTEC Nationals: Pass Diploma with DDM.
Other national and international qualifications welcomed. If you do not meet the entry requirements for this course, you can apply for the International Foundation Year run by our dedicated International Study Centre. The ISC provides academic and English language support to help you progress to your chosen undergraduate degree at the University of Leicester.
Second Year Entry may be possible with suitable qualifications.
Selection Process
When considering your application, we will look for evidence that you will be able to fulfil the objectives of the course and achieve the standards required. We will take into account a range of factors including previous exam results.
Applicants are not normally interviewed. If you receive an offer you will be invited to visit the department.
English Language Requirements
IELTS 6.5 or equivalent. If your first language is not English, you may need to provide evidence of your English language ability. If you do not yet meet our requirements, our English Language Teaching Unit (ELTU) offers a range of courses to help you to improve your English to the necessary standard.
International Qualifications
Find your country in this list to check equivalent qualifications, scholarships and additional requirements.
Countries list
Fees and Funding
Starting in 2017

£9,250 in your first year. After 2017/18, the tuition fee you pay may increase annually in line with inflation (RPIX) and is subject to government regulations. (RPIX is a measure of inflation in the UK, equivalent to all items in the Retail Price Index (RPI) excluding mortgage interest payments.)
Year Abroad: your fee will be £1,250 for that year.

Starting in 2018

Find out more about scholarships and funding


Starting in 2017

£15,290 per year
Year Abroad: your fee will be £3,822.50 which is 25% of the full-time tuition fee.

Starting in 2018

Find out more about scholarships and funding.

Career Opportunities
We have dedicated work experience and outreach tutors who organise placements for you in schools, museums, field archaeology units, archives, laboratories, and on external projects – complementing the volunteering provision within the University.
You can choose to take career-focused modules (such as Professional Skills or Archaeology and Ancient History in Education) and volunteer for Archaeology and Classics in the Community.
Careers
Our Career Development Service is here to support you, with advice on interviews, CVs, work experience, volunteering and more. From Freshers' Week to Graduation and beyond, they are here to help you reach your professional goals.
| Course | Qualification | Duration | UCAS Code | Availability |
| --- | --- | --- | --- | --- |
| Archaeology | BA | 3 years full-time | V400 | Apply Now |
| Archaeology with Year Abroad | BA | 4 years full-time | V400 | Apply Now |
Course
Archaeology
Qualification
BA
Duration
3 years full-time
UCAS Code
V400
Availability
Course
Archaeology with Year Abroad
Qualification
BA
Duration
4 years full-time
UCAS Code
V400
Availability