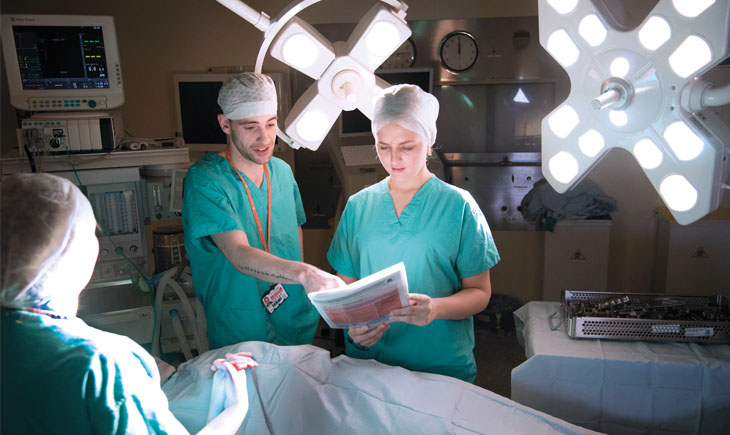 Course Description
As part of the University of Leicester's commitment to being a leading academic institution, we regularly review and update our degrees and modules to ensure that they reflect the most up-to-date research, knowledge, ideas and teaching practices, as well as taking into account student feedback. We also have to take into account the availability of key teaching staff where this will impact on the delivery of the course. As a result, if there are major changes to the course that you have applied for, we will contact you as soon as possible and will ensure that any disruption to your studies is minimised.
This Operating Department Practice BSc combines academic and work-based learning as we believe that this is the best way to develop students who are well-equipped to meet the needs of future employers.
Registered Operating Department Practitioners provide high standards of patient care and skilled support alongside medical and nursing colleagues during the anaesthetic, surgical and recovery phases of perioperative period. Your role will involve the application of theory to practice in a variety of clinical settings.
You will be part of a professional group of learners who have opportunities open to them for lifelong learning in this field. This course will enable you to translate the philosophy of care into practice and become a safe, competent practitioner, working in multidisciplinary teams, accepting diverse roles and remaining aware of professional responsibilities.
ODP education at the University of Leicester was established in 1976 as a specialist centre for the delivery of training within the Operating Department. We work closely with a group of approved placement hospitals to ensure that all aspects of the course provide the necessary educational opportunities for you. Your placement hospital ensures that you are provided with the necessary experience to develop your clinical skills and that you are exposed to the reality of employment.
The BSc in Operating Department Practice replaces the previously offered Diploma in Operating Department Practice, which ran for the final time in April 2016.
Key Facts
UCAS code

B991

Start date

April and September each year

Department

Medical Education

Contact

+44 (0)116 2523045

ODP Education
Room 2.51
Centre for Medicine
The University of Leicester, P.O. Box 138,
Leicester LE1 9HN
Why Leicester?
100% of our graduates are in employment – demand for ODPs is high.
We are consistently in the top three providers of ODP education in the National Student Survey - indicating that we have very satisfied students.
Our reputation is built on being an approachable and caring institution that is committed to the welfare of our students.
You will be taught by a dedicated team who have a significant level of experience of operating department management and clinical-based education.
Course Structure
Year 1
Year 1
Modules
Foundations of Operating Department Practice
Foundations of Surgical Practice
Foundations of Anaesthetic Practice
Practice Development and Progression 1
Portfolio in Foundations of Professional Practice
Modules shown represent choices available to current students. The range of modules available and the content of any individual module may change in future years.
Year 2
Year 2
Modules
Specialist Clinical Practice
Post Anaesthetic Clinical Practice
Critical Care and Non-elective Clinical Practice
Practice Development and Progression 2
Portfolio in the Development of Professional Practice
Modules shown represent choices available to current students. The range of modules available and the content of any individual module may change in future years.
Year 3
Year 3
Modules
Advanced Clinical Practice
Practice Development and Progression 3
Clinical Leadership and Management
Portfolio in Advanced Professional Practice
Major project
Modules shown represent choices available to current students. The range of modules available and the content of any individual module may change in future years.
Additional Information
Accreditation
The BSc in ODP is recognised as an eligible qualification to apply for registration with the Health and Care Professions Council as an Operating Department Practitioner which entitles you to apply for employment positions as an ODP.
Teaching and Assessment
You will be taught through a variety of methods including lectures, small group work, supervised practice, self-study and reflective learning. We will help you integrate theory and practice and ensure that you develop personally as well as professionally. We adopt a progressive approach to learning so that your skills are acquired at an appropriate pace.
In addition, you will have regular meetings with your personal tutor to discuss progress in your studies. Your personal tutor will also provide a sympathetic ear for all matters of personal concern, whether they be academic, financial, housing, career or social issues.
Entry Requirements
GCSEs: 3 passes A*-C (or equivalent), including Maths and English
A-levels: BBC (or equivalent)
Access to HE Diploma: 45 credits at Level 3 (including 30 at D) in a health-related subject
Please note: Advice and feedback on whether you meet the entry criteria can only be provided after we have received your application.
If you receive an offer of a place on the course, this will be subject to occupational health clearance and a DBS check (for which there is an associated cost).
Selection Process
When considering your application, we will look for evidence that you will be able to fulfil the objectives of the course and achieve the standards required. We will take into account a range of factors including previous exam results.
English Language Requirements
IELTS 6.5 or equivalent. If your first language is not English, you may need to provide evidence of your English language ability. If you do not yet meet our requirements, our English Language Teaching Unit (ELTU) offers a range of courses to help you to improve your English to the necessary standard.
International Qualifications
Find your country in this list to check equivalent qualifications, scholarships and additional requirements.
Countries list
Fees and Funding
Starting in 2017

£9,250 in your first year. After 2017/18, the tuition fee you pay may increase annually in line with inflation (RPIX) and is subject to government regulations. (*RPIX is a measure of inflation in the UK, equivalent to all items in the Retail Price Index (RPI) excluding mortgage interest payments.)

Starting in 2018

Find out more about scholarships and funding.

Additional costs

Please not that you will need a DBS check (£62). This is not included in your tuition fee.

This course is not available to students from outside the EU.
Career Opportunities
Demand for Operating Department Practitioners is high. There are many opportunities for continuing employment, professional development and advancement within the NHS and the independent healthcare sector.
Careers
Our Career Development Service is here to support you, with advice on interviews, CVs, work experience, volunteering and more. From Freshers' Week to Graduation and beyond, they are here to help you reach your professional goals.
| Course | Qualification | Duration | UCAS Code | Start Dates | Availability |
| --- | --- | --- | --- | --- | --- |
| Operating Department Practice | BSc | 3 years full-time | B991 | April and September each year | Apply Now |
Course
Operating Department Practice
Qualification
BSc
Duration
3 years full-time
UCAS Code
B991
Start Dates
April and September each year
Availability