Physiotherapy
BSc, 3 years
This is for you if... you aspire to become a Physiotherapist.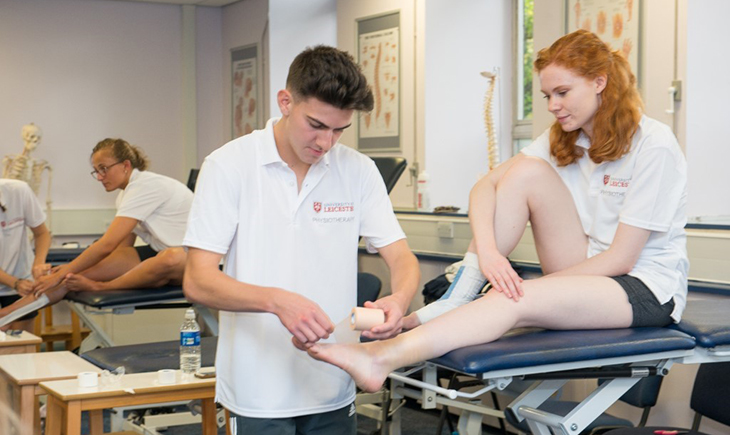 Course Description
Physiotherapy is a healthcare profession which sees human movement as central to the health and wellbeing of individuals of all ages. The physiotherapists' expertise helps to identify and maximise movement potential through health promotion, preventive healthcare, treatment and rehabilitation.
This course prepares you to be a physiotherapist and exceeds the minimum of 1,000 clinical practice hours you need to qualify. The course provides observational experience of professional practice in Year 1 then 12 weeks of hands-on practice education in Year 2 and 17 weeks in Year 3, all supervised by trained physiotherapy clinical educators. Our developmental curriculum is designed to empower and teach you how to assess and treat patients and to communicate with both patients and other members of the multi-professional team professionally and effectively.
The course is delivered by a cohesive team of lecturer-practitioner staff who are all experts in their chosen clinical fields of physiotherapy practice. All practical skills teaching is undertaken in small student classes in newly refurbished specialist teaching accommodation which includes state-of-the-art clinical skills labs using high fidelity simulation manikins, our 360-degree immersive simulation facility and access to the Medical School anatomy dissection room. Our course has excellent links with our practice placement colleagues who work in a wide variety of clinical settings including NHS wards, outpatients units and clinics, a specialist Brain injury Unit, adult and paediatric palliative care units, private, independent and charitable facilities and Leicester Tigers Rugby Club. During both university-based teaching and clinical placement you will have the opportunity to work and study inter-professionally with other health and social care students.
All rooms are fitted with AppleTVs to facilitate digital learning and you will be given an iPad when you start which you will use daily in lectures, seminars and group work.
Our course has a strong focus on professional and lifelong learning skills, evidence informed physiotherapy practice and research skills.
Key Facts
UCAS code

B160

Start date

September 2018

Contact

Dr Simon Barry
sjb164@le.ac.uk
Why Leicester?
Graduates from this course are highly employable and there is great demand for newly qualified physiotherapists in the NHS, sport and leisure industry, private and charitable sectors both in the UK and abroad.
We have a vibrant student community led by the Physiotherapy Society who organise academic, sporting, charity and social events throughout the year, and are also a source of peer support.
You will have a wide variety of clinical opportunities through our many clinical partnerships with healthcare providers in the East Midlands region.
Course Structure
Year 1
Year 1
In the first year the majority of study occurs in the university setting introducing the necessary theoretical background to support clinical education. The final week provides an opportunity to observe clinical practice and to contextualise knowledge and skills introduced thus far. In the practice environment you will work alongside and be supported not only by physiotherapy practitioners and fellow students, but also by a range of colleagues from other health and social care disciplines. This inter-professional collaboration continues into Years 2 and 3 as you develop towards professional autonomy.
Within the university, you will study the science of normal body systems to promote an understanding of their structure, function and inter-relationships, before moving on to altered and abnormal function and the role of assessment and rehabilitation. You will explore issues of personal and professional development, health and well-being in order to further prepare for learning in the practice environment. An awareness of the evidence base for health care professions and the research process is a fundamental and ongoing theme, promoted throughout the course.
Clinical Skills: Appendicular Anatomy
Clinical Skills: Pathophysiology 1
Clinical Skills: Introducing Practice 1
Professional Development 1
Clinical Skills: Axial Anatomy
Clinical Skills: Pathophysiology 2
Clinical Skills: Introducing Practice 2
Evidence Based Practice 1
Modules shown represent choices available to current students. The range of modules available and the content of any individual module may change in future years.
Year 2
Year 2
The second year develops your knowledge and skills, relating these to the scientific and therapeutic bases of physiotherapy in 20 weeks of university-based activity and 12 weeks of clinical practice. Opportunities for consolidation of learning and application of theory to practice are an integral part of the course. Within both practice and university settings, the learning environment enables you to safely and effectively determine and implement comprehensive and integrated programmes of care for patients. You will be able to justify the selection of interventions, accurately assess patient outcomes and progress/end treatment or refer back for re-assessment by an appropriate qualified practitioner, whether that is a physiotherapist or a colleague from another health discipline.
Clinical Skills 2: MSK
Clinical Skills 2: Cardiorespiratory
Clinical Skills 2: Neurology
Placement Education 1
Evidence Based Practice 2
Professional Development 2
Placement Education 2
Modules shown represent choices available to current students. The range of modules available and the content of any individual module may change in future years.
Year 3
Year 3
The third year and final academic year further develops clinical practice by enhancing your ability to function as a practitioner, partner and leader in 16 weeks of university-based activity and 17 weeks of clinical practice. The learning environment will enable you to build upon what you learned in Year 2 and once again you will have the opportunity to work with a range of professional colleagues. Inter-professional learning continues across the modules in both university and practice settings. Within both university and practice settings you will progress to be able to safely and effectively carry out a diagnostic assessment and manage patients with more complex needs. You will develop the capacity to lead and manage a physiotherapy/multidisciplinary team and exhibit awareness of the context of practice by exploring and identifying improvements to the service which will improve patient satisfaction and outcomes, and promote equality of care.
Placement Education 3
Clinical Skills 3: Enhancing Practice
Professional Development 3
Evidence Based Practice 3: Dissertation
Placement Education 4
Placement Education 5
Modules shown represent choices available to current students. The range of modules available and the content of any individual module may change in future years.
Teaching and Assessment
To mirror the work of a qualified physiotherapist this course is very hands-on and you will be taught to embrace a vision of patient-centred care within contemporary health and social care environments. Following an initial period of underpinning theoretical teaching in the University, you will embark on a series of six-week clinical practice placements. Following each practice placement experience you will return to the University for a period of reflection to facilitate development of knowledge and skills, informing performance in your subsequent clinical placement. In University-based teaching there is a balanced mixture of lectures, clinical skills teaching and group work. In each academic year there is an opportunity to learn alongside other healthcare students supported by experienced academic lecturer-practitioners and clinically qualified staff. Your iPad will support your learning throughout. In Years 2 and 3 you will be working with trained physiotherapy clinical educators in hospitals, in the community and in a variety of private, independent and charitable clinical placements. For each placement you will be given clear learning outcomes defining what you should be able to do by the close of each clinical placement. Physiotherapy is a vocational course requiring a commitment to lifelong learning. Throughout the course you should be prepared to reflect on your skills and organise your own self-directed study.
Entry Requirements
A-levels: ABB including Biology, Human Biology or Physical Education. General Studies, Critical Thinking and the EPQ are not accepted.
GCSE: Six subjects including grade B/5 in English Language and Maths plus grade C/4 in four other subjects including Combined or Single Science subjects.
Access to HE Diploma: 45 credits at level 3, 30 of which must be at Distinction and 15 at Merit. Must include 15 credits in topics relating to human biology/anatomy/physiology
International Baccalaureate: 34 with 6 in Biology at Higher Level
BTEC Nationals: BTEC Extended Diploma DDD + grade B at A-level Biology, Human Biology or Physical Education
English Language Requirements
IELTS 7.0 (or equivalent) with a minimum of 6.5 in each component. If your first language is not English, you may need to provide evidence of your English language ability. If you do not yet meet our requirements, our English Language Teaching Unit (ELTU) offers a range of courses to help you to improve your English to the necessary standard.
International Qualifications
Find your country in this list to check equivalent qualifications, scholarships and additional requirements.
Countries list
Fees and Funding
Starting in 2018

£9,250 in your first year. After 2018/19, the tuition fee you pay may increase annually in line with inflation and is subject to government regulations.

Find out more about scholarships and funding.


Starting in 2018

Find out more about scholarships and funding.

Career Opportunities
After successful completion of your undergraduate course you will receive your BSc (Hons) Physiotherapy degree and will be eligible to apply for registration with the Health and Care Professions Council (HCPC) and the Chartered Society of Physiotherapy (CSP). Once you have graduated and qualified you can use the protected title of Physiotherapist and practice physiotherapy as an autonomous practitioner. Graduate physiotherapists are in high demand and can chose from a number of career pathways. Many of our graduates go into employment as Band 5 Physiotherapists in the NHS to consolidate their knowledge and skills as they undertake clinical rotations which encompass all key areas of physiotherapy. Others have used their physiotherapy qualification to travel and work abroad either for VSO or embedded in the local health provision or private practice. Several of our graduates have been able to follow their dream of working in professional sport either full-time or on a part-time basis combined with work within the NHS or private practice.
Careers
Our Career Development Service is here to support you, with advice on interviews, CVs, work experience, volunteering and more. From Freshers' Week to Graduation and beyond, they are here to help you reach your professional goals.
| Course | Qualification | Duration | UCAS Code | Availability |
| --- | --- | --- | --- | --- |
| Physiotherapy | BSc | 3 years | B160 | Apply Now |
Course
Physiotherapy
Qualification
BSc
Duration
3 years
UCAS Code
B160
Availability