English and American Studies
BA, 3-4 years
This is for you if... you want to study how the different history and cultures of two countries with a shared language have produced two fascinating literary canons, with the option of spending a year abroad at an American university.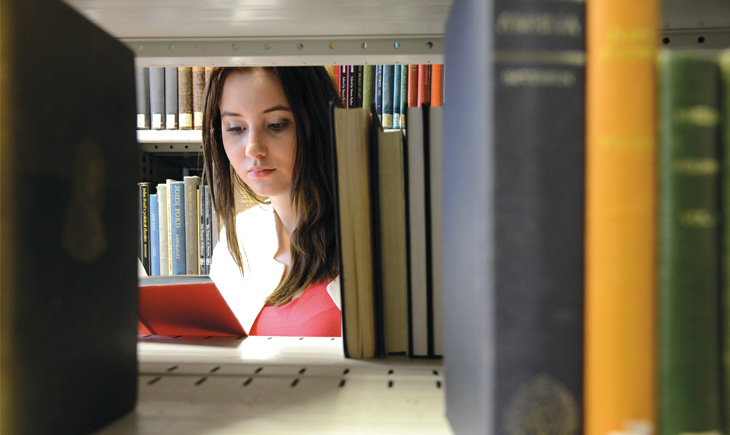 Course Description
As part of the University of Leicester's commitment to being a leading academic institution, we regularly review and update our degrees and modules to ensure that they reflect the most up-to-date research, knowledge, ideas and teaching practices, as well as taking into account student feedback. We also have to take into account the availability of key teaching staff where this will impact on the delivery of the course. As a result, if there are major changes to the course that you have applied for, we will contact you as soon as possible and will ensure that any disruption to your studies is minimised.
Over the course of the English and American Studies BA you will discover the unique identities of English and American literature and how the cultures of each country have affected their literary heritage. English studies will begin in the Renaissance and advance your knowledge of the period's great drama, prose and poetry. Your English studies will continue through to modern day literature with stops along the way in the Victorian, Romantic and Modern periods. Your American Studies modules will introduce you to a history and literary tradition characterised by independence and growth.
The modules offer a sound education in each topic and complement each other with a stimulating mix of English and American literature and American history and film. The English courses give students a full history of English, from Shakespeare to the 21st century as well as an introduction to a variety of critical approaches. The American courses offer an exciting combination of American literature, film and history.
The breadth of the modules that we offer will take you in unexpected directions and allow you to focus on your own areas of interest - particularly in your third year when you will be able to choose from a vast range of option modules.
We understand the importance of experience for both academic and personal growth so our English and American Studies degree can be taken as a three-year programme or (subject to academic performance in your first and second years) as a four-year programme with a year abroad at one of our 35 partner universities in the USA and Canada.
Why Leicester?
Literary Leicester, our annual festival of local and international talent, has attracted such notable authors as Sue Townsend, Carol Anne Duffy, Will Self, Amitav Ghosh, Jacqueline Wilson and Sarah Waters.
Our employability modules give you experience in areas such as teaching and publishing.
Our student drama society LUTheatre presents a programme of new and classic works every year. New writers can see their work performed at the popular Proteus nights.
Our teaching methods mean you will be taught in small seminar groups of about 12, an ideal size for detailed discussion of texts.
Course Structure
Year 1
Year 2
Year Abroad (optional)
Final Year (English dissertation)
Final Year (American Studies dissertation)
Major/Minor Degrees
Major/Minor degrees enable you to create your own degree. You can study a core area in depth (your major subject), while also exploring an additional area (your minor subject).
Why not complement your Major with a subject that you enjoyed before, or which has vocational elements that can boost your career prospects? Alternatively, you may want to try something completely new that you've always been interested in, like a language.
Find out more
Teaching and Assessment
Teaching
For each module you will typically have one or two lectures and a seminar each week. Alongside these events will be a number of additional sessions, such as workshops on research and study skills, learning groups, introduced film screenings, and scheduled personal tutor meetings. Lectures are designed to introduce you to important background information for understanding a text, theme, or author. Weekly seminars, in which a tutor leads a small group of students in discussion, will allow you to explore a text or topic in greater depth, developing your own responses in active conversation with your tutor and peers.
For your third-year dissertation you receive one-to-one tuition across the term from a tutor with expertise in your chosen subject.
Assessment
You will be assessed by range of different methods, in order to reflect the number of different skills you will acquire. You will be assigned a combination of essays, group-work projects, oral presentations, reviews, portfolios, and exams. These assessments are designed to help you build confidence in a range of areas and to provide prospective employers with evidence that you can work effectively both as an independent researcher and as a team member. Your final degree result will be based on the work you do in the second and third years of your degree.
You will have regular meetings with your Personal Tutor to discuss progress in your studies. Your Personal Tutor will also provide a sympathetic ear for all matters of personal concern, whether they be academic, financial, housing, career or social issues.
Independent learning
When not attending lectures, seminars or other timetabled sessions you will be expected to continue learning independently through self-study. Typically, this will involve reading journal articles and books, working on individual and group projects, undertaking research in the library, preparing coursework assignments and presentations, and preparing for exams. To help with your independent learning, you can access the Library and our social study spaces in halls of residence.
Overall workload
Typical workload hours for English courses in 2016/17:

Year 1: 10% of your time is spent in timetabled teaching and learning activity
Teaching, learning and assessment: 240 hours
Independent learning: 960 hours
Year 2: 15% of your time is spent in timetabled teaching and learning activity
Teaching, learning and assessment: 240 hours
Independent learning: 960 hours
Optional year abroad: If you're spending a year abroad, your contact hours will vary depending on the institution you're studying at.

Final year: 9% of your time is spent in timetabled teaching and learning activity
Teaching, learning and assessment: 132 hours
Independent learning: 1068 hours
While your actual contact hours may depend on the option modules you select, the above information gives an indication of how much time you will need to allocate to different activities for each year of your course.
Academic support
Our Student Learning Development Team provides help in the following areas:
study and exam skills
academic writing
presentations
dissertations
numerical data skills
referencing sources
Our AccessAbility Centre offers support and practical help for students with dyslexia or other specific learning difficulties, including physical, mental health or mobility difficulties, deafness, or visual impairment.
Teaching staff
You will be taught by an experienced teaching team whose expertise and knowledge are closely matched to the content of the modules on the course. PhD research students who have undertaken teacher training may also contribute to the teaching of seminars under the supervision of the module leader. Our teaching is informed by the research we do. You can learn more about our staff by visiting our staff profiles.
Entry Requirements
A/AS-levels: ABB at A-Level including English (Language, Literature or combined). Two AS-Levels considered in place of one A-Level. General Studies is accepted.
EPQ with A-levels: BBB at A-Level including English (Language, Literature or combined) + EPQ at grade B.
International Baccalaureate: Pass Diploma with 30 points, including 6 in Higher Level English
Access to HE Diploma: Pass Access to HE Diploma with a minimum of 45 credits at level 3, 30 of which must be at distinction. To include 12 credits at Distinction in English Level 3 Modules.
BTEC Nationals: Pass Diploma with DDM. Plus grade B in A-Level English (Language, Literature or combined)
Other national and international qualifications considered.
Second Year Entry may be possible with suitable qualifications.
Selection Process
When considering your application, we will look for evidence that you will be able to fulfil the objectives of the course and achieve the standards required. We will take into account a range of factors including previous exam results.
Applicants are not normally interviewed: If you receive and offer you will be invited to visit the department.
English Language Requirements
IELTS 6.5 or equivalent. If your first language is not English, you may need to provide evidence of your English language ability. If you do not yet meet our requirements, our English Language Teaching Unit (ELTU) offers a range of courses to help you to improve your English to the necessary standard.
International Qualifications
Find your country in this list to check equivalent qualifications, scholarships and additional requirements.
Countries list
Fees and Funding
Starting in 2018

£9,250 in your first year. After 2018/19, the tuition fee you pay may increase annually in line with inflation and is subject to government regulations.
Year Abroad: your fee will be £1,250 for that year.

Find out more about scholarships and funding.

Starting in 2018

£15,980 per year
Year Abroad: your fee will be £3,995 which is 25% of the full-time tuition fee.

A travel scholarship of up to £400 is available in your second year to help you broaden your understanding of particular aspects of American Studies. Many students use the funding to enhance their dissertation research but it is not a compulsory part of your course.

Find out more about scholarships and funding.

Career Opportunities
The University's annual Festival of Careers is a four day event that attracts graduate employers from across a wide variety of sectors and industries. This is the perfect opportunity for you to think about where your degree will take you and gain face-to-face time with employers.
The growth of the global market means that many jobs in the public and private sectors have an international and often a transatlantic dimension. Employers are looking for independence, creativity, maturity and a broad cultural outlook, all of which are provided through the course.
Our final-year module 'English and Education' provides practical teaching experience with a placement in a local school. You can also gain direct experience in the publishing industry with the module 'Transcultural Writing and the Publishing Industry', also in your final year.
Careers
Our Career Development Service is here to support you, with advice on interviews, CVs, work experience, volunteering and more. From Freshers' Week to Graduation and beyond, they are here to help you reach your professional goals.
| Course | Qualification | Duration | UCAS Code | Availability |
| --- | --- | --- | --- | --- |
| English and American Studies | BA | 3 years full-time | QT37 | Apply Now |
| English and American Studies with Year Abroad | BA | 4 years full-time | QT37 | Apply Now |
Course
English and American Studies
Qualification
BA
Duration
3 years full-time
UCAS Code
QT37
Availability
Course
English and American Studies with Year Abroad
Qualification
BA
Duration
4 years full-time
UCAS Code
QT37
Availability
Not what you're looking for?