English and History
BA, 3-4 years
This is for you if... you want to explore how the world changed and developed around the great authors of history and how those changes influenced their works.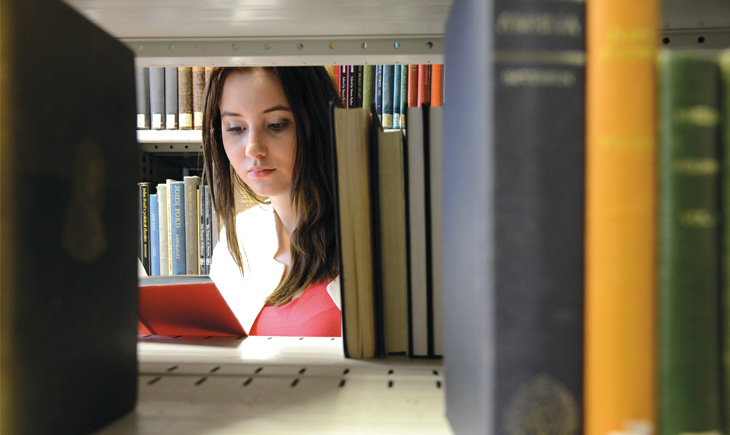 Course Description
As part of the University of Leicester's commitment to being a leading academic institution, we regularly review and update our degrees and modules to ensure that they reflect the most up-to-date research, knowledge, ideas and teaching practices, as well as taking into account student feedback. We also have to take into account the availability of key teaching staff where this will impact on the delivery of the course. As a result, if there are major changes to the course that you have applied for, we will contact you as soon as possible and will ensure that any disruption to your studies is minimised.
The disciplines of English and History are almost inseparable. Events throughout history have influenced the shape of language and literature around it from the all-consuming cataclysm of total war to the hushed intrigues of the English court. The English and History BA brings together these two naturally complementary subjects by grouping modules in such a way that they support and enrich each other.
Watch this video to find out what one of our current students thinks about English at Leicester.
This course will help you to understand how writers have been inspired by historic events, how they have represented them and how to read between the lines of fact and fiction to extract the truth of history.
In your first and second year you will divide your time equally between English and History modules. You third year offers you the chance to specialise more in the area that interests you the most. You will have the opportunity to study a vast range of English and History modules from the Middle Ages to the present day.
You will explore English Literature and History in every period, a feature which makes graduates from our course remarkable for the breadth of their knowledge. A variety of option modules will allow you to add a deeper understanding of those subjects that you find most fascinating.
Why Leicester?
Our student drama society LUTheatre presents a programme of new and classic works every year. New writers can see their work performed at the popular Proteus nights.
Literary Leicester, our annual festival of local and international talent, has attracted such notable authors as Sue Townsend, Carol Anne Duffy, Will Self, Amitav Ghosh, Jacqueline Wilson and Sarah Waters.
Our staff teach and research across a wide range of topics - from medieval to modern periods and across all the continents. This is reflected in the diversity and breadth of modules that you can study.
Our New History Lab brings together staff and students every fortnight to discuss history over tea and cake. Guest speakers have included newsreader Julie Etchingham and historian Melvyn Bragg.
Course Structure
Year 1
Year 1
In your first year you split your studies equally between English and History.
Core modules
Reading English
Barbarism and Civilisation: Medieval and Early Modern Europe
The Shock of the Modern
Renaissance Drama
The History of the English Language
Option modulesa
Choose one option module from:
Global History: Connections and Cultures in a Changing World, 1750 to the present
Great Britain: The State We're In
American History since 1877
Europe 1861-1991: Emancipation and Subjugation
Modules shown represent choices available to current students. The range of modules available and the content of any individual module may change in future years.
Year 2
Year 2
In your second year you will continue to divide your studies equally between the two subjects. You will learn about some of the most influential medieval and early modern literary texts and their impact on literary traditions and the development of the English language. You will take a thematic approach to History, studying topics such as race, gender, religion, society and spaces.
You will also decide whether to write your third year dissertation in English or History. If you choose History then you must take the option module The Historian's Craft to hone your investigative and analysis skills.
Core modules
Chaucer and the English Tradition
From Satire to Sensibility: Literature 1660-1789
Perceiving the Past
Medieval Literatures
Option modules
Choose three option modules from:
All Bourgeois Now? Class in History
Global Cities
Race and Ethnicity
Radical Histories
Then choose one option module from:
A World Connected: Welfare since 1945
Blood, Position and Power: The Nobility of Late Medieval England, 1066-1485
Classical and Post-Classical Latin
Deviance and Disorder in the Early Modern City
Domestic Revolutions: Women, Men and the Family in American History
Early Anglo-Saxon England to Alfred
Enter the Dragon: Modern Chinese History, 1839-1989
European Humanism and the Age of Crisis
From Beer to Fraternity: Alcohol, Society and Culture in North America
History in the Classroom
Imperialism and Decolonisation
Ireland Under the Union
Madness, Monarchy and Politics in Georgian Britain
Origins of a Global Economy, 1815-1941
Peopling Australia
Rise and Fall of the Soviet Union
Slavery, the Civil War and Reconstruction in the United States
Stormtroops, Blackshirts, Arrow Cross: Fascist Movements in Europe 1919-1945
The Historian's Craft
The Making of Modern British Politics, 1906-2007
Modules shown represent choices available to current students. The range of modules available and the content of any individual module may change in future years.
Year Abroad (optional)
Year Abroad (optional)
If you want to, you can spend your third year studying abroad at one of our partner institutions (eligibility is dependent on your academic performance in Years 1 and 2). Alternatively, you can opt to continue studying at the University and complete your degree in three years.
Studying abroad is not just for people who are interested in travelling and meeting new people. It is about acquiring life skills that are becoming increasingly significant for a wide range of jobs in our modern globalised society. Whether you go on to work in the private sector, the state sector, a non-governmental organisation or become self-employed you will find the experience invaluable. Find out more from our International Office.
Please note that a year spent abroad still incurs a tuition fee, but this is much lower than for a normal year at Leicester. See our Fees and Funding section for details.
English and History at Leicester have links with several European universities, administered through the European Erasmus scheme. If you are eligible for a loan from Student Finance you can apply for a travel grant from them. During your second year at Leicester you will receive appropriate language training.
For the latest information on the future of the Erasmus scheme at UK universities please see our Brexit microsite.
We have links with the following universities:
History at Leicester also has links with some universities outside Europe and the EU. If you are receiving financial assistance from Student Finance your support will continue and you may also be eligible to apply for additional travel grants or scholarships. We have links with the following universities:
Modules shown represent choices available to current students. The range of modules available and the content of any individual module may change in future years.
Final Year
Final Year
In your final year you write a supervised dissertation on a topic of your choice. You are free to choose the rest of your modules during this year. If you write an English dissertation you will be able to choose five option modules. If writing a History dissertation you will choose four option modules. The option modules cover a broad range of topics, allowing you to tailor your studies towards your interests.
Core modules
Romantics and Victorians: Literature 1789-1870
Victorian to Modern: Literature 1870-1945
Post War to Postmodern: Literature 1945-present day
Dissertation (on a topic from either English or History)
Option modules
Choose two option modules from:
Advanced Old English Language
Agincourt and Orleans: Lancastrian England and Valois France, 1413-1453
American Masculinities
Austen in Antigua: Literary and Cinematic Explorations of Rural Britain's Slavery Connections
Autobiography and American Literature
Blood, Terror and Belonging
Church and State in Medieval Literature
Cities and the Making of Modern South Asia, c.1750-1950
Civil Rights Movement, 1945-1968
Classical and Post Classical Latin
Classical Worlds: Translation and Reception
Clinical Encounters? Narratives of Doctors and Patients
Clothing and Fashion in Historical Perspective: Case Studies of Modern European History in Transnational Context
Coming of Age in America: Representations of Adolescence
Containment and Resistance
Contemporary Women's Writing: 1960–Present Day
Crime and Literature 1600-1750
Detective Fiction from Sherlock Holmes to the Second World War
Early Modern Fantasies and Fears
English and Education
English Around the World
Facing Modernity: Jews in Central Europe
Food, Diet and Health in Early Modern Europe
Fourteenth Century Crisis in England
From Empire to Nation: Modern South Asia c 1857-1947
Genocides and Mass Violence in Europe and its Colonies in the Twentieth Century
Gothic: from Otranto to Wuthering Heights
Harem and Hijab: Writing about the Position of Women in Islam, 1716-Present Day
How Soon is Now? A Social History of Urban England 1945-1991
Ideals of Womanhood in Nineteenth Century America
Imagining London: The City in Early Modern Literature
Indigenous Peoples of the Americas, c. 1350-1650
Israel/Palestine, the Story of a Land
Jane Austen: The Novels, their Contexts and their Adaptations
Kingdoms of Ice and Snow: Exploration in Writing and Film
Late Victorian Gothic: Texts and Context
Libertine Literature 1660-1690
Literature in Action
Love and Death: The Novel in 19th-Century Russia and France
Love and Sex in Old English Literature
Making Nazis: Propaganda and Persuasion in the Third Reich, 1933-1945
Medicine and Literature in the 19th Century
Modern American Poetry
Modern European Fiction
Multilingualism
New York Stories: Tales of the City
Parties and Politics in Britain, 1914-1974
Political Satire, 1681-1792
Poverty and Welfare in Britain 1957 to the present
Power, Politics and Everyday Life in Post-War Ireland 1945-1973
Representing the Holocaust
Slavery in the Americas
The Age of Bede and Alcuin
The American Revolution
The British Abroad: Europe, the Atlantic and the Formulation of Britain in the 17th and 18th Centuries
The Crusading Movement in the Fourteenth Century
The Decline of a World Power: British Foreign and Defence Policy, 1898-1968
The Forms of Modern Poetry
The French Revolution, 1789-1804
The Holocaust: Genocide in Europe
The Imperial Economy: Britain and the Wider World 1815-1914
The Medieval Natural World
The Presidency of Franklin D Roosevelt
The Thatcher Factor: the 1980s in Literature
The Transformation of Leicester 1945 - 1980
The USA and the Vietnam War
Tragedy
Twenty First Century Global Fiction
Understanding Screenplays
Visions of Hell: The Fiction of Evelyn Waugh and Muriel Spark
War, Trauma and the Novel
When Two Dragons Fight: China and Japan at War in the Twentieth Century
Woman and the Feminine in Medieval and Renaissance Literature
Women in American Society from Civil War to First World War
Writing on the Threshold
Writing the Middle Ages: Medievalism in Contemporary Fiction
Writing Voices
Modules shown represent choices available to current students. The range of modules available and the content of any individual module may change in future years.
Major/Minor Degrees
Major/Minor degrees enable you to create your own degree. You can study a core area in depth (your major subject), while also exploring an additional area (your minor subject).
Why not complement your Major with a subject that you enjoyed before, or which has vocational elements that can boost your career prospects? Alternatively, you may want to try something completely new that you've always been interested in, like a language.
Find out more
Teaching and Assessment
Teaching
For each module you will typically have one or two lectures and a seminar each week, along with a number of additional events such as workshops on research and study skills, learning groups, and introduced film screenings. Lectures are designed to introduce you to important debates and contexts for understanding an author's work. Weekly seminars, in which a tutor leads a small group of students in discussion, will allow you to explore a text or topic in depth.
When you study the 'Renaissance Drama' module in your first year, you will take part in a workshop with local theatre companies, including the opportunity to stage the climactic scenes of Shakespeare's 'Richard III' actually on Bosworth Battlefield itself.
For your third-year dissertation you receive one-to-one tuition across the term from a tutor with an interest in your chosen subject.
Assessment
You will be assessed through a combination of essays, group work, oral presentations, and exams. These assessments are designed to help you build confidence in a range of skills and to provide prospective employers with evidence that you can work effectively both as an independent researcher and as a team member.
You will have regular meetings with your Personal Tutor to discuss progress in your studies. Your Personal Tutor will also provide a sympathetic ear for all matters of personal concern, whether they be academic, financial, housing, career or social issues.
Independent learning
When not attending lectures, seminars or other timetabled sessions you will be expected to continue learning independently through self-study. Typically, this will involve reading journal articles and books, working on individual and group projects, undertaking research in the library, preparing coursework assignments and presentations, and preparing for exams. To help with your independent learning, you can access the Library and our social study spaces in halls of residence.
Overall workload
Typical workload hours for English courses in 2016/17:

Year 1: 14% of your time is spent in timetabled teaching and learning activity
Teaching, learning and assessment: 168 hours
Independent learning: 1032 hours
Year 2: 14% of your time is spent in timetabled teaching and learning activity
Teaching, learning and assessment: 168 hours
Independent learning: 1032 hours
Optional year abroad:
If you're spending a year abroad, your contact will vary depending on the institution you're studying at.
Final year: 11% of your time is spent in timetabled teaching and learning activity
Teaching, learning and assessment: 132 hours
Independent learning: 1068 hours
While your actual contact hours may depend on the option modules you select, the above information gives an indication of how much time you will need to allocate to different activities for each year of your course.
Academic support
Our Student Learning Development Team provides help in the following areas:
study and exam skills
academic writing
presentations
dissertations
numerical data skills
referencing sources
Our AccessAbility Centre offers support and practical help for students with dyslexia or other specific learning difficulties, including physical, mental health or mobility difficulties, deafness, or visual impairment.
Teaching staff
You will be taught by an experienced teaching team whose expertise and knowledge are closely matched to the content of the modules on the course. PhD research students who have undertaken teacher training may also contribute to the teaching of seminars under the supervision of the module leader. Our teaching is informed by the research we do. You can learn more about our staff by visiting our staff profiles.
Entry Requirements
A/AS-levels: ABB at A-Level including English (Language, Literature or combined) and History. Two AS-Levels considered in place of one A-Level. General Studies is accepted.
EPQ with A-levels: BBB at A-Level including English (Language, Literature or combined) and History + EPQ at grade B.
International Baccalaureate: Pass Diploma with 30 points, including 6 in Higher Level English
Access to HE Diploma: Pass Access to HE Diploma with a minimum of 45 credits at level 3, 30 of which must be at distinction. To include 12 credits at Distinction in English Level 3 Modules.
BTEC Nationals: Pass Diploma with DDM. Plus grade B in A-Level English (Language, Literature or combined)
Other national and international qualifications considered.
Second Year Entry may be possible with suitable qualifications.
Selection Process
When considering your application, we will look for evidence that you will be able to fulfil the objectives of the course and achieve the standards required. We will take into account a range of factors including previous exam results.
Applicants are not normally interviewed: If you receive an offer you will be invited to visit the department.
English Language Requirements
IELTS 6.5 or equivalent. If your first language is not English, you may need to provide evidence of your English language ability. If you do not yet meet our requirements, our English Language Teaching Unit (ELTU) offers a range of courses to help you to improve your English to the necessary standard.
International Qualifications
Find your country in this list to check equivalent qualifications, scholarships and additional requirements.
Countries list
Fees and Funding
Starting in 2018

£9,250 in your first year. After 2018/19, the tuition fee you pay may increase annually in line with inflation and is subject to government regulations.
Year Abroad: your fee will be £1,250 for that year.

Find out more about scholarships and funding.

Starting in 2018

£15,980 per year
Year Abroad: your fee will be £3,995 which is 25% of the full-time tuition fee

Find out more about scholarships and funding.

Career Opportunities
All students take part in the Talent Academy, which will introduce you to the resources provided by our Careers Development Service and provides opportunities to gain work experience with leading employers.
'History in the Classroom' is a Second Year module in which you can spend one afternoon a week under the direct supervision of a qualified classroom teacher in a local school where you will teach some History. If you are thinking of teaching as a profession, this is the module for you.
Careers
Our Career Development Service is here to support you, with advice on interviews, CVs, work experience, volunteering and more. From Freshers' Week to Graduation and beyond, they are here to help you reach your professional goals.
| Course | Qualification | Duration | UCAS Code | Availability |
| --- | --- | --- | --- | --- |
| English and History | BA | 3 years full-time | VQ13 | Apply Now |
| English and History with Year Abroad | BA | 4 years full-time | VQ13 | Apply Now |
Course
English and History
Qualification
BA
Duration
3 years full-time
UCAS Code
VQ13
Availability
Course
English and History with Year Abroad
Qualification
BA
Duration
4 years full-time
UCAS Code
VQ13
Availability
Not what you're looking for?