Applied Psychology
Applied Psychology
BSc, 3-4 years
This is for you if... you want to pursue a career in forensic, occupational or clinical Psychology.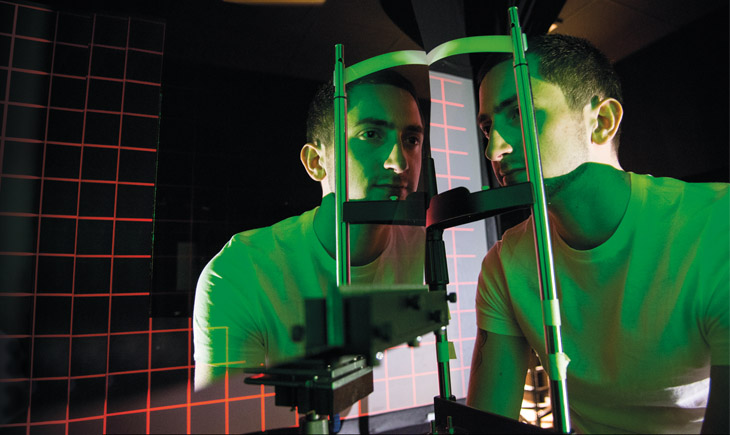 Course Description
As part of the University of Leicester's commitment to being a leading academic institution, we regularly review and update our degrees and modules to ensure that they reflect the most up-to-date research, knowledge, ideas and teaching practices, as well as taking into account student feedback. We also have to take into account the availability of key teaching staff where this will impact on the delivery of the course. As a result, if there are major changes to the course that you have applied for, we will contact you as soon as possible and will ensure that any disruption to your studies is minimised.
Psychology is the science of mind and behaviour: how and why we act and think as we do. The value of psychological expertise is now recognised in all walks of life: able to handle and present complex arguments and also organise and analyse different forms of evidence, psychology graduates can explore a wide range of rewarding career possibilities.
Recent innovations in research technology and scientific approaches to the subject make this an exciting time to study psychology. For those with an interest in psychological theory and new developments, many opportunities exist for psychology graduates to continue in research positions after graduation.
The School of Psychology at the University of Leicester has a long-established reputation for the quality of its undergraduate courses. These are taught through lectures, seminars, discussion groups and practical projects carried out in one of our many specialist laboratories. We have a large and well equipped school, with talented staff who have interests in both pure and applied aspects of psychology.
Our research-led teaching means you will learn from leading academics delivering cutting-edge knowledge. We also provide you with the opportunity to conduct your own psychological research, from design right through to analysis of data and write-up – developing your academic and practical experimentation skills in our dedicated research facilities.
Research methods are an integral part of the course, enabling you to design and conduct your own psychological experiments and ensuring that you are fully competent in the use of the statistical methods and software required to analyse the data you collect. As well as a thorough grounding in contemporary issues and findings in psychology, your degree will also equip you with useful transferable skills in fields such as communication, information retrieval and data evaluation.
The BSc in Applied Psychology concentrates on areas such as forensic psychology, occupational psychology and clinical psychology. You will have the opportunity to be taught by, and work with, applied psychologists and also to carry out advanced applied research work which will stand you in good stead for a career in this field.
Why Leicester?
All of our degrees are British Psychological Society (BPS) accredited meaning they will provide you with the necessary academic knowledge, both of psychological theory and practice, for you to progress in your future career.
Our excellent facilities include three labs for visual perception and tracking eye movement, a virtual reality lab for studying spatial cognition, a Judgement and Decision Making Lab and two EEG labs for measuring electrical response in the brain.
Our student Psychology Society organises lectures and visits, and has a lively social programme. We also have a programme of weekly talks presented by well-known psychologists from other departments and research units.
Course Structure
Year 1
Year 1
Your first year will give you a firm grounding in both basic and applied psychology alongside practical research experience, including the use of computers for data collection and analysis. This year is common to the degrees in Psychology, Applied Psychology and Psychology with Cognitive Neuroscience.
Modules
Applied Psychology
Approaches to Psychology
Introduction to Perception and Cognition
Introductory Psychology 1
Introductory Psychology 2
Psychology Practical 1
Psychology Practical 2
Psychology Skills
Modules shown represent choices available to current students. The range of modules available and the content of any individual module may change in future years.
Year 2
Year 2
Modules
Abnormal Psychology and Individual Differences
Abnormal Psychology and Individual Differences Library Module
Applied Psychology Practical B
Applied Psychology Library Module
Biological Psychology
Cognitive Psychology
Cognitive Psychology Library Module
Psychology Year Two Practical A
Social Behaviour and Development
Social Behaviour and Development Library Module
Modules shown represent choices available to current students. The range of modules available and the content of any individual module may change in future years.
Year Abroad (optional)
Year Abroad (optional)
If you want to, you can spend your third year studying abroad at one of our partner institutions (eligibility is dependent on your academic performance in Years 1 and 2). Alternatively, you can opt to continue studying at the University and complete your degree in three years.
Studying abroad is not just for people who are interested in travelling and meeting new people. It is about acquiring life skills that are becoming increasingly significant for a wide range of jobs in our modern globalised society. Whether you go on to work in the private sector, the state sector, a non-governmental organisation or become self-employed you will find the experience invaluable. Find out more from our International Office.
Please note that a year spent abroad still incurs a tuition fee, but this is much lower than for a normal year at Leicester. See our Fees and Funding section for details.
The School of Psychology has links with some European universities, administered through the European Erasmus scheme. If you are eligible for a loan from Student Finance you can apply for a travel grant from them.
For the latest information on the future of the Erasmus scheme at UK universities please see our Brexit microsite.
We have links with the following universities:
Modules shown represent choices available to current students. The range of modules available and the content of any individual module may change in future years.
Final year
Final year
Core modules
Applied Research Methodology
Brain and Cognition
Occupational Psychology for Applied Psychologists
Social Behaviour and Development
Option modules
Either Clinical Psychology or Legal Psychology
Either Cognitive and Clinical Neuropsychology or Individual Differences
Plus a dissertation chosen from a wide range of possible topics, supervised by a member of staff.
Recent dissertation topics have included:
Does media reporting influence fear of crime?
Predicting self-leadership from trait emotional intelligence
The effect of resilience on career aspirations in 16-18 year-olds
Mental health and attachment problems as predictors of service activity patterns among vulnerable children
Modules shown represent choices available to current students. The range of modules available and the content of any individual module may change in future years.
Additional Information
Accreditation
All our psychology degrees are accredited by the British Psychological Society, the professional body for psychologists, which is also situated in Leicester and maintains close links with the University's School of Psychology. If you graduate with at least a 2:2, you will receive the Graduate Basis for Chartered Membership of the BPS.
Teaching and Assessment
Most of your course will be delivered through lectures, supported by interactive tutorials and practical sessions in the computer labs. You will have between eight and twelve contact hours per week, and spend twice that amount of time on background reading and private study. About one third of the modules in your first and second years involve lab work.
Lecture styles vary considerably depending on the topic – and the lecturer. Some lectures may include practical demonstrations. A tutorial is a small group of students meeting with a member of staff for an hour to discuss a particular topic, which you might be required to research beforehand. You can also attend our lively seminar series, in which visiting speakers from the UK and around the world present new and exciting research to staff and students.
We also provide a 'Tutorial on Request' scheme, in which our teaching staff make extra time available for tutorials on subjects chosen by you and your fellow students. These can be on topics covered by the course which you would like to discuss in more detail or other areas which reflect the School's academic expertise. Tutorials can be arranged in advance or just run as a drop-in session, and can be for individuals or groups - it's up to you.
Assessment is based on exams – which account for about two-thirds of your grades – and coursework, which may include writing up lab reports, tutorial essays, short reports or small group presentations.
Research Stories
Entry Requirements
A-levels: AAB/ABB. We may consider two AS-levels in place of one A2-level. General Studies accepted.
EPQ with A-levels: ABB + EPQ at grade B. Two AS-levels considered in place of one A-level. General Studies accepted.
GCSE: Maths (or Statistics), English Language, and Biology (or dual award Science including Biology) normally required at grade C.
Access to HE Diploma: Pass with 45 credits at Level 3, with some credits at distinction, plus GCSEs as above.
International Baccalaureate: Pass with Full Diploma, score of 32/30 points.
BTEC Nationals: Pass Extended Diploma with three distinctions. Plus GCSEs as above. Subsidiary Diploma and Diploma may be considered in addition to supplementary qualifications.
Other national and international qualifications considered. If you do not meet the entry requirements for this course, you can apply for the International Foundation Year run by our dedicated International Study Centre. The ISC provides academic and English language support to help you progress to your chosen undergraduate degree at the University of Leicester.
Selection Process
When considering your application, we will look for evidence that you will be able to fulfil the objectives of the course and achieve the standards required. We will take into account a range of factors including previous exam results.
Applicants are not normally interviewed. If you receive an offer you will be invited to visit the department.
English Language Requirements
IELTS 6.5 or equivalent. If your first language is not English, you may need to provide evidence of your English language ability. If you do not yet meet our requirements, our English Language Teaching Unit (ELTU) offers a range of courses to help you to improve your English to the necessary standard.
International Qualifications
Find your country in this list to check equivalent qualifications, scholarships and additional requirements.
Countries list
Fees and Funding
Starting in 2017

£9,250 in your first year. After 2017/18, the tuition fee you pay may increase annually in line with inflation (RPIX) and is subject to government regulations. (RPIX is a measure of inflation in the UK, equivalent to all items in the Retail Price Index (RPI) excluding mortgage interest payments.)

Starting in 2018

Find out more about scholarships and funding.


Additional costs

Please note that while there are no compulsory additional charges, you may incur costs during your final year research project, depending on your choice of topic.

Starting in 2017

Starting in 2018

Find out more about scholarships and funding.

Additional costs

Please note that while there are no compulsory additional charges, you may incur costs during your final year research project, depending on your choice of topic.
Career Opportunities
We have an extensive programme of lectures and talks from invited speakers. Chartered psychologists from a broad range of areas (occupational, clinical, forensic and counselling) give insights into how they achieved their career paths and what the subject can involve.
Our annual careers event in the summer term, 'Intentions after Graduation', is designed to help you focus on potential careers and the ways into them. Our careers activity is based on feedback from current students – our focus is on your priorities.
We also have a departmental Careers Tutor who organises regular employability events and will provide you with individual advice relating to your own career plans.
Careers
Our Career Development Service is here to support you, with advice on interviews, CVs, work experience, volunteering and more. From Freshers' Week to Graduation and beyond, they are here to help you reach your professional goals.
| Course | Qualification | Duration | UCAS Code | Availability |
| --- | --- | --- | --- | --- |
| Applied Psychology | BSc | 3 years full-time | C811 | Apply Now |
| Applied Psychology with Year Abroad | BSc | 4 years | C811 | Apply Now |
Course
Applied Psychology
Qualification
BSc
Duration
3 years full-time
UCAS Code
C811
Availability
Course
Applied Psychology with Year Abroad
Qualification
BSc
Duration
4 years
UCAS Code
C811
Availability
Not what you're looking for?