Medicine
MBChB, 5-6 years
This is for you if... you aspire to become a doctor.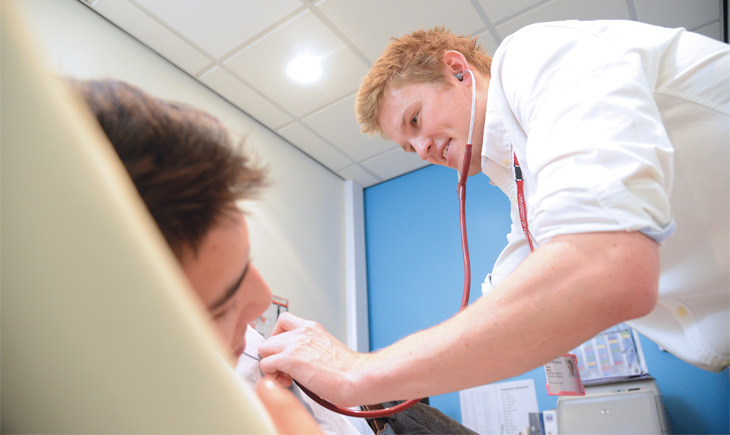 Course Description
As part of the University of Leicester's commitment to being a leading academic institution, we regularly review and update our degrees and modules to ensure that they reflect the most up-to-date research, knowledge, ideas and teaching practices, as well as taking into account student feedback. We also have to take into account the availability of key teaching staff where this will impact on the delivery of the course. As a result, if there are major changes to the course that you have applied for, we will contact you as soon as possible and will ensure that any disruption to your studies is minimised.
There has been a Medical School at the University of Leicester, teaching the MBChB Medical Degree for 40 years. Our experience ensures an excellent standard of teaching and a supportive community and our excellent new facilities (opened in 2016) provide a state-of-the art learning environment.
We have revised our curriculum to make it even more patient-focussed. Our course is designed to be clinically relevant throughout and integrates your learning, enabling you to acquire the medical knowledge and professional competencies that are essential to practise medicine effectively. You will have hands-on experience – working with real patients from the beginning.
Throughout the course you will learn from expert academics and medical practitioners working at the sharp end of the NHS. Their teaching is directly influenced by their expertise in such diverse fields as heart disease, cancer and genetics – some of the areas where Leicester's reputation is truly global.
Our new curriculum is designed to prepare future doctors to meet the challenges of healthcare in the 21st Century. When you graduate you will take forward the knowledge, skills, attitudes and values that are required to practise medicine effectively and successfully, and will be prepared for the inevitable changes in practice that will occur in the future.
Intercalated BSc
As part of your degree, you can take an Intercalated BSc (iBSc) as a one year course after the second or third year of your Medical Degree. This will extend your overall degree to six years.
Application date
Medical degrees have a UCAS application deadline of 15 October, three months ahead of most other courses.
Why Leicester?
You will have a wide variety of clinical opportunities through our many partnerships with hospitals in the region, from Leicester's big city hospitals to Lincoln and Northampton, and through our many links with community practices.
You can opt to take an intercalating year. You will have the chance to conduct an academic research project working alongside our world-leading academics.
We have a vibrant student community. LUSUMA (Leicester University Students' Union Medical Association) organises academic, sporting, charity and social events throughout the year, as well as being a source of peer support.
You will benefit from our excellent, dedicated facilities including a large dissecting room where anatomy is taught using real cadavers. You will be given an iPad when you start which you will use daily in lectures and group work.
Course Structure
Phase 1: Laying the foundation
Phase 1: Laying the foundation
Phase 1 lasts two years. You will take a series of integrated, interdisciplinary modules related to human structure and function in health and disease. You will also undertake community attachments to illustrate the social and psychological context of medicine. Theoretical study of social and behavioural science supplements this learning in the community.
By the end of Phase 1 you will:
Be able to communicate with patients and examine them clinically.
Have a good understanding of the structure and function of the human body and how this relates to health and illness.
Appreciate the psychological and social context of health and illness.
For Phase 1 the teaching is integrated so that you learn all the disciplines (anatomy, physiology etc.) within the context of a patients' presentations. This includes:
Early clinical apprenticeship with clinical attachments and development of clinical skills
Integrated teaching of molecular and cellular science and systems of the body
Integrated teaching on infection, pharmacology and therapeutics
Social, behavioural and population sciences
Knowledge and Skills
The learning in Phase 1 provides you with essential knowledge and skills that will underpin your clinical practice throughout life. You will learn skills of professional communication and physical examination by working first with 'simulated patients' – actors trained to help you learn, and other volunteers. Very soon you will begin working on hospital wards with real patients. You must pass a formal clinical examination at the end of Phase 1 to demonstrate that you have the basic clinical skills necessary for the clinical phases.
Understanding People
You will learn how the human body is put together, and how it works in health and illness, but you will also come to understand that patients are not just the illnesses they suffer from. They have social and psychological dimensions to their lives that affect how they become ill, how they react to illness, and the consequences of illness for them. Learning about social and behavioural medicine will help you to understand the whole person in the context of health care. Early patient contact will help you to understand these issues.
Modules shown represent choices available to current students. The range of modules available and the content of any individual module may change in future years.
Phase 2: The Clinical Years
Phase 2: The Clinical Years
We believe that the best way to learn medicine is to work with practising doctors. You will spend virtually all of your time in the clinical phases working full-time in clinical environments. Working with medical staff in hospitals and the community is the best way to apply your knowledge, gain experience and learn more. In each placement you will be part of a team caring for patients – the range of patients and illnesses you see will reflect the demands on doctors, preparing you for the working environment after you qualify. We have placements in various hospitals in the city, county and region, as well as community attachments. This means you will experience a diverse range of environments, colleagues and patients.
In Phase 2 you will have longer apprentice style placements in medicine, surgery and community medicine, learning from experts in hospital or GP practices. Phase 3 will allow time for speciality blocks such as Obstetrics and Gynaecology, Child Health, and Psychiatry. In Phase 4 of the course, the scheduling of the Finals examination is arranged to allow time for an extended foundation apprenticeship designed to fully prepare you for work as a foundation doctor. During the clinical years learning in each placement will be by a series of structured activities, guided by a workbook and led by experienced clinical teachers.
For Phase 2 your clinical learning evolves through apprenticeship:
Year 3 – 12-week placements in hospital medicine, hospital surgery and primary care
Year 4 – Speciality blocks including child health, mental health and cancer care
Year 5 – Foundation assistantships in hospital and community placements to finesse skills before working as a doctor
Student selected components in Years 3 and 5 to support career aspirations
Elective opportunities in Year 5 for doing something different
Modules shown represent choices available to current students. The range of modules available and the content of any individual module may change in future years.
Additional Information
Accreditation
The Education Committee of the General Medical Council has approved the Leicester curriculum. Graduation will make you eligible for provisional registration as a doctor.
What's in a name?
Confusingly, there is no consistent name in the UK for a medical degree. At Leicester we use MBChB; other British universities will award you an MBBCh, BMBCh, MBBS, BMBS etc. Each of these is a primary medical qualification (PMQ), equivalent to the American MD (but not the British MD, which is a medical research degree similar to a PhD).
Teaching and Assessment
Teaching and Learning Methods
The course is patient-focused and integrated so that all learning takes place in a clinical context. In Phase 1 there is a balanced mixture of lectures, clinical teaching and group work. Group work is supported by experienced academic teachers and clinically qualified staff - you work to solve problems related to clinical cases. Your iPad will support your learning throughout. In Phase 2 you will be working with doctors in hospitals and the community in a variety of clinical placements. For each placement you will be given clear outcomes defining what you should be able to do by graduation. Structured activities guide you through. Medicine requires a commitment to lifelong learning. Throughout the course you should be prepared to reflect on your skills and organise your own self-directed study.
Assessment
At the end of the day all parts of the curriculum must come together in your own mind, so you may focus them on clinical problems. Our assessments are integrated to help you to consider all aspects of the course when tackling a clinical problem. You will have regular opportunities for formative assessments throughout Phase 1. This gives you an informal opportunity to test your learning and get feedback. We will also give you feedback on the summative assessments which you must pass to progress to the next stage. We use a variety of assessment techniques to test your ability to apply your knowledge and skills to clinical problems and patient management. In the clinical years you will receive continual feedback on your developing clinical skills during your placements.
Independent learning
When not attending lectures, seminars or other timetabled sessions you will be expected to continue learning independently through self-study. Typically, this will involve reading journal articles and books, working on individual and group projects, undertaking research in the library, preparing coursework assignments and presentations, and preparing for exams. To help with your independent learning, you can access the Library and our social study spaces in halls of residence.
Overall workload
Typical workload hours for School of Medicine courses in 2016/17:

Year 1: 44% of your time is spent in timetabled teaching and learning activity
Teaching, learning and assessment: 528 hours
Independent learning: 612 hours
Placement activity: 60 hours
Year 2: 38% of your time is spent in timetabled teaching and learning activity
Teaching, learning and assessment: 456 hours
Independent learning: 612 hours
Placement activity: 132 hours
Year 3: 25% of your time is spent in timetabled teaching and learning activity
Teaching, learning and assessment: 300 hours
Independent learning: 420 hours
Placement activity: 480 hours
Year 4: 20% of your time is spent in timetabled teaching and learning activity
Teaching, learning and assessment: 240 hours
Independent learning: 252 hours
Placement activity: 708 hours
Final year: 14% of your time is spent in timetabled teaching and learning activity
Teaching, learning and assessment: 168 hours
Independent learning: 204 hours
Placement activity: 828 hours
While your actual contact hours may depend on the option modules you select, the above information gives an indication of how much time you will need to allocate to different activities for each year of your course.
Academic support
Our Student Learning Development Team provides help in the following areas:
study and exam skills
academic writing
presentations
dissertations

numerical data skills

referencing sources
Our AccessAbility Centre offers support and practical help for students with dyslexia or other specific learning difficulties, including physical, mental health or mobility difficulties, deafness, or visual impairment.
Teaching staff
You will be taught by an experienced teaching team whose expertise and knowledge are closely matched to the content of the modules on the course. PhD research students who have undertaken teacher training may also contribute to the teaching of seminars under the supervision of the module leader. Our teaching is informed by the research we do. You can learn more about our staff by visiting our staff profiles.
Entry Requirements
For students starting in 2018:
GCSE: All applicants must have English Language, Maths and either Double Science or Chemistry and Biology - all at Grade B.
A/AS Levels: AAA including Chemistry. Biology to at least AS-level (fourth AS-level not required if Biology taken at A-level). General Studies and Critical Thinking not accepted. Maths and Further Maths count as one subject.
Cambridge Pre-U: D3, D3, D3 in Principal Subjects including Chemistry and Biology.
Access to Medicine course: Overall Distinction with 45 Level 3 Credits at Distinction, or distinction in all graded credits for pre-reformed courses.
International Baccalaureate: Pass Diploma with 36 points overall (not including core or bonus points) plus three higher level subjects including Chemistry and Biology at Grade 6 or above.
Scottish Advanced Highers: Either alone or in a combination with A-levels. AAA to include Chemistry and Biology. Scottish Highers are not considered.
Other national and international qualifications considered.
No second year entry.
Graduate entry
Graduates and final year undergraduates of any discipline are welcome to apply. A science background is not essential but you must have at least the minimum GCSE requirements above (or equivalent) and be predicted, or have achieved, at least a 2:1 Honours Degree.
Selection Process
All candidates are required to take the UK Clinical Aptitude Test (UKCAT).
You will be assigned a score based on your GCSE grades, confirmed (not predicted) A/AS-levels, actual/predicted degree (where appropriate) and your UKCAT result. Applications are then ranked and the highest scoring candidates invited for interview.
English Language Requirements
IELTS 7.5 with at least 7.0 in each component. If your first language is not English, you may need to provide evidence of your English language ability. If you do not yet meet our requirements, our English Language Teaching Unit (ELTU) offers a range of courses to help you to improve your English to the necessary standard.
Fees and Funding
Starting in 2018

£9,250 in your first year. After 2018/19, the tuition fee you pay may increase annually in line with inflation and is subject to government regulations.

Find out more about scholarships and funding.

Additional costs

In your first year you will be given an iPad Air which is included in your tuition fee.

You will need the following, which are not included in your tuition fee:


DBS check (£62)
Stethoscope (£4-£100)

You may also wish to buy a padlock for a locker (£5-£20).




Starting in 2018

The tuition fees for entry to the academic year 2018/19 are not yet available. For reference, the tuition fees for 2017/18 entry are listed below:

Years 1 and 2

Your fee will be £19,705 per year for these two years.

Years 3, 4 and 5

These years include the cost of clinical training in the National Health Service so they have a significantly higher fee which rises each year during your course and will be:

2020/21 clinical year fee: £40,140
2021/22 clinical year fee: £41,945
2022/23 clinical year fee: TBC

Additional costs

In your first year you will be given an iPad Air which is included in your tuition fee.

You will need the following, which are not included in your tuition fee:

DBS check (£62)
Stethoscope (£4-£100)

You may also wish to buy a padlock for a locker (£5-£20).



Career Opportunities
At the end of the undergraduate course you will receive your MBChB degree, which is a primary medical qualification (PMQ). Holding a PMQ entitles you to a provisional registration with the General Medical Council. Provisionally registered doctors can only practise in approved Foundation Year 1 posts: the law does not allow provisionally registered doctors to undertake any other type of work.
To obtain a Foundation Year 1 post you will need to apply during the final year of your undergraduate course through the UK Foundation Programme Office selection scheme, which allocates these posts to graduates on a competitive basis. So far, all suitably qualified UK graduates have found a place on the Foundation Year 1 programme, but this cannot be guaranteed, for instance if there were to be an excessive number of competitive applications from non-UK graduates.
Successful completion of the Foundation Year 1 programme is normally achieved within 12 months and is marked by the award of a Certificate of Experience. You will then be eligible to apply for full registration with the General Medical Council. You need full registration with a licence to practice for unsupervised medical practice in the NHS or private practice.
Careers
Our Career Development Service is here to support you, with advice on interviews, CVs, work experience, volunteering and more. From Freshers' Week to Graduation and beyond, they are here to help you reach your professional goals.
| Course | Qualification | Duration | UCAS Code | Availability |
| --- | --- | --- | --- | --- |
| Medicine | MBChB | 5 years full-time | A100 | Apply Now |
Course
Medicine
Qualification
MBChB
Duration
5 years full-time
UCAS Code
A100
Availability
Not what you're looking for?