The Activist Museum Award 2023
The Research Centre for Museums and Galleries (RCMG), in the School of Museum Studies at the University of Leicester, is delighted to announce the awardees of the fourth round of the Activist Museum Award. This award was launched in 2019 to celebrate and foster activist thinking and practice in the UK museum community. To reflect a growing interest in museum activism worldwide, two awards will be made annually between 2022 and 2025 in support of a UK-based and an international activist project. For the Activist Museum Award 2023, the panel awarded Will Tregaskes the UK Activist Museum Award and The Itinerant Museum of Memory and Identity of Montes de María in Colombia the International Activist Museum Award.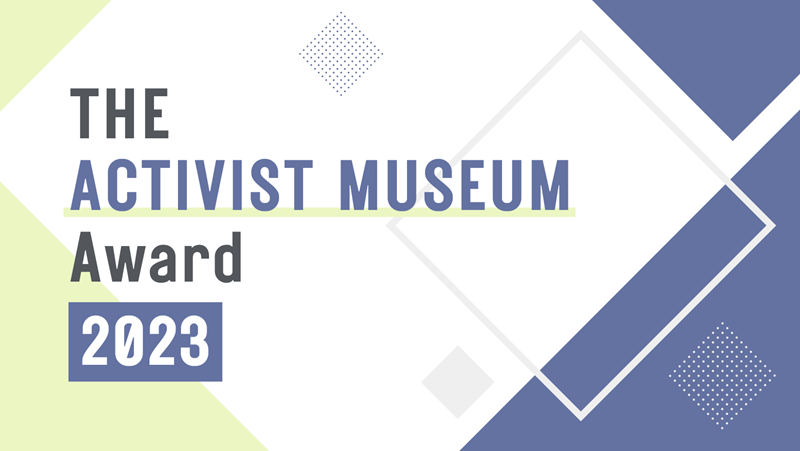 Museum Activism
The Activist Museum Award is for an individual or group working in/with museums to support the research and development of an activist project that reflects the ideas presented by Robert Janes and Richard Sandell in their recent book, Museum Activism (2019). Museum activism refers to, 'museum practice, shaped out of ethically-informed values, that is intended to bring about political, social and environmental change.'
The Activist Museum Award is the vision of Robert R. Janes in recognition of the pioneering work of Richard Sandell in the field of museums and social justice. It is intended to encourage, inspire and support similarly activist museum work throughout the UK museum community. This award was made possible by a gift from Robert R. Janes.
This year's awardees were nominated by the Research Centre for Museums and Galleries' Honorary Fellows, Cristina Lleras (Independent Curator) at and Zac Mensah (Co-CEO Birmingham Museums Trust), for inspiring leading-edge activist practice across the world.
Will Tregaskes
Museums in Wales are increasingly working to reflect the experiences of people in their communities, recognising their position and responsibility as agents for social change. Government legislation such as the Well-being of Future Generations Act and the Anti-Racist Wales Action Plan provide both support and a foundation for work that addresses the legacy of colonialism and the preservation of the Welsh language. The Activist Museum Award will enable Will Tregaskes to contribute to this ongoing work by enabling conversations which don't centre on museums but on the people who form our communities, people who have a right to ask difficult questions about museums today and what they need to do to become more relevant to our communities and society as a whole. The work supported by the Award will contribute to a wider discourse on the future role of museums in Wales. It will demonstrate the continued need to have an active and equal dialogue, recognising that our vision of what museums can do is ever changing and reflecting the needs of the communities museums are part of.
Itinerant Museum of Memory and Identity of Montes de María
The Itinerant Museum of Memory and Identity of Montes de María is a travelling museum which visits all 15 municipalities of the Montes de María region in Colombia. Led by the Corporacion Colectiva de Comunicaciones Montes de María 21, the museum is known by the name "El Mochuelo," a reference to our traditional bird whose tweet is one of the most beautiful and traditional sounds of our area. The late composer Adolfo Pacheco Anillo paid tribute to the bird with a song that has become our museum's anthem. At the core of our mission to preserve the collective memory of our territory are the "Mochuelos Cantores", a devoted group of memory narrators that travel with the museum listening to and telling those stories that the people want and need to share. We are delighted that this award will provide them with the resources they need to carry out their work, ensure that our memories remain alive for generations to come and that we can continue to have a significant and impact in our territory.
The winners are awarded £1000 each to support the development of their ideas. They will also be invited to showcase their important work with students, researchers and practitioners from across the cultural sector at an online event – The Activist Museum – on Wednesday 15 November.
The Activist Museum Award 2021-22 winners
In 2021, the panel awarded three Activist Museum Awards of £1000 to activist projects by Jean Campbell, Museum of Homelessness, People's History Museum and Fast Familiar.
Fast Familiar
Fast Familiar is a digital story studio that specialises in the creation of artworks for small audiences, where participants are invited to collaborate and find their collective way through ethical or social dilemmas. The award will help them deliver The Acquisitions Panel, a participatory artwork about the legacies of European colonialism that asks who gets to choose the stories we tell. The experience uses the case of a specific object as a prism through which to explore the non-neutrality of museums and to ask what role we want them to play in our increasingly fractured society. The project has been two years in the making and received input from professionals across the sector – the award will enable Fast Familiar to realise the delivery of this highly creative and innovative experience.
Jean Campbell
Jean Campbell has over 12 years of experience in facilitating training workshops for museum professionals who work directly with colonial histories and their objects. The award will enable her to develop a series of podcasts and zines which will explore and critically review the design, delivery and experiences of Trans-Atlantic slavery staff training. The podcasts and accompanying zines will reflect on the range of difficult emotional responses that people who work with these powerful 'raced' themes have to navigate with themselves, objects and audiences.
The panel recognised the enormous impact of Jean's work to date and agreed with her that 'acknowledging such training as activism brings it into alignment with a critical time for museums as they look back at the impact of their anti-racism work and reflect on how they might do things better'.
Museum of Homelessness
The Museum of Homelessness is a community-driven, social justice museum, created and run by people with direct experience of homelessness. "Leave our Neighbours Alone – how to beat the hostile environment" will comprise two days of solidarity space in Glasgow and London that highlight, celebrate and connect the work of individuals, campaigners, communities and lawyers in challenging and winning against hate. The spaces will also map the direct relationship between populism, government policy and everyday racism, presenting research carried out by MoH through 2021. The key aim of this project is to bring people together and create a sense of solidarity and hope with the events programme. The events will also enable the museum to share the learnings of 'Project Fortify', a yearlong grassroots direct support, investigation and campaigning response in solidarity with homeless people affected by racism. Project Fortify was initially funded by the Isla Foundation.
People's History Museum
In recent months, People's History Museum, the national museum of democracy in Manchester, has been working with campaigning organisations such as Together with Refugees to increase awareness of the Nationality and Borders Bill and how proposed change to it will impact on refugees and asylum seekers coming to Britain. The award will support the museum in realising its ambition to deepen its commitment to being an Activist Museum by not only informing people, but by actively engaging them through conversations, events and other activities. Through a programme of training – around facilitating complex and empathetic conversations and managing conflict – and a space to test their skills, the museum will empower its whole team to become campaign advocates, with the skills and confidence to proactively engage people with campaigning work and facilitate discussions about associated issues.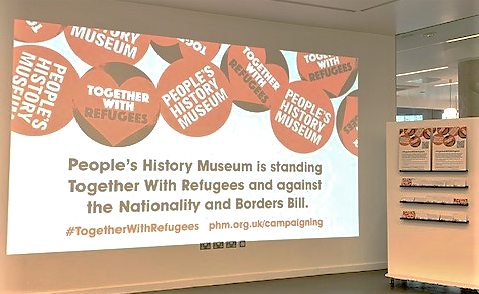 Image credit: People's History Museum welcome wall showing solidarity with refugees and inviting visitors to get involved, People's History Museum
The Activist Museum Award 2020-21 winners
In 2020, the panel awarded three Activist Museum Awards of £1000 to activist projects by 100 Histories of 100 Worlds in 1 Object, The Museum of Transology and Journey to Justice. Find out more about the projects in this press release (.docx, 15.3KB).
"It is a great honour to have been chosen as one of the Activist Museum Award winners by the RCMG panel, thank you so much. What a tremendous boost to our work on challenging economic injustice in the UK. Journey to Justice demonstrates that action comes in many forms – whether through poetry, organising a protest, lobbying for new policies or creating an exhibition about human rights. We have developed partnerships with museums all over the country via our travelling civil rights exhibition programme and seen how they can be a catalyst for involving people of all ages and backgrounds."
Carrie Supple, Director, Journey to Justice
"We are thrilled about the public platform the award will give us, and in fact, has already given us (we have so many more twitter followers since!), and look forward to the exchange with the other award winners and colleagues at Leicester. We are hoping to get ideas on how to implement our ideas in museum display itself. We would also like to professionalise our social media interactions with the public and particularly improve communication with colleagues in the Global South, e.g. through a series of 'World Cafés'. How can our work serve communities of origin, not only Western museums?"
Mirjam Brusius, 100 Histories of 100 Worlds in One Object
"Community collecting as a democratic form of peaceful direct-action is one of the most powerful tools museum activists can use to disrupt colonial narratives. Receiving the Activist Museum Award provides public recognition to the hundreds of contributors to the MoT that their collaborative curatorial efforts to self-organise their rightful place in history has set high standards of participatory practice within the museum sector at large. Significantly, the award will enable the MoT to share its resources, methodology and experience beyond the trans community. This will not only showcase the trans community's generosity of spirit and willingness to collaborate, but moreover, it will demonstrate how museums can – and must – harness their social agency to combat historic misrepresentation of marginalised groups."
E-J Scott, Curator, Museum of Transology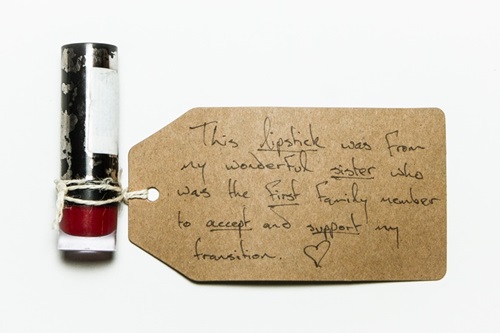 Image credit: Museum of Transology, Fashion Space Gallery, London College of Fashion, Photography by Katy Davies, 2017 (MOT/161)
The Activist Museum Award 2019-20 winners
In 2019 the panel awarded three Activist Museum Awards of £1000 to activist projects by Museum as Muck, Climate Museum UK and the International Slavery Museum.
The Activist Museum, 9 November 2022
This is a recording of the event 'The Activist Museum' which brought together the recipients of the Activist Museum Award 2022-2023 – People's History Museum, Museum of Homelessness, Jean Campbell and Fast Familiar.