HumanKind
To find out more about HumanKind please visit our project website
For more than thirty years, the story of Calke Abbey and its significance has been built around the story of a reclusive and socially-isolated family who guarded the Estate from modern life and lived eccentric, disconnected lives. Today, as awareness grows of the enormous challenges posed by loneliness and the harmful impact of social isolation on more and more lives, we are looking afresh at Calke's past, reassessing the stories told about this place and exploring their potential to foster more, and more meaningful, contemporary human connections.
Recent research has shed new light on the lives of the people who lived at Calke. This has revealed powerful, rich and sometimes surprising stories of love, compassion and kindness, rooted in complex life experiences and events, alongside the more familiar ones of isolation and disconnection. Spanning more than 200 years, these are stories that many of us would recognise today. The people who lived at Calke needed one another and took care of one other. Their routes out of difficulty were always aided by others – by humankind and human kindness.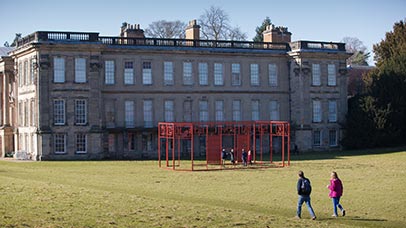 In 2019 – marking the 200th anniversary of the death of Henry Harpur, 'The Isolated Baronet' – we are exploring this wider and richer history of Calke in exciting new ways. HumanKind uses these new stories and insights to challenge the stigma that surrounds loneliness and social isolation, to get people talking about this pressing social issue, to foster human interaction and connection and, in true Calke tradition, to encourage small acts of kindness.
HumanKind is a research-led collaboration between the National Trust and the Research Centre for Museums and Galleries at the University of Leicester.
RCMG was commissioned by Calke Abbey (National Trust) to work in collaboration on the research project, Isolation and Loneliness: Opening up new stories and interpretive experiences at Calke Abbey. The team at Calke Abbey was inspired by the forthcoming 200th anniversary of the death of Henry Harpur Crewe, 7th Baronet of Calke Abbey who was dubbed 'The Isolated Baronet' in his own time, and they had ambitions to develop new interpretation and programmes around contemporary issues of social isolation and loneliness.
Stage 1
Stage 1 of the project ran from October 2017 to March 2018 and provided Calke Abbey with a Framework for programming at the site around the theme of loneliness and isolation. The Calke Abbey team were keen to engage with leading edge approaches to interpretation which responded directly to the spirit of Calke Abbey and furthered develop a design-led methodology that they have explored previously by the Research Centre for Museums and Galleries (RCMG) with Imperial War Museum North (IWMN) and Historic Royal Palaces (HRP).
Calke Abbey approached RCMG to ask them to 'think with' Calke Abbey about the potential opportunities and pitfalls of work in this area and to help them plan this work in such a way that it would:
Generate new and ongoing community relationships
Deliver Calke Abbey's ambition to deliver high quality and sector leading interpretive practice
Result in an exceptional visitor experience and programming for 2019
Leave a legacy of increased expertise, creativity and confidence amongst staff and volunteers to develop this and other work in the future
Findings from Stage 1 can be found in the research report - Isolation and loneliness - opening up new stories and interpretive experiences at Calke Abbey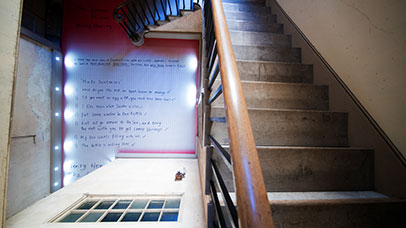 Stage 2
Stage 2 of Isolation and Loneliness (July 2018 – June 2019) continues this innovative and exciting work by putting the three key areas of activity from the Framework into action:
Working with hand-picked creatives to develop interpretive interventions that disrupt the conventional heritage visit, and opening up moments of reflection on, and awareness of, contemporary questions of loneliness and social isolation which are felt, physically and emotionally
Creating opportunities for staff, volunteers, visitors and programme participants to avoid loneliness
Ongoing research and development as the Calke Abbey team learn more about what matters to them and push their work and capacity forward
Integral to the process is capturing the impact of the interventions through detailed visitor research across a range of activities, the impact on volunteers and the impact of the project on Calke Abbey as an organisation, its capacity and its working practices
Findings from Stage 2 can be found in the research report (PDF, 5mb) - Isolation and loneliness – opening up new stories and interpretive experiences at Calke Abbey Stage 2 Report
The project locates the work at Calke Abbey within wider national, and international, debates about the impact of loneliness and social isolation, and provides an interesting model of how cultural organisations – which are largely absent from national debates and discussions on loneliness and social isolation – can make a significant contribution in the drive to encourage us to talk about loneliness and make small actions to end it.
For more information about wider national conversations around loneliness and social isolation see the Jo Cox Commission on Loneliness: Combatting loneliness one conversation at a time.