Articulate
An evaluation of the National Gallery's secondary school literacy programme
In 2008, the National Gallery commissioned RCMG to evaluate the second phase of Articulate, their secondary school literacy programme. Funded by Deutsche Bank, between 2003-2009 the National Gallery worked with professional authors, poets, scriptwriters, and journalists to develop literacy work with secondary schools from the London boroughs of Hackney, Islington and Brent. Using the National Gallery's collections as a starting point, students worked closely with authors, poets, scriptwriters, playwrights and journalists in a masterclass to develop their writing skills, exploring the variety of ways that images can be used to encourage different styles of writing.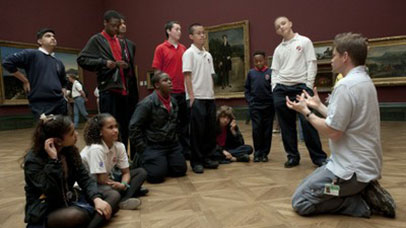 Aims and objectives
During 2008 and 2009, RCMG explored the impact of the programme on the students from multiple perspectives, including that of the teachers, gallery staff and writers, and placed it in the broader national context of learning in museums. The following research questions informed the evaluation:
To what extent have the Articulate masterclasses influenced the content of English lessons in partner schools and how relevant is the project to the KS3 National Curriculum?
Have teachers' and students' attitudes towards museums and galleries changed as a result of participating in the Articulate project?
To what extent do teachers feel they have been supported in the Articulate project by the Gallery; the writers and their own school?
What impact has the Articulate project had on the KS3 pupils who participated?
Key findings
Articulate, a significant, inclusive and influential programme, is an example of where a cultural institution has responded to the increased importance of literacy to the UK and global context in the twenty-first century. Literacy is increasingly regarded as a complex, cultural and social activity, crucial to gaining access to subjects in school and regarded as an integral part of life and important to the personal growth of young people and their development as democratic citizens. Museums and galleries can play a vital role in the development and support of literacy, both in terms of formal education provision and lifelong learning. Through the resources that museums and galleries have at their disposal students can be provided with a purpose to write that can stimulate their imaginations and motivate them. Providing a context for literacy is particularly valuable for disadvantaged young people who may not have access to cultural and wider experiences through their home lives.
Outcomes