Permissible Beauty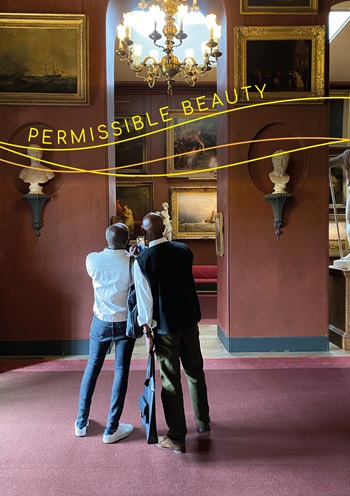 Permissible Beauty examines how beauty has been defined, hailed and perceived in the past and how this is reflected in – and shaped by – our nation's heritage. Working with and rethinking ideals of beauty that have their roots in the seventeenth century and which continue to reverberate today, we are exploring how fresh ways of recognising and celebrating beauty might be opened up and how more expansive, rich and generous expressions might be brought into view.
This portrait project places Black Queer lives at the centre of a highly creative, collaborative and participatory process – accompanied by research and engagement with historic fine art collections, specifically the Windsor Beauties, Hampton Court Beauties, Petworth Beauties and Stuart-period portraits of women from the Suffolk Collection. Taking inspiration from these historic works, Permissible Beauty offers up 'a new chapter of British beauty' for the 21st century, through richly-layered portraits of contemporary Black Queer figures, rendered in photography, oral testimony, performance, song and sound, all brought together in a stunning film. New contemporary photographic portraits of six Black Queer individuals will be created by Robert Taylor, capturing the ways in which subjects engage with and respond to historic collections and shifting notions of beauty.
The film, launching Autumn 2022, will feature performance – blending history, interviews with participants, period and contemporary music, image and song - created by David McAlmont.
Permissible Beauty has been developed by Black artists and creatives - renowned performer, songwriter and art historian, David McAlmont, and acclaimed portrait photographer, Robert Taylor, in collaboration with Richard Sandell and Mark Thomas (Soup Collective).
Permissible Beauty explores new approaches to engaging both existing and new audiences – creating experiences that are affirming, welcoming and relevant for groups that are often underrepresented in heritage visiting and, at the same time, enriching for all, offering new ways to look at the nation's heritage. Many heritage and museum projects seeking to engage more diverse audiences very often take as their starting point previously hidden histories, revealing the ways in which collections are linked to hitherto overlooked or marginalised histories of, for example, women or people of colour. Such approaches can be powerful ways of opening up connections and meaning for diverse audiences today, making visible the presence of different lives in the past as well as shining a spotlight on the role that museums and heritage have played – and continue to play – in celebrating, legitimising and valuing some lives whilst simultaneously marginalising others. At the same time, these approaches inevitably have limitations; they represent a narrow point of entry to our heritage; they can be constrained by the paucity of material in our historic collections that reflect contemporary diversity; and they can be hampered by the problematic assumption that audiences can only find meaning and connection with historic collections which explicitly and directly reflect their own lived experiences. Rather than working from 'hidden histories' and starting with collections, Permissible Beauty starts with and prioritises contemporary lives and experiences.
The project is led by RCMG in partnership with Historic Royal Palaces, English Heritage and National Trust, and generously supported by Arts Council England through a National Lottery Project Grant.